Redes Sociales
In June of this year, we published an infographic listing all of the sizing information for images on Facebook, Twitter, Google+, and Pinterest. It was a wildly successful piece of content, totally blowing our expectations out of the water. Unfortunately, while its popularity has flourished, nearly every social network instituted changes to their image sizes, rendering most of the information on the infographic out of date. We knew we needed to update the information on the cheat sheet, but we weren't comfortable with simply adjusting one or two figures on the blog post and leaving it as-is. We'd also received a lot of feedback, both on the design and information it contained. We decided to redesign the entire sheet and incorporate a few more social networks.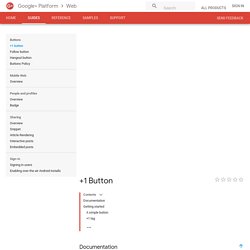 Documentation You can add and customize the +1 button to meet the needs of your website, such as modifying the button size and load technique. By adding the +1 button to your website, you allow your users to recommend your content to their circles and drive traffic to your site. The +1 button can also improve the time spent on your site by providing recommendations for further reading. Use of the +1 button is subject to the Google+ Platform Buttons policy.
New features Meet the new inbox New customizable tabs put you back in control so that you can see what's new at a glance and decide which emails you want to read and when. More about the new inbox Talk across devices Hangouts bring conversations to life with photos, emoji, and even group video calls for free.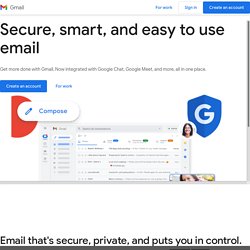 RockinShare
SocialOomph, crea mensaje de bienvenida automático en Twitter | Atònits.com: 'El Blog'
Si eres usuario de Twitter, habrás visto que algunas veces, cuando empiezas a seguir a alguien, te llega un mensaje de bienvenida agradeciendote el follow. Es por eso que nace SocialOomph, para poder hacer lo mismo sin tener que molestarte en escribir cada vez el mensaje a tu nuevo seguidor, automatizando este proceso. ¿Para configurar la aplicación hay un video de demostración paso a paso: Web Oficial | SocialOomph Vía | La Voz de Galicia *Actualización: La aplicación ha dejado de ser gratuita tal y como muestra el video, a tener un coste mensual.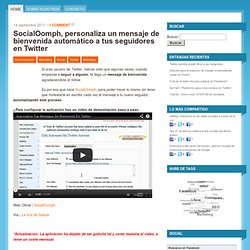 la web de Freelance, autónomos y estudiantes: comparte tus experiencias, aumenta tu visibilidad hacia las empresas y crece