Facebook
Tools - Desarrolladores de Facebook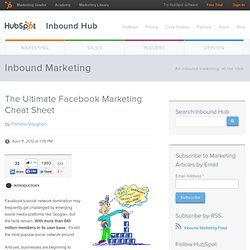 Facebook's social network domination may frequently get challenged by emerging social media platforms like Google+, but the facts remain. With more than 845 million members in its user base , it's still the most popular social network around. And yes, businesses are beginning to understand its potential to help them achieve their marketing goals. In fact , 41% of B2B companies and 62% of B2C companies using Facebook have acquired a customer from it . That being said, learning all the nuances of various social networks can be a tricky and time-consuming feat, especially considering how frequently they add, remove, and modify features. To help you stay ahead of the curve, we've put together a handy cheat sheet that businesses and marketers can use to make the most of Facebook .
The Most Precise Measurements Of Timeline Page Images - Waterfox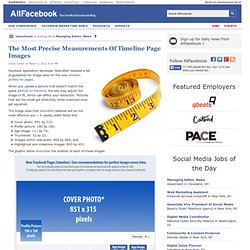 Facebook application developer SkandNet released a list of guidelines for image sizes for the new timeline profiles for pages. When you upload a picture that doesn't match the space allotted on timeline, the site may adjust the image to fit, which can affect your resolution. Pictures that are too small get stretched, while oversized ones get squished. The image sizes that SkandNet believes will be the most effective are — in pixels, width listed first: Cover photo: 851 by 315;Profile picture: 180 by 180;App image: 111 by 74;Thumbnail: 32 by 32;Images within wall posts: 404 by 404; andHighlighted and milestone images: 843 by 403.
GetAbout.me, crea infografías de tu cuenta de Facebook - Waterfox
Log In - Waterfox
Pages_Product_Guides_ES.pdf (application/pdf Object) - Waterfox
Welcome to fMC - Waterfox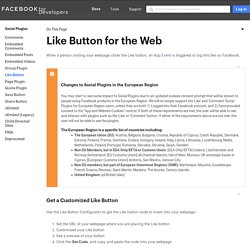 Should I display the Like button by itself or the Like and Share buttons together? Like lets people post links to Facebook with one click, while Share allows them to add a personal message and customize their target audience before posting. We recommend that you include both buttons on your website to let people choose the way that they want to share your content. How do I display the Share button without the Like button?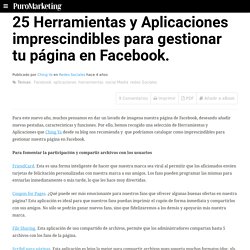 Para este nuevo año, muchos pensamos en dar un lavado de imagena nuestra página de Facebook, deseando añadir nuevas pestañas, características y funciones. Por ello, hemos recogido una selección de Herramientas y Aplicaciones que Ching Ya desde su blog nos recomienda y que podríamos catalogar como imprescindibles para gestionar nuestra página en Facebook. Para fomentar la participación y compartir archivos con los usuarios FriendCard.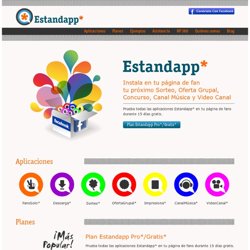 Estandapp*
Instala en tu página de fan tu próximo Sorteo, Oferta Grupal, Concurso, Canal Música y Video Canal Prueba todas las aplicaciones Estandapp* en tu página de fans durante 15 días gratis. ¡Más Popular! Plan Estandapp Pro*/Gratis* Estandapp Pro*/Gratis* ¡Gana Fans! ¡Gestiona base de datos de suscriptores!
fonicle – Transforma tu Facebook en un libro o documento PDF
10 Herramientas útiles e imprescindibles para Community Managers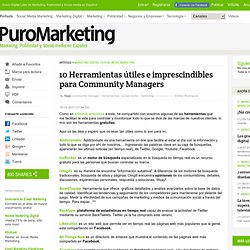 Como en artículos anteriores a este, he compartido con vosotros algunas de las herramientas que me facilitan la vida para controlar y monitorizar todo lo que se dice de las marcas de nuestros clientes, lo mío son las herramientas gratuitas. Aquí os las dejo y espero que os sean tan útiles como lo son para mí. Addictomatic. Addictomatic es una herramienta on-line que facilita el estar al día con la información y todo lo que se diga por ahí de nosotros.... Ingresando las palabras clave en su caja de búsquedas, aparecerán las últimas noticias (en tiempo real), de Twitter, Google, Youtube, Facebook.....
NEW: Facebook Cover Image Size | MySocialNuggets
Updated: September 28, 2012 What is the size of the profile picture in Facebook? How wide is page of your brand? Here are all the numbers you need and you can even download a handy PDF Facebook cheat sheet. Due to the recent release of Facebook timeline for brand pages, some new sizes have been added and old ones modified. We've added them here.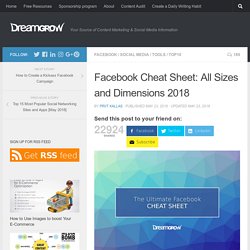 Actualizado: Para activar el timeline solo tienes que visitar esta página de Facebook. Importante, leer antes: - En esa página podrás echar un vistazo a las características del Timeline si no lo conocías ya. - Una vez que estés decidido verás un botón de color verde justo en la parte inferior de la página que te permite Activar el Timeline. - Si no te parece este botón, es posible que tu cuenta sea demasiado nueva, prueba añadir más contenido o hacer lo siguiente: Este es el método antiguo para activar el Timeline, si no te funciona el paso anterior puedes probarlo: Una de las novedades que Facebook presentó recientemente es su Timeline o, como lo han traducido al español, 'Cronologías', un nombre quizás demasiado técnico para una función supuestamente divertida.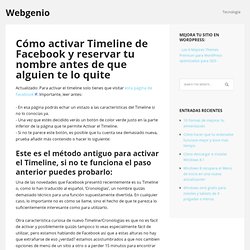 Cómo activar Timeline de Facebook y reservar tu nombre antes de que alguien te lo quite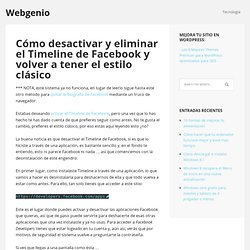 Cómo desactivar y eliminar el Timeline de Facebook y volver a tener el estilo clásico
*** NOTA, este sistema ya no funciona, en lugar de leerlo sigue hasta este otro método para quitar la Biografía de Facebook mediante un truco de navegador. Estabas deseando activar el Timeline de Facebook, pero una vez que lo has hecho te has dado cuenta de que prefieres seguir como antes. No te gusta el cambio, prefieres el estilo clásico, por eso estás aquí leyendo esto ¿no?
Just if you didn't know, Facebook Timeline is the latest feature that was introduced in the recent Facebook Conference, F8. It's generally a complete overhaul of the profile page with the new ability to view your status updates in a list sorted by time, hence the name. With this new feature comes a new way of introducing yourself though graphic other than profile photo, and we call it Timeline Cover. And yes, what you can expect is thousands of facebookers try to be creative with their new timeline cover, spawning the hype all over the web. In this showcase we're gonna show you 40 awesome and creative timeline covers which either inspire you, amaze you or just make you burst out into laughter. Also, at the end of the article, we are going to throw in a Facebook time PSD template (updated) to guide you creating one accurately.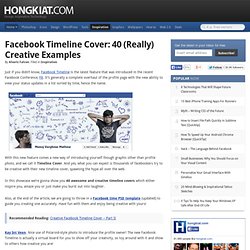 Tutorial para crear páginas de Facebook usando Wix
Facebook se ha beneficiado durante todo este tiempo al permitir la creación de las aplicaciones, y que éstas puedan integrarse dentro de las páginas, que tanto marcas como entidades, otras organizaciones y particulares pueden crear. Con las aplicaciones, las páginas de Facebook se aprovechan al aumentar las posibilidades de interacción con los visitantes. Ya de entrada, Facebook ofrece una serie de aplicaciones, pero la existencia de alternativas pueden solventar las carencias que las aplicaciones originales de Facebook pueden carecer. Una de estas aplicaciones que debemos tener en cuenta es Forum for pages, una aplicación que nos posibilita añadir una sección de foros donde establecer debates en torno a temas que permitan tanto administradores como moderadores de la propia página.
Forum for pages, sencillo sistema de foros para las páginas de Facebook
FaceitPages lanza aplicación para añadir mapas en Facebook
» Bumblebee Transformers Background
En Qué es Facebook compartimos 10 tips de SEO para Facebook. Si deseas que tu página se encuentre bien posicionada, ten en cuenta estos consejos, como optar por el nombre de la página, utilizar correctamente la sección "About", completar la pestaña de información o crear nuevas pestañas con aplicaciones son algunas recomendaciones de SEO para Facebook. La presentación fue compartida por Marketing Valencia y cuenta con 10 tips para el SEO de Facebook.
10 tips de SEO para Facebook | Qué es Facebook | ¿Que es Facebook?
Page Tab Tutorial - Desarrolladores de FAcebook
Facebook en español: Programas Facebook
Pestaña de Pagina en Facebook con Propio Icono
Add Map To Facebook Page