Movies to watch
25 Spectacular Movies You (Probably) Haven't Seen Pt. 2. Human Traffic Very unique comedy about the drug/club culture in the UK.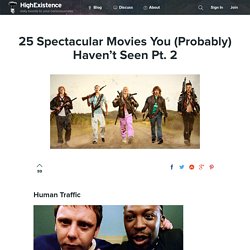 Five friends ponder society, drug use and their own lives as they go about their usual weekend of snorting, smoking, popping, dancing and sex. Tillsammans (2000) Quotes Göran: You could say that we are like porridge.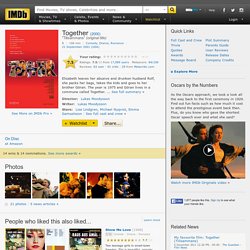 First we're like small oat flakes - small, dry, fragile, alone. But then we're cooked with the other oat flakes and become soft. We join so that one flake can't be told apart from another. Fat Kid Rules the World (2012) The Day (2011) Pohwasogeuro (2010) Children of the Corn (1984) Edit Storyline A boy preacher named Isaac goes to a town in Nebraska called Gatlin and gets all the children to murder every adult in town.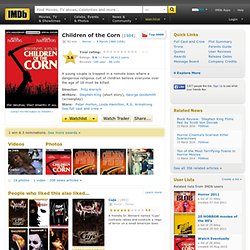 25th Hour (2002) Edit Storyline The 25th Hour depicts the last day of freedom for a young man before he begins serving a seven-year jail term for drug dealing.

Shogun Assassin (1980) Shurayukihime (1973) Shichinin no samurai (1954) Edit Storyline A veteran samurai, who has fallen on hard times, answers a village's request for protection from bandits.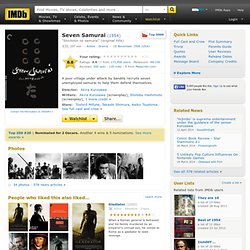 He gathers 6 other samurai to help him, and they teach the townspeople how to defend themselves, and they supply the samurai with three small meals a day. The film culminates in a giant battle when 40 bandits attack the village. Written by Colin Tinto <cst@imdb.com> Manhunter (1986) The Last Samurai (2003) Edit Storyline In the 1870s, Captain Nathan Algren, a cynical veteran of the American Civil war who will work for anyone, is hired by Americans who want lucrative contracts with the Emperor of Japan to train the peasant conscripts for the first standing imperial army in modern warfare using firearms.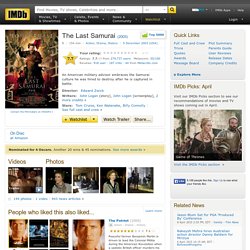 The imperial Omura cabinet's first priority is to repress a rebellion of traditionalist Samurai -hereditary warriors- who remain devoted to the sacred dynasty but reject the Westernizing policy and even refuse firearms. For the Bible Tells Me So (2007) Quotes David Poteat: I had good kids.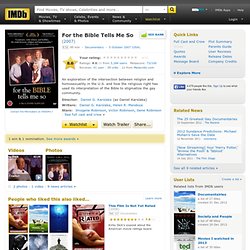 We had one of each sex. When my kids were growing up I said "God, please don't let my son grow up to be a faggot and my daughter, a slut. " A Man for All Seasons (1966) Goofs When King Henry visits Thomas More's house and steps off the boat, he steps into mud and makes light of it.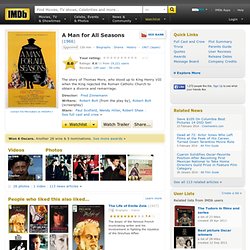 When his retinue follow, it is seen their feet and leggings are already muddy from a previous take. See more » Quotes [first lines] [first spoken lines are over 6 minutes into the film] Man: ...there's the country every second bastard born is fathered by a priest. Detachment (2011) Edit Storyline Detachment is a chronicle of three weeks in the lives of several high school teachers, administrators and students through the eyes of a substitute teacher named Henry Barthes.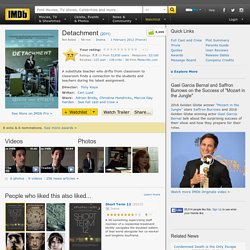 Henry roams from school to school, imparting modes of knowledge, but never staying long enough to form any semblance of sentient attachment. Down by Law (1986) Edit Storyline DJ Zack and pimp Jack end up in prison for being too laid-back to avoid being framed for crimes they didn't commit.

They end up sharing a cell with eccentric Italian optimist Roberto, whose limited command of the English language is both entertaining and infuriating -but rather more useful to them is the fact that Roberto knows an escape route Written by Michael Brooke <michael@everyman.demon.co.uk> Plot Summary | Plot Synopsis. Beasts of the Southern Wild (2012) Edit Storyline Hushpuppy, an intrepid six-year-old girl, lives with her father, Wink, in the Bathtub, a southern Delta community at the edge of the world.
Wink's tough love prepares her for the unraveling of the universe; for a time when he's no longer there to protect her. When Wink contracts a mysterious illness, nature flies out of whack, temperatures rise, and the ice caps melt, unleashing an army of prehistoric creatures called aurochs. With the waters rising, the aurochs coming, and Wink's health fading, Hushpuppy goes in search of her lost mother. Exit Through the Gift Shop (2010) Quotes Thierry Guetta: [talking about meeting Banksy for the first time] It was magic that this person let me film, you know? I felt like I had the piece that will finish the puzzle.
It was like getting something in the daylight that... what you see in the nightlight.
---