Exploration urbaine
It will come as no surprise that exploring can be dangerous, there are risks in almost every location we visit. Some are fairly insignificant from potential cuts to bruises, but others can be fatal. Be that falling from height, drowning, getting hit by moving objects, you name it.
Qu'est-ce que l'exploration urbaine? On l'appelle UE, urbex, infiltration, urban exploration ou reality hacking en anglais. Ce terme a 2 significations différentes pour moi.
Tout sur l'exploration urbaine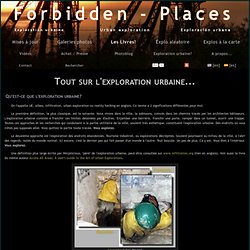 Zones interdites
Cette semaine, j'ai pris quelques jours de congés. N'ayant pas prévu de quitter Namur, j'ai décidé de partir quelques jours à vélo et de me faire un petit itinéraire « Urbex ».Mon ami Roland, intéressé par l'idée, à décidé en dernière minute de m'accompagner. Je suis donc parti ce mercredi à vélo pour visiter un domaine abandonné dans la région de Huy et ai rejoint mon ami chez lui dans la province de Liège.