Curation tools
Pinterest: A Tool to Curate Relevant Visual Content for Your Audience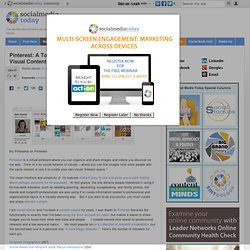 My Pinboards on Pinterest Pinterest is a virtual pinboard where you can organize and share images and videos you discover on the web.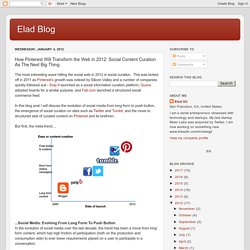 The most interesting wave hitting the social web in 2012 is social curation. This was kicked off in 2011 as Pinterest's growth was noticed by Silicon Valley and a number of companies quickly followed suit - Snip.It launched as a social information curation platform, Quora adopted boards for a similar purpose, and Fab.com launched a structured social commerce feed. In this blog post I will discuss the evolution of social media from long-form to push-button, the emergence of social curation on sites such as Twitter and Tumblr, and the move to structured sets of curated content on Pinterest and its brethren.
Our New, Curated Web « Dachis Group Collaboratory
Subscribe to get 10 free content ideas daily Content curation is how we make sense of the web today. And there are tremendous opportunities for brands, if we pay attention to the way consumers are connecting through shared interests (aka – interest graphs). To explore these opportunities, let's look at content curation in three categories: 1. Consumers as curators.
Grab, Organize, and Embed Your Tweets with Keepstream
Have you ever wished that there was an easier way to organize your tweets and save them? Have you come across a few tweets or maybe a conversation from Twitter that you wanted to share on your blog?