Social Networks Utilities
Social Media. Virtual Communities, Social Media & Virtual Worlds. SXSW 2011: The internet is over. If my grandchildren ever ask me where I was when I realised the internet was over – they won't, of course, because they'll be too busy playing with the teleportation console – I'll be able to be quite specific: I was in a Mexican restaurant opposite a cemetery in Austin, Texas, halfway through eating a taco.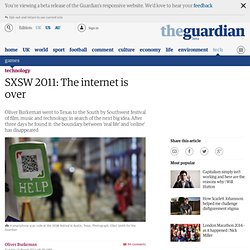 It was the end of day two of South by Southwest Interactive, the world's highest-profile gathering of geeks and the venture capitalists who love them, and I'd been pursuing a policy of asking those I met, perhaps a little too aggressively, what it was exactly that they did. What is "user experience", really? What the hell is "the gamification of healthcare"? Or "geofencing"? Or "design thinking"? Wwwhat's new? - Aplicaciones web gratuitas.
My 4shared - shared folder - partage et stockage gratuits de fichiers. Stockage et partage en ligne de fichiers - Rappel du mot de passe. Sign In. Add-ons for Firefox. Outils pour les webmasters. Tools.
---