Social Networks Utilities
If my grandchildren ever ask me where I was when I realised the internet was over – they won't, of course, because they'll be too busy playing with the teleportation console – I'll be able to be quite specific: I was in a Mexican restaurant opposite a cemetery in Austin, Texas, halfway through eating a taco. It was the end of day two of South by Southwest Interactive, the world's highest-profile gathering of geeks and the venture capitalists who love them, and I'd been pursuing a policy of asking those I met, perhaps a little too aggressively, what it was exactly that they did. What is "user experience", really? What the hell is "the gamification of healthcare"? Or "geofencing"? Or "design thinking"?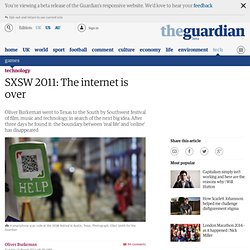 SXSW 2011: The internet is over
No es fácil encontrar efectos de sonido con la licencia adecuada para que podamos usarlos en nuestros proyectos de forma gratuita, de la misma forma que tampoco es sencillo crear dichos sonidos (se requieren tanto conocimientos técnicos como talento para estar en el lugar y momento adecuado). Para facilitar el trabajo de búsqueda, os dejamos con una serie de recursos que os pueden ayudar precisamente a eso, a encontrar efectos de sonidos, archivos de audio, que puedan utilizarse respetando su licencia: - undiaunsonido.com: Un proyecto con formato de blog que publica cada día un sonido diferente. Comenzó el día 1 de enero, grabando un sonido cada día, tanto de máquinas como de ambientes y efectos de todo tipo.
Wwwhat's new? - Aplicaciones web gratuitas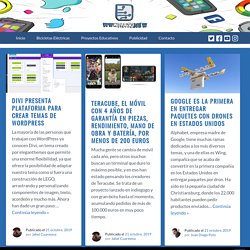 My 4shared - shared folder - partage et stockage gratuits de fichiers
stockage et partage en ligne de fichiers - Rappel du mot de passe
Sign In
Add-ons for Firefox
Outils pour les webmasters