Marylines's dominoes Unfold Stuff 2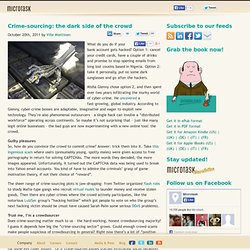 October 20th, 2011 by Ville Miettinen What do you do if your bank account gets hacked? Option 1: cancel your credit cards, have a couple of drinks and promise to stop opening emails from long lost cousins based in Nigeria.
Crime-sourcing: the dark side of the crowd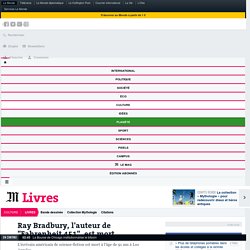 L'écrivain américain de science-fiction Ray Bradbury est mort à l'âge de 91 ans à Los Angeles, a-t-on appris, mercredi 6 juin, de sa famille et de son biographe. Il est connu pour son roman Farenheit 451 (1953), classique des récits d'anticipation qui décrit une ère où la pensée serait interdite et les livres brûlés, ainsi que pour ses Chroniques martiennes (1950) et L'Homme illustré (1951). "Le monde a perdu l'un des plus grands écrivains que j'aie connus, et un des hommes les plus chers à mon cœur. Repose en paix, Ray Bradbury", a déclaré sur son compte Twitter son petit-fils, Danny Karapetian. Adapté au cinéma en 1966 par François Truffaut, Fahrenheit 451 (1953), inspiré par les autodafés nazis de livres écrits par des juifs, évoquait les dangers de la censure et du contrôle des idées dans un monde totalitaire.
Ray Bradbury, l'auteur de "Fahrenheit 451", est mort
The Open Journalism Toolkit: A Discussion with n0tice Creator Matt McAlister
n0tice is a community noticeboard that aims to answer the ever relevant question, "What's happening near me?" The platform, launched by the Guardian Media Group, gives users the ability to share ads, news, and events taking place within a community. Recently, the team behind n0tice opened the platform's API and released an iPhone app, offering more functionality to individuals, developers, and brands. n0tice's "open journalism toolkit" includes crowdmapping, liveblogging, and mobile publishing, among other features.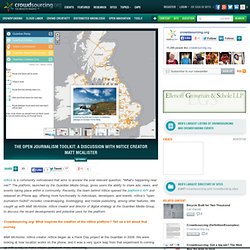 From cybersecurity to cyberstrategy
see annex - Introduction - Cybersecurity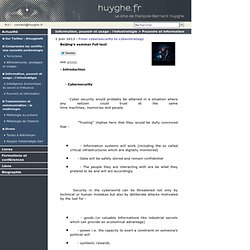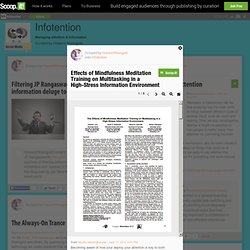 Effects of Mindfulness Meditation Training on Multitasking in a High-Stress Information Environment | Infotention
"Healthy online reading habits require constant gardening. Every Internet company provides us a little plot to tend for, and that's how they keep our attention where they want it. But the soil is pretty gross in most of them, and the seeds are tightly regulated. If we want to read healthily, we have to build our own info gardens. The most important gardening task is deciding what to plant — that is, what sources to read — and that's a personal choice.
(Some of this was copied from BB.com, I'm just bringing it to TBN) For those who don't know, the deep web represents a gargantuan part of the internet which is not accessible through regular searches via google or other search engines. Searching on the Internet today can be compared to dragging a net across the surface of the ocean. While a great deal may be caught in the net, there is still a wealth of information that is deep, and therefore, missed. The reason is simple: Most of the Web's information is buried far down on dynamically generated sites, and standard search engines never find it. Here are some facts on The Deep Web: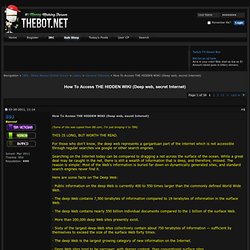 News media corruption: The arrogance and failure of news media
What Wizard Battles Can Teach Us About Crowdsourcing
June 13th, 2012 by Seth W I'd like to start with a confession: when I'm not thinking about crowdsourcing, I'm busy being a huge geek. Not trendy geek chic, unfortunately, but the old fashioned type (a trendsetter maybe?).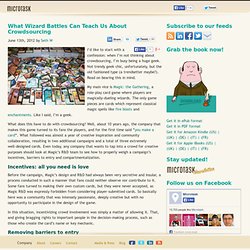 Transmedia Storytelling
Personal Brand Plan Model
Infographic presentation
Participatory Librarianship: Transliterate Conversations for Crea...
Participatory Librarianship: Creating Possibilities Through Transl...
Library Technology: Supporting Transliteracy
Listening, learning, leading: participatory librarianship buffy ha...
Transmedia 101 toronto june 12 2012
The Geosocial Universe Version 2
Story Architecture: Crafting Transmedia Design
Visualizing the Agency of the Future
A Brief History of New Media Art
Beyond Balance: Participatory Librarianship for Creating, Con...
Disruptive Innovations in Distribution: Who Owns the Screen?
Suspected British LulzSec hacker could be extradited to US
Dossier Rio+20 : Quel cosmopolitisme ?
A Global Call: Eco Warriors, Arise!
Watch "Ai Weiwei: Never Sorry" Video at The Message Is
RED CONTRA LA REPRESIÓN
Rock The Post | Eliminating Illiteracy By Leaving A Literacy Legacy
Tom Atlee: From Stuck in the Game, to Liberating Public Wisdom
Worth a Look: Metanoia Films
13 Ways Companies Kill Creativity
Owl: A New Civilization Emergent? Twilight of the Psycopathic OverWorld
Random Deepak Chopra Quote Generator