Marylines's dominoes Unfold Stuff 2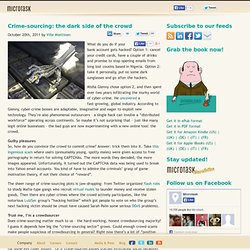 October 20th, 2011 by Ville Miettinen What do you do if your bank account gets hacked? Option 1: cancel your credit cards, have a couple of drinks and promise to stop opening emails from long lost cousins based in Nigeria.
Crime-sourcing: the dark side of the crowd
Ray Bradbury, l'auteur de "Fahrenheit 451", est mort
The Open Journalism Toolkit: A Discussion with n0tice Creator Matt McAlister
n0tice is a community noticeboard that aims to answer the ever relevant question, "What's happening near me?" The platform, launched by the Guardian Media Group, gives users the ability to share ads, news, and events taking place within a community. Recently, the team behind n0tice opened the platform's API and released an iPhone app, offering more functionality to individuals, developers, and brands. n0tice's "open journalism toolkit" includes crowdmapping, liveblogging, and mobile publishing, among other features.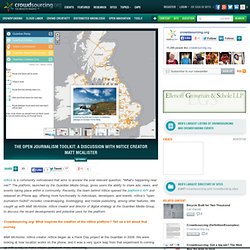 From cybersecurity to cyberstrategy
see annex - Introduction - Cybersecurity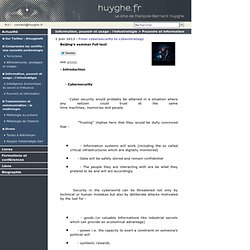 Effects of Mindfulness Meditation Training on Multitasking in a High-Stress Information Environment | Infotention
(Some of this was copied from BB.com, I'm just bringing it to TBN) For those who don't know, the deep web represents a gargantuan part of the internet which is not accessible through regular searches via google or other search engines. Searching on the Internet today can be compared to dragging a net across the surface of the ocean.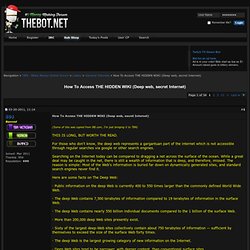 Bilderberg 2012: were Mitt Romney and Bill Gates there? The Guardian Another conference over.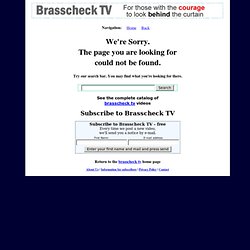 News media corruption: The arrogance and failure of news media
What Wizard Battles Can Teach Us About Crowdsourcing
June 13th, 2012 by Seth W I'd like to start with a confession: when I'm not thinking about crowdsourcing, I'm busy being a huge geek. Not trendy geek chic, unfortunately, but the old fashioned type (a trendsetter maybe?).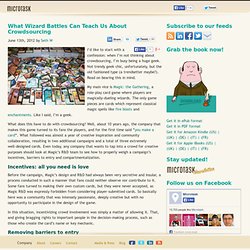 Transmedia Storytelling
Personal Brand Plan Model
Infographic presentation
Participatory Librarianship: Transliterate Conversations for Crea...
Participatory Librarianship: Creating Possibilities Through Transl...
Library Technology: Supporting Transliteracy
Listening, learning, leading: participatory librarianship buffy ha...
Transmedia 101 toronto june 12 2012
The Geosocial Universe Version 2
Story Architecture: Crafting Transmedia Design
Visualizing the Agency of the Future
A Brief History of New Media Art
Beyond Balance: Participatory Librarianship for Creating, Con...
Disruptive Innovations in Distribution: Who Owns the Screen?
Suspected British LulzSec hacker could be extradited to US
Published time: June 14, 2012 17:34 Edited time: June 14, 2012 21:34 Ryan Cleary, a British teenager charged with attacking websites as part of the international hacking group Lulz Security (AFP Photo / Warren Allott) A federal grand jury in the US has indicted a 20-year-old British man for allegedly committing cybercrimes waged at Fox, Sony and others while a member of the Anonymous offshoot LulzSec. American authorities have formally accused Ryan Cleary of Essex, UK with crimes stemming from his alleged involvement in Lulz Security, better known as LulzSec, a hacktivism collective that targeted several high-profile websites in May and June of 2011. This week's indictment, filed at Los Angeles District Court in Southern California, makes claims that Cleary — while only a teenager — participated in cybercrimes that targeted major corporations with distributed denial-of-service (DDOS) attacks and stole sensitive information that he was not authorized to view.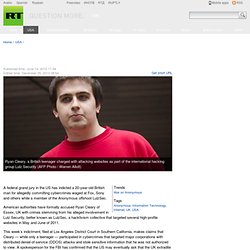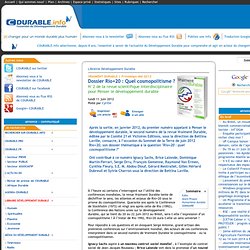 Dossier Rio+20 : Quel cosmopolitisme ?
À l'heure où certains s'interrogent sur l'utilité des conférences mondiales, la revue Vraiment Durable tente de déchiffrer le sens, les attentes et enjeux de Rio+20 sous le prisme du cosmopolitisme. Quarante ans après la Conférence de Stockholm (1972) et vingt ans après celle de Rio (1992), la Conférence des Nations unies sur le développement durable, qui se tient du 20 au 22 juin 2012 au Brésil, sera-t-elle l'expression d'un cosmopolitisme ? À l'instar de Rio 1992, Rio+20 aura-t-elle un sens universel ? Pour répondre à ces questions et en évoquant Serge Antoine, grand artisan des premières conférences sur l'environnement mondial, des acteurs de ces conférences interprètent dans ce second numéro de Vraiment Durable le cosmopolitisme – ou la cosmopolitisation.
In June 2012, movements and leaders will meet in Rio for Rio+20, two decades after the Earth Summit was organised in 1992 to address urgent ecological challenges such as species extinction, biodiversity erosion and climate change. The Earth Summit gave us two very significant international environmental laws: the United Nations Convention on Biological Diversity and the United Nations framework Convention on Climate Change . It also gave us the Rio principles, including the Precautionary Principle and the Polluter Pays Principle.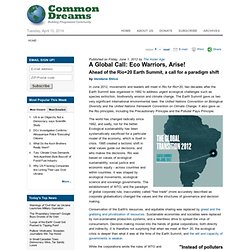 A Global Call: Eco Warriors, Arise!
Watch "Ai Weiwei: Never Sorry" Video at The Message Is
RED CONTRA LA REPRESIÓN
Rock The Post | Eliminating Illiteracy By Leaving A Literacy Legacy
For the majority of my ten-year teaching career, I ambled along in a career that chose me instead of me choosing it. Although it was not the career of my choice, I performed at a high level not taking my responsibilities lightly. I was driven to ensuring that my students were engaged in rigorous instruction that would prepare them, not just for the next grade success, but for life success. My efforts were successful as the majority of my classes and students I instructed excelled and made great academic gains. Slowly, as I continued down the road as an educator, my purpose was revealed. I was heartbroken and devastated to discover mid-level elementary children who could not read, some unable to write their names, and some were drastically behind in their reading skills.
WWF Switzerland & Chaordix® Launch Crowdsourcing Contest to Engage Swiss Startups in Sustainable Consumption Ideas for Future Generations
Tom Atlee: From Stuck in the Game, to Liberating Public Wisdom
Tom Atlee From Stuck in the Game, to Liberating Public Wisdom Dear friends,
Film Home Page "A gripping, deeply informative account of the plunder, hypocrisy, and mass violence of plutocracy and empire; insightful, historically grounded and highly relevant to the events of today." – Michael Parenti, Historian, Author The Face of Imperialism Phi Beta Iota: metanoia-films.org has some of the most important free video online … the Psywar video post was a huge hit at phibetaiota … it had some of the most hits of any post in a short period of time. This is the latest video series which is loaded with unsettling truths of US history. See Also: HUMAN RESOURCES: Social Engineering in t he 20th Century
Worth a Look: Metanoia Films
By Alissa Alvarez Guest writer for Wake Up World Creativity is the driving force behind many new products, services, and companies around the world, creating solutions to age-old problems and offering new ways to live our daily lives. Yet despite the indispensable nature of innovation, many businesses don't exactly foster creativity in the workplace, sometimes even actively working against it.
13 Ways Companies Kill Creativity
Owl: A New Civilization Emergent? Twilight of the Psycopathic OverWorld
Who? Who? "A Civilization of, by and for the Normal Human Being" While many articles on psychopaths have appeared in the last few years, few have anything interesting to say about psychopaths in politics and the military, except clichés and overly broad generalizations. This article, published in an obscure source in Idaho of all places, is one of the best I have ever seen on psychopaths, and it focuses on psychopaths in power and the military. The most profound segment in the article has compelled me to change my views on what constitutes the most fundamental human conflict, which before I thought was between rich and poor, and represented in great power struggles and conspiracies of the former against the latter, with the latter usually losing.
Random Deepak Chopra Quote Generator