Cool Crafts
30Day.jpg (600×776) DIY Wrap Bracelet. You should all know by now that we are all about stacking bracelets on our wrists.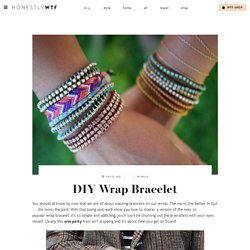 The more, the better. In fact . . . the most, the best! With that being said, we'll show you how to master a version of the ever so popular wrap bracelet. It's so simple and addicting, you'll soon be churning out these wristlets with your eyes closed. Car Eyelashes - Unique Gadgets. Your source of daily updated funny pictures and gifs. Posterized Image Stencil. Photoshop makes it easy to turned a photo into a posterized image.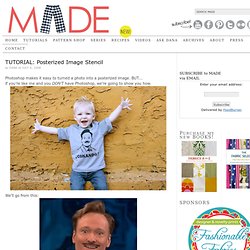 BUT….if you're like me and you DON'T have Photoshop, we're going to show you how. We'll go from this: To this: Making reversible bag. Reversible bag from top of straps to bottom of bag: 50 cm / 20 inchesheight: 28 cm / 11 incheswidth: 40 cm / 16 inches I don't know because I used leftover fabric for my bag.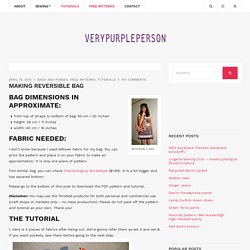 You can print the pattern and place it on your fabric to make an approximation. Recycled beach ball tote. Even though most kids are heading back to school this month, I'm not ready to give up on summer.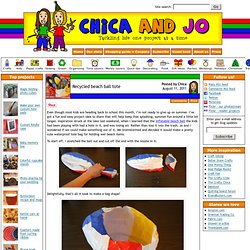 I've got a fun and easy project idea to share that will help keep that splashing, summer fun around a little bit longer. Inspiration struck at the lake last weekend, when I learned that the inflatable beach ball the kids had been playing with had a hole in it, and was losing air. Rather than toss it into the trash, Jo and I wondered if we could make something out of it. Adjustable Button Necklace « Trash to Treasure - tutorials | Craftwerk.ee. This wonderful tutorial is made by Petronella Luiting specially for our project "Tarbetust tarvilikuks" (Trash to treasure) - in witch we share tutorials of recycling and reusing things.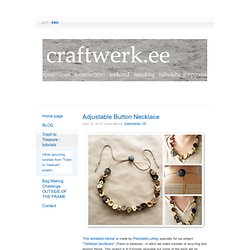 This project is in Estonian language but some of the texts will be available in English as well... There are plenty of fab tutorials in Estonian version of the page - you can check them out HERE. Don't speak Estonian? How to Make Books | Pioneer Woman Homeschooling. Photos and Post By Emelie Sanders.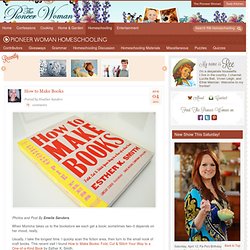 When Momma takes us to the bookstore we each get a book; sometimes two–it depends on her mood, really. Usually, I take the longest time. I quickly scan the fiction area, then turn to the small nook of craft books. This recent visit I found How to Make Books: Fold, Cut & Stitch Your Way to a One-of-a-Kind Book by Esther K. Smith. Re-purposing: Tshirts into 5-strand-braided-headbands.
I was walking through Target a few weeks ago and noticed this little knit fabric headband that was not just braided together…….but woven.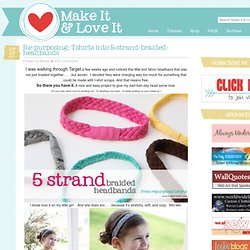 I decided they were charging way too much for something that could be made with t-shirt scraps. And that means free. Needle and Spatula: Card Wallet Sewing Tutorial. As promised, here is a sewing tutorial to make a cute card wallet with a button and elastic closure.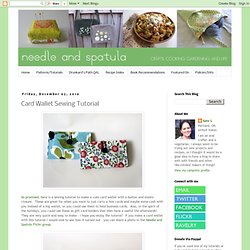 These are great for when you want to just carry a few cards and maybe some cash with you instead of a big wallet, or you could use them to hold business cards. Also, in the spirit of the holidays, you could use these as gift card holders that then have a useful life afterwards! They are very quick and easy to make - I hope you enjoy the tutorial! A Sewing Table for Small Spaces. The perfect spot for a part time sewing enthusiast!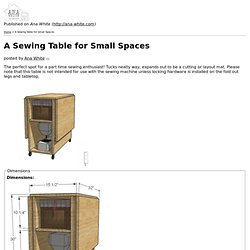 Tucks neatly way, expands out to be a cutting or layout mat. Please note that this table is not intended for use with the sewing machine unless locking hardware is installed on the fold out legs and tabletop. Little Love: Simple Shorts Up-Cycle Tutorial. I dug these too big, too long, old shorts out of the goodwill donation pile today.
I could't remember if they had originally been jeans that I cut and rolled, but I decided they could still be salvaged. Thanks to Pinterest inspirations, I made it home from Hobby Lobby with some lace in order to add a little something-somthing to these unwanted, almost rejected shorts. Anthropologie Knock-Off: Curtain Call Top Tutorial. Edit: more pics are in this post. Remember the Anthropologie Curtain Call top that I posted about?
Well I finally got around to hand-sewing it, and I think it was worth it. Full-size Duvet Cover. Today I'm going to give you a sneak peek at my guest bedroom. It's not quite done yet, but you guys have been telling me you want to see some of it. So here's the duvet cover. Sorry about the weird shadow on the right side of the photo. Yup, I copied the striped walls and the basic style of the duvet cover. Doily Lantern Tutorial | My Hands Made It. Okay, so back in MAY, I was asked to write a tutorial for my doily lanterns – it was supposed to be published in a bridal magazine's online tutorial section. Awesome right? So I took pictures and wrote the tutorial and figured I'd direct you all to it, but um . . .
I don't think they ever did anything with it. Dyi woven top. Make Your Own Hammock. Hammocks are great for the backyard, camping, backpacking, when your pregnant and on bed rest, or for turning your large capacity vehicle (in our case our minivan) into a camping vessel, more on that in this post. We make our own hammocks because: It's cheap (i.e we can't afford an ENO).You can customize the size.It's easy! There are two different methods we have used for making our own hammocks. Hammock 1 involves a sewing machine, Hammock 2 does not. I'll cover both. Lavender Garland Featuring Styrofoam. Hi, sweets. Here's a very easy tutorial to make your own lavender garland. It looks pretty and smells even prettier. Be sure to read down because there's an important step that will keep your lavender from shedding everywhere. Materials:
Natty's Birds of a Feather Costume Tutorial. T-Shirt Wedding Dress. Not Quite Vintage: quilted patchwork belt tutorial. Clutch It. Ice Fabric Dyeing | Bloom, Bake & Create.
---