Clothing
Tiny Tights to Knee-High Socks. So, I had two problems.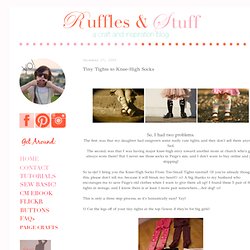 The first, was that my daughter had outgrown some really cute tights, and they don't sell them anymore. Sad. The second, was that I was having major knee-high envy toward another mom at church who's girls always wore them! But I never see those socks in Paige's size, and I don't want to buy online and pay shipping! So ta-da! Re-purposing: Long Sleeved Tee into Ruffled Dress | Make It and Love It - StumbleUpon. I bought my little girl several long sleeved Tees at Children's Place a while ago.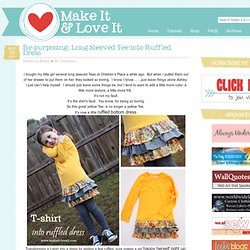 But when I pulled them out of her drawer to put them on her, they looked so boring. I know, I know…….just leave things alone Ashley. I just can't help myself. I should just leave some things be, but I tend to want to add a little more color, a little more texture, a little more frill. It's not my fault. T_shirt_surgery: resize jeans tutorial =] Do you have this: and want this?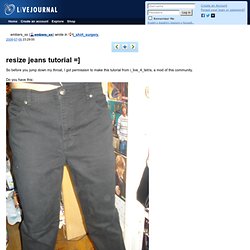 Then you're in the right place! Because today I'm going to show you how to transform huge old mom-jeans into adorable skinny jeans. I decided to use red jeans and white thread so you can really see what I'm doing. The first thing you do, once you have the jeans you'll be working with, is grab a pair of jeans that fit you well. Simple Bow Tie Top : a tutorial - StumbleUpon. I'm so happy about how this turned out.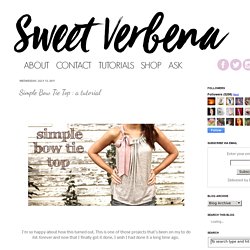 This is one of those projects that's been on my to do list forever and now that I finally got it done, I wish I had done it a long time ago. This is such a simple project. One of the easiest I've ever made. Don't have much sewing experience? Give this a go, I promise it's a piece of cake and any mistakes made are hardly noticeable because of the gather. Free Apron Patterns. From now through December I want to set aside Tuesdays to share some wonderful ideas to make our holidays brighter.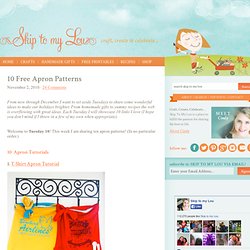 From homemade gifts to yummy recipes the web is overflowing with great ideas. Each Tuesday I will showcase 10 links I love (I hope you don't mind if I throw in a few of my own when appropriate). Welcome to Tuesday 10! T-Shirt Reconstruction: How to resize your shirt and How to give it a braiding effect. : Secret ... - StumbleUpon. I have that classic womanly problem of a closet full of clothes but nothing to wear.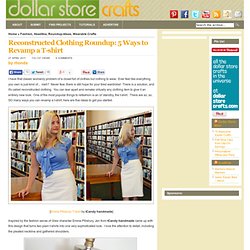 Ever feel like everything you own is just kind of... meh? Never fear, there is still hope for your tired wardrobe! There is a solution, and it's called reconstructed clothing. You can tear apart and remake virtually any clothing item to give it an entirely new look. DIY: T-shirt Surgery : TreeHugger - StumbleUpon. Image: flickr Do you have have tonnes of old baggy t-shirts crowding out your wardrobe and not sure what to do with them?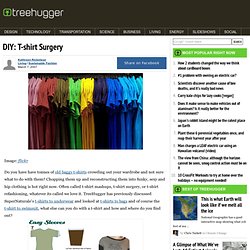 Chopping them up and reconstructing them into funky, sexy and hip clothing is hot right now. Often called t-shirt mashups, t-shirt surgery, or t-shirt refashioning, whatever its called we love it. Over 100 Free Clothing Sewing Patterns at AllCrafts.net - Free Crafts Network. The best FREE patterns so WONDERFUL people like YOU can create and SHARE!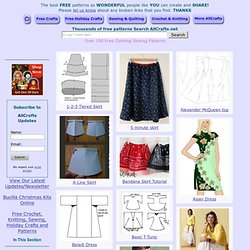 Please let us know about any broken links that you find. THANKS Thousands of free patterns Search AllCrafts.net. Applique Tutorial | Sew Like My Mom. June 23, 2010 I've had several requests for a tutorial on how I do my appliques.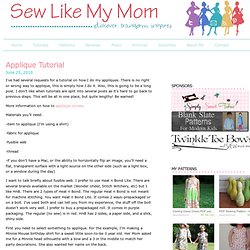 There is no right or wrong way to applique, this is simply how I do it. Also, this is going to be a long post.
---