Générateur de CSS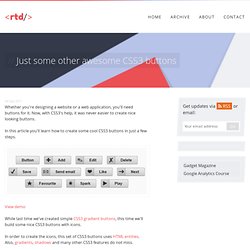 Whether you're designing a website or a web application, you'll need buttons for it. Now, with CSS3′s help, it was never easier to create nice looking buttons. In this article you'll learn how to create some cool CSS3 buttons in just a few steps. View demo While last time we've created simple CSS3 gradient buttons, this time we'll build some nice CSS3 buttons with icons. In order to create the icons, this set of CSS3 buttons uses HTML entities.
25th January, 2010 Tom Kenny Tutorials HTML5 is the future of web development but believe it or not you can start using it today. HTML5 is much more considerate to semantics and accessibility as we don't have to throw meaningless div's everywhere. It introduces meaningful tags for common elements such as navigations and footers which makes much more sense and are more natural.
Code a Backwards Compatible, One Page Portfolio with HTML5 and CSS3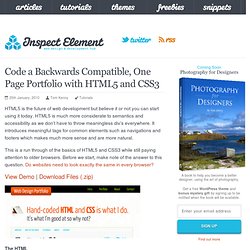 Pimp Your Tables with CSS3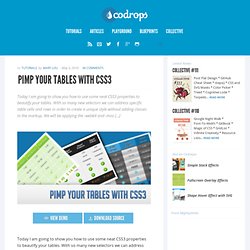 Today I am going to show you how to use some neat CSS3 properties to beautify your tables. With so many new selectors we can address specific table cells and rows in order to create a unique style without adding classes to the markup. We will be applying the -webkit and -moz […] View demoDownload source Today I am going to show you how to use some neat CSS3 properties to beautify your tables.
Advertisement By R. Christie Tables have got to be one of the most difficult objects to style in the Web, thanks to the cryptic markup, the amount of detail we have to take care of, and lack of browser compatibility.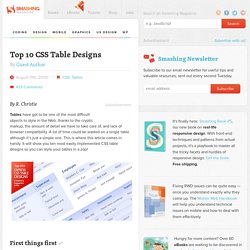 CSSG Collections: Web Forms
I am happy to present a new thing on CSS Globe: CSSG Collections! Approx. once a months I will design, code and give a way a collection of certain web elements for free. First in the series of CSS(G) collections are web forms.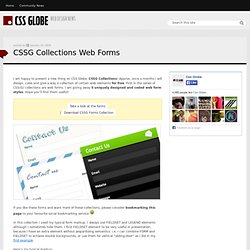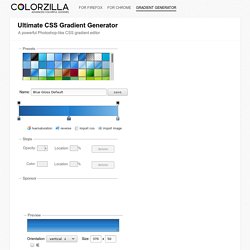 background: #1e5799; /* Old browsers */ background: -moz-linear-gradient(top, #1e5799 0%, #2989d8 50%, #207cca 51%, #7db9e8 100%); /* FF3.6+ */ background: -webkit-gradient(linear, left top, left bottom, color-stop(0%,#1e5799), color-stop(50%,#2989d8), color-stop(51%,#207cca), color-stop(100%,#7db9e8)); /* Chrome,Safari4+ */