Christian
Is God real or just an outdated concept? Who is God? Do we need God or can we get along fine without Him? These were some of my questions about God before I came to faith. This site provides answers to questions about God, evidence for God's existence, His care and love for mankind, and His provision for joyful living both now and into eternity through His Son, Jesus Christ.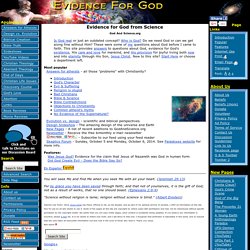 Martin Luther OSA (German: [ˈmaɐ̯tiːn ˈlʊtɐ] ( ); 10 November 1483 – 18 February 1546) was a German monk, Catholic priest, professor of theology and seminal figure of a reform movement in 16th century Christianity, subsequently known as the Protestant Reformation.[1] He strongly disputed the claim that freedom from God's punishment for sin could be purchased with monetary values. He confronted indulgence salesman Johann Tetzel, a Dominican friar, with his Ninety-Five Theses in 1517. His refusal to retract all of his writings at the demand of Pope Leo X in 1520 and the Holy Roman Emperor Charles V at the Diet of Worms in 1521 resulted in his excommunication by the Pope and condemnation as an outlaw by the Emperor.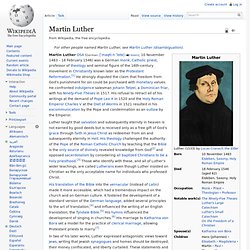 To link here use http://bocl.org?LC+INTRO. You can go to a specific paragraph using http://bocl.org?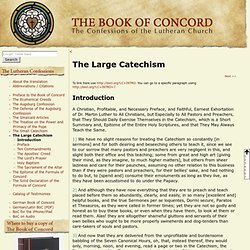 The Large Catechism - Book of Concord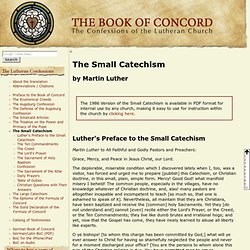 by Martin Luther The 1986 Version of the Small Catechism is available in PDF format for internal use by any church, making it easy to use for instruction within the church by clicking here. Luther's Preface to the Small Catechism Martin Luther to All Faithful and Godly Pastors and Preachers: Grace, Mercy, and Peace in Jesus Christ, our Lord. The deplorable, miserable condition which I discovered lately when I, too, was a visitor, has forced and urged me to prepare [publish] this Catechism, or Christian doctrine, in this small, plain, simple form.
The Small Catechism - Book of Concord
Welcome to the Book of Concord
Welcome to the Book of Concord's home on the Internet. If you are unfamiliar with the Book of Concord, please consult the helpful explanations available in the left hand column under the "Introductions" section; otherwise, the texts of the Lutheran Confessions are listed under the heading "The Lutheran Confessions." Under the Introduction section, you will also find a thorough historical introduction to the Book of Concord. Additional supplemental materials, providing historical context and other information, are available under the "Sources and Context" section in the left hand column.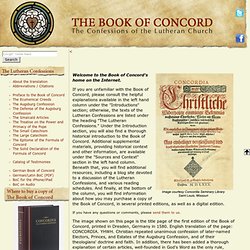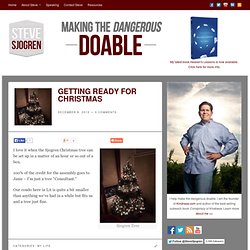 Steve Sjogren's newest book will help anyone wanting to live a better life. It would be an especially good gift item for people who don't go to church or don't believe in God. They won't get preached at, but experience the honest wrestling of a guy who went through a set of horrible circumstances and learned to live a better life after dying during gall bladder surgery that went very wrong. CORRECTION: Scripture isn't the ultimate self-disclosure of God. Jesus is. But it's authoritative because it's the normative revelation of the God we meet in Jesus.
the personal blog of Steve Sjogren — Confessions of a Stumbling Servant
Conspiracy of Kindness
by Steve Sjogren It has been a couple of decades since we began partnering with God to serve our city with kindness and generosity, and today, we are still in a Jesus adventure. Our latest installment is the Kindness.com initiative, sponsored by ConspiracyofKindness.com .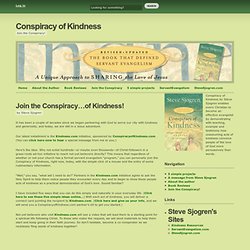 LeeStrobel.com - Resource for Apologetics Videos with Lee Strobel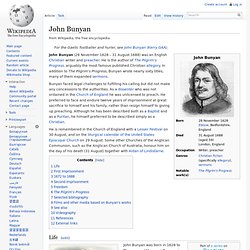 John Bunyan
John Bunyan (28 November 1628 – 31 August 1688) was an English Christian writer and preacher. He is the author of The Pilgrim's Progress, arguably the most famous published Christian allegory. In addition to The Pilgrim's Progress, Bunyan wrote nearly sixty titles, many of them expanded sermons. Bunyan faced legal challenges to fulfilling his calling but did not make any concessions to the authorities. As a dissenter who was not ordained in the Church of England he was unlicensed to preach.
Pilgrim's Progress | Christian Classics Ethereal Library