How to ..
Lifehacker, tips and downloads for getting things done. The How-to Manual That You Can Edit. Types of Skills Everyone Should Know – Video – Top 100 Important Skills. 3.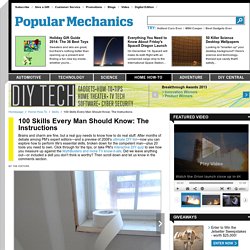 Split Firewood Seasoned splitters use a maul, not an ax, to prep firewood. (With its slim taper, an ax head often gets stuck in the end grain.) 5min - Find the best how to, instructional and DIY videos – Life Videopedia. Howcast | The best how-to videos on the web. Videojug - Get Good At Life. The world's best how to videos plus free expert advice and tutorials. Cool Websites, Software and Internet Tips. Wonder How To » Show & Tell for Creators & Doers. How to's and essential tips for buying, using, and fixing technology products. Learning Python, Linux, Java, Ruby and more with Videos, Tutorials and Screencasts.
Ilearnthings.com - Screencasts for Free Learning. My Learn Tube - CBT Site For Computer Training. How To Do Things » How To Articles & How To Videos. Learn how Everything Works!". W3Schools Online Web Tutorials.
---