Blender
Blender 3D: Noob to Pro. You are strongly encouraged (read as begged) to contribute to this book!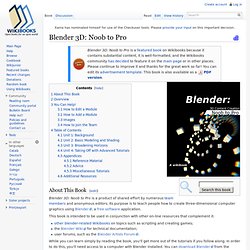 There are many things you can do to help: edit existing modules (to correct errors, improve the writing, or make additions)add new modules (tutorials or reference material)upload new images (screen shots or sample renders)join the team responsible for this WikiBook How to Edit a Module. Main Page. Blender Tutorials | Blender Essential Training. Tutorials - Free Source of 3D Tutorials on 3DTotal.com Ltd. 47 Amazing Blender Tutorials. Okay all you freeloaders... here are the Blender tutorials I promised!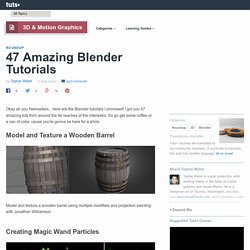 I got you 47 amazing tuts from around the far reaches of the interwebs. So go get some coffee or a can of coke, cause you're gonna be here for a while. Model and Texture a Wooden Barrel Model and texture a wooden barrel using multiple modifiers and projection painting with Jonathan Williamson . Creating Magic Wand Particles. Blender Guru. Blender Cookie | Blender Tutorials and Training.
---