Rss
Filtering the Blog Avalanche
RSS Tools and Services - The Best Picks From Sharewood - Robin G
(Association marketing de Montréal) Expliquer les fils RSS comme
(Guitef) Cas de convergence de la télé et des blogues
(Guitef) Pas de malbouffe dans les écoles du Québec
Burning Questions - The Official FeedBurner Weblog: Feed for Tho
lists: things you can do with rss [TimYangWiki]
Sept raisons d'adopter la technologie RSS en entreprise
Nous sommes désolés, la page que vous avez demandée est introuvable. Selon le cas : > Vous avez été dirigé à cette adresse URL par un moteur de recherche ou par un site Internet, mais la page n'existe plus ou l'hyperlien comporte une erreur; > Vous avez fait une erreur de frappe en inscrivant l'adresse url. Veuillez vérifier le lien; > Il s'agit d'une erreur de notre part, et le lien n'est pas fonctionnel; > Il est possible que la page ait été retirée ou déplacée à une autre adresse.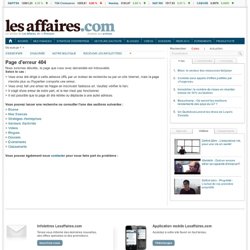 Blogolist - Les weblogs francophones
You may have come across these funny looking little orange buttons (a.k.a. chicklets) and wondered what they are? This Webpage is an attempt to explain what they are and how you can use them and a USM client to better enjoy the Web. Table of Contents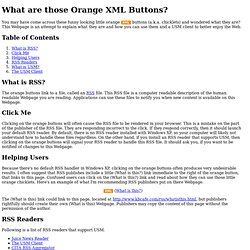 USM protocol
Making An RSS Feed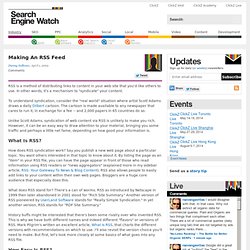 RSS is a method of distributing links to content in your web site that you'd like others to use. In other words, it's a mechanism to "syndicate" your content. To understand syndication, consider the "real world" situation where artist Scott Adams draws a daily Dilbert cartoon.
Le Club Suisse de Marketing découvre RSS
Software to Create RSS Feeds, Edit and Publish News Feeds
Design: Reblog
An RSS aggregator for reading and republishing Reblog makes the process of filtering and republishing content from many RSS feeds easy, and fast. Rebloggers subscribe to their favorite feeds, preview the content, and select their favorite posts. These posts are automatically published through their favorite blogging software, creating an attention funnel . Reblog's "River of News" view, showing most recent entries from all subscribed feeds.