Blog
Broken Metaphors on Blog
Le terme blog est issu du mot anglais weblog qui représente un site web constitué de billets (articles ou encore notes) accumulés au fur et à mesure du temps, à l'image d'un journal intime ou d'un carnet de bord virtuel et souvent classés par ordre du plus récent au plus ancien. Le blog constitue un support multimédia où le blogueur peut publier à sa guise, des billets, sous forme de texte, de liens hypertextes, de vidéo, de piste audio ou encore, d'image. De plus, le lecteur peut réagir en peut émettant des commentaires à propos des articles qu'il aura lu, ces commentaires étant visibles des autres lecteurs (après accord de publication, ou non, du propriétaire du blog).
Définition - Le Blog Marketing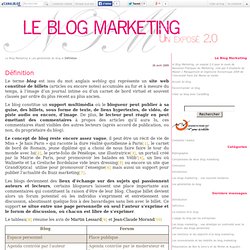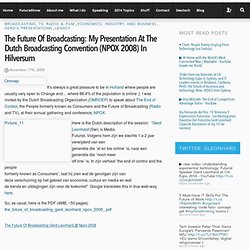 It's always a great pleasure to be in Holland where people are usually very open to Change and... where 88.4% of the population is online ;) I was invited by the Dutch Broadcasting Organization (OMROEP) to speak about The End of Control, the People formerly known as Consumers and the Future of Broadcasting (Radio and TV), at their annual gathering and conference, NPOX. Here is the Dutc h description of the session: "Gerd Leonhard (Swi) is Media Futurist.
The Future of Broadcasting: My presentation at the Dutch Broadca
Fantasy Blog Share Market | Blogshares
View larger version (includes full screen option—requires registration) Well, next week is the big one. Boston on Monday and NY on Tuesday.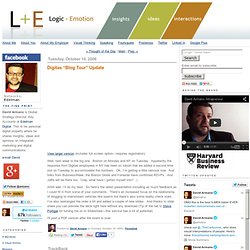 Digitas "Blog Tour" Update
The Lab
Blog de Michel Houellebecq
Un commentaire de trop - 2006-04-14 - Carnet Web Karl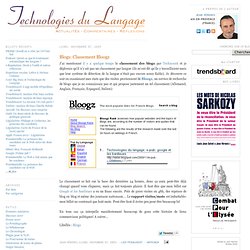 Blogs: Classement Bloogz
J'ai mentionné il y a quelque temps le classement des blogs par Technorati et je déplorais qu'il n'y ait pas un classement par langue (ils m'ont dit qu'ils y travaillaient mais que leur système de détection de la langue n'était pas encore assez fiable). Je découvre ce soir en examinant mes stats que des visites proviennent de Bloogz , un service de recherche de blogs que je ne connaissais pas et qui propose justement un tel classement (Allemand, Anglais, Français, Espagnol, Italien): Le classement se fait sur la base des dernières 24 heures, donc ça aura peut-être déjà changé quand vous cliquerez, mais ça fait toujours plaisir. Il faut dire que mon billet sur Google et les banlieues a eu un franc succès. Près de 5000 visites en 48h, des reprises de blog en blog et même des journaux nationaux...
AkaSig
Visualization of Blogspace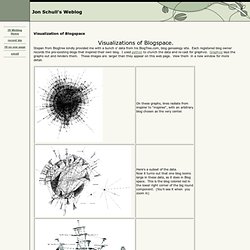 Visualization of Blogspace Visualizations of Blogspace. Stepan from Blogtree kindly provided me with a bunch o' data from his BlogTree.com, blog genealogy site. Each registered blog owner records the pre-existing blogs that inspired their own blog. I used python to crunch the data and re-cast for graphviz. Graphviz lays the graphs out and renders them.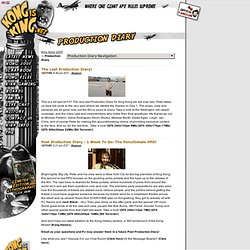 The Last Production Diary! 12/17/05, 6:46 pm EST - Xoanon This is a bit sad isn't it? The very last Production Diary for King Kong we will ever see. Peter takes us back full circle to the very spot where we started the Diaries on Day 1.
Kong is King.net | King Kong | Peter Jackson's Production D
Le non-classement non-officiel des 100 meilleurs weblogs francop
Le non-classement non-officiel des 100 meilleurs weblogs francophones ... que je lis de temps en temps. :-) J'ai constitué en une heure cette liste de mémoire et en suivant des liens, si vous n'êtes pas dedans et que vous avez envie que je vous lise (ou si vous pensez que je vous lis déjà :-), faites moi signe et je vous ajouterai. Je suis allergique aux agrégateurs, et d'habitude, lorsque j'ai quelques minutes, je vais sur un weblog dont je me souviens l'adresse, et je navigue de liens en liens. L'ordre de cette liste est aléatoire (il change à chaque fois que vous chargez la page), n'hésitez pas à revenir souvent et à partir à la découverte au hasard. Si vous souhaitez réagir ou proposer d'autres weblogs, vous pouvez écrire un commentaire ici.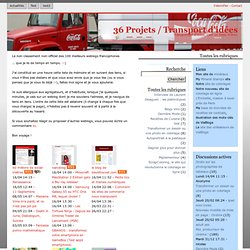 Pricing)
pointblog.com cherche partenaires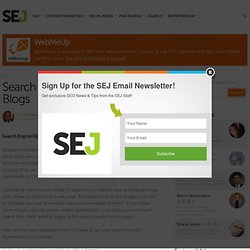 inShare0 Search Engine Optimization For Blogs Blogging software is really a simple Content Management System (CMS) that easily adds new pages and integrates them into your site's navigational structure and linkage. Blogs and blog posts are naturally search engine friendly because they are text-rich, link-rich, frequently-updated webpages that use stylesheets or CSS, and have very little extraneous HTML.
Search Engine Optimization For Blogs
WWW2004 Workshop on the Weblogging Ecosystem: Aggregation, Analy
web of influence
Internet Changes Everything: Blogging the Market; Part 1