Blog
Broken Metaphors on Blog
"La première génération des natifs du numériq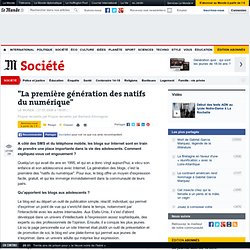 LE MONDE | | Propos recueillis par Propos recueillis par Bertrand d'Armagnac A côté des SMS et du téléphone mobile, les blogs sur Internet sont en train de prendre une place importante dans la vie des adolescents. Comment expliquez-vous cet engouement ? Quelqu'un qui avait dix ans en 1995, et qui en a donc vingt aujourd'hui, a vécu son enfance et son adolescence avec Internet. La génération des blogs, c'est la première des "natifs du numérique". Pour eux, le blog offre un moyen d'expression facile, gratuit, et qui les immerge immédiatement dans la communauté de leurs pairs.
Le terme blog est issu du mot anglais weblog qui représente un site web constitué de billets (articles ou encore notes) accumulés au fur et à mesure du temps, à l'image d'un journal intime ou d'un carnet de bord virtuel et souvent classés par ordre du plus récent au plus ancien. Le blog constitue un support multimédia où le blogueur peut publier à sa guise, des billets, sous forme de texte, de liens hypertextes, de vidéo, de piste audio ou encore, d'image. De plus, le lecteur peut réagir en peut émettant des commentaires à propos des articles qu'il aura lu, ces commentaires étant visibles des autres lecteurs (après accord de publication, ou non, du propriétaire du blog).
Définition - Le Blog Marketing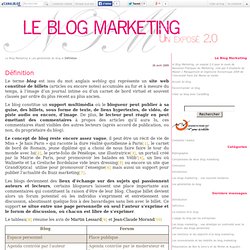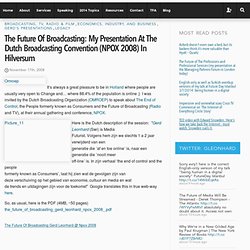 It's always a great pleasure to be in Holland where people are usually very open to Change and… where 88.4% of the population is online ;) I was invited by the Dutch Broadcasting Organization (OMROEP) to speak about The End of Control, the People formerly known as Consumers and the Future of Broadcasting (Radio and TV), at their annual gathering and conference, NPOX. Here is the Dutc h description of the session: "Gerd Leonhard (Swi) is Media Futurist. Volgens hem zijn we slechts 1 a 2 jaar verwijderd van een generatie die ´af en toe online´ is, naar een generatie die ´nooit meer off-line´ is. In zijn verhaal 'the end of control and the people formerly known as Consumers', laat hij zien wat de gevolgen zijn van deze verschuiving op het gebied van economie, cultuur en media en wat de trends en uitdagingen zijn voor de toekomst" Google translates this in true web-way here.
The Future of Broadcasting: My presentation at the Dutch Broadca
Fantasy Blog Share Market | Blogshares
March 20, 2012 | The 5 Oldest Blogs in BlogShares While doing some maintenance today I happened to glance at the 'blogs' database which had ordered itself by BSID. Noticing that one of them had a 3 digit BSID (we're now into the 10′s of millions in terms of BSIDs), I wondered if it was still alive… (more…) 1 Comment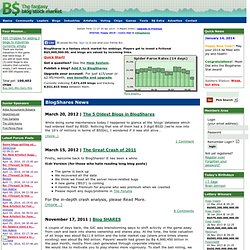 View larger version (includes full screen option—requires registration) Well, next week is the big one. Boston on Monday and NY on Tuesday.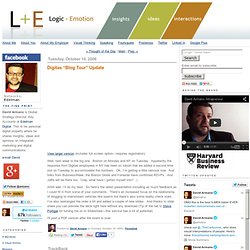 Digitas "Blog Tour" Update
The Lab
Blog de Michel Houellebecq
Un commentaire de trop - 2006-04-14 - Carnet Web Karl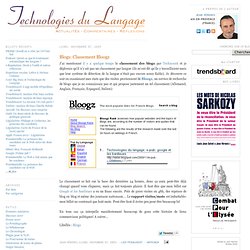 Blogs: Classement Bloogz
J'ai mentionné il y a quelque temps le classement des blogs par Technorati et je déplorais qu'il n'y ait pas un classement par langue (ils m'ont dit qu'ils y travaillaient mais que leur système de détection de la langue n'était pas encore assez fiable). Je découvre ce soir en examinant mes stats que des visites proviennent de Bloogz, un service de recherche de blogs que je ne connaissais pas et qui propose justement un tel classement (Allemand, Anglais, Français, Espagnol, Italien): Le classement se fait sur la base des dernières 24 heures, donc ça aura peut-être déjà changé quand vous cliquerez, mais ça fait toujours plaisir. Il faut dire que mon billet sur Google et les banlieues a eu un franc succès.
Wecena est une entreprise qui organise des chantiers de mécénat de compétences pour informaticiens. Mais Wecena, c'est aussi un ensemble de logiciels libres (et open source et gratuits, licence AGPL) qui permettent d'organiser des chantiers de volontariat, de mécénat ou de bénévolat de compétences pour mettre des professionnels au service de grandes causes. Vous pouvez librement installer ces logiciels sur vos propres serveurs pour mettre en place des plates-formes réunissant entreprises et associations autour de projets de solidarité. Les logiciels Wecena sont déjà : utilisés par Wecena dans le secteur informatiqueinstallés par Investime pour organiser des missions professionnelles de solidarité dans les métiers de l'assurance (soutien à des institutions de micro-finance en Afrique notamment)étudiés par Antoine G. pour organiser des chantiers de mécénat de compétences dans certains métiers du conseil et des services
AkaSig
Visualization of Blogspace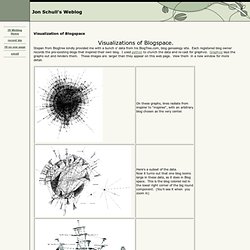 Visualization of Blogspace Visualizations of Blogspace. Stepan from Blogtree kindly provided me with a bunch o' data from his BlogTree.com, blog genealogy site. Each registered blog owner records the pre-existing blogs that inspired their own blog. I used python to crunch the data and re-cast for graphviz. Graphviz lays the graphs out and renders them.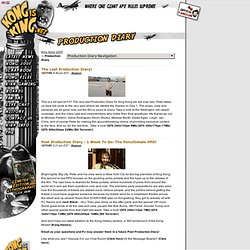 The Last Production Diary! 12/17/05, 6:46 pm EST - Xoanon This is a bit sad isn't it? The very last Production Diary for King Kong we will ever see. Peter takes us back full circle to the very spot where we started the Diaries on Day 1.
Kong is King.net | King Kong | Peter Jackson's Production D
Le non-classement non-officiel des 100 meilleurs weblogs francop
Le non-classement non-officiel des 100 meilleurs weblogs francophones ... que je lis de temps en temps. :-) J'ai constitué en une heure cette liste de mémoire et en suivant des liens, si vous n'êtes pas dedans et que vous avez envie que je vous lise (ou si vous pensez que je vous lis déjà :-), faites moi signe et je vous ajouterai. Je suis allergique aux agrégateurs, et d'habitude, lorsque j'ai quelques minutes, je vais sur un weblog dont je me souviens l'adresse, et je navigue de liens en liens. L'ordre de cette liste est aléatoire (il change à chaque fois que vous chargez la page), n'hésitez pas à revenir souvent et à partir à la découverte au hasard. Si vous souhaitez réagir ou proposer d'autres weblogs, vous pouvez écrire un commentaire ici.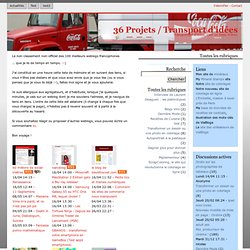 Pricing)
Search Engine Optimization For Blogs Blogging software is really a simple Content Management System (CMS) that easily adds new pages and integrates them into your site's navigational structure and linkage. Blogs and blog posts are naturally search engine friendly because they are text-rich, link-rich, frequently-updated webpages that use stylesheets or CSS, and have very little extraneous HTML. Optimizing a blog is very similar to optimizing a website, and optimizing a blog post similar to optimizing a web page.
Search Engine Optimization For Blogs
WWW2004 Workshop on the Weblogging Ecosystem: Aggregation, Analy
web of influence
January 25 Dennis Hlynsky is a professor of film and animation at RISD whose most recent work, titled Small Brains on Mass, looks at bird behavior, particularly how they interact when flying in groups. To better understand how flying as a flock is achieved, Hlynsky filmed the birds and then stacked the images on the same frame for a set number of frames, the results show each bird's flight as a trail, but synchronized with the flock.
Internet Changes Everything: Blogging the Market; Part 1