SEO Articles
Analytics Matched Search Queries Vs. AdWords Keyword Details Report. A question recently came across my desk regarding the use of the Matched Search Queries Report in Analytics when compared to the Keyword Details Report in AdWords.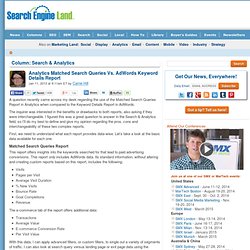 The inquirer was interested in the benefits or drawbacks to both reports, also asking if they were interchangeable. I figured this was a great question to answer in the Search & Analytics field, so I'll do my best to define and give my opinion regarding the pros, cons and interchangeability of these two complex reports. First, we need to understand what each report provides data-wise. Let's take a look at the basic data available for each one. How To Build A Better B2B SEO Strategy In 2013. It's the last week of 2012.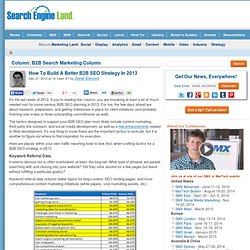 If you're reading this column, you are forsaking at least a bit of much needed rest for some serious B2B SEO planning in 2013. For me, the few days ahead are about research, preparation, and getting milestones in place for client initiatives (and probably finishing one or two or three outstanding commitments as well). The tactics designed to support your B2B SEO plan most likely include content marketing, third-party link outreach, and social media development, as well as a few enhancements related to Web development. It's one thing to know these are the important tactics to execute, but it is another to figure out where to find inspiration for execution. Take Twitter campaigns to the next level with SEO data.
You drive amazing amounts of traffic to your sites, grow conversions and engage with thousands of users over social media.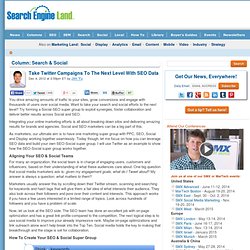 Want to take your search and social efforts to the next level? Try forming a Social-SEO super group to exploit synergies, foster collaboration and deliver better results across Social and SEO. 14 Ways to Link Social and SEO. Harry Gold | April 23, 2013 | 13 Comments inShare173 Social media marketing and SEO are attached at the hip and should always be run in tandem and concurrently.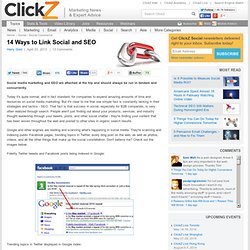 Today it's quite normal, and in fact standard, for companies to expend amazing amounts of time and resources on social media marketing. But it's clear to me that one simple fact is constantly lacking in their strategies and tactics - SEO. 5 Ways to Improve B2B SEO Conversion Rates & Benchmarking Data. In late October MarketingSherpa published a chart from their 2012 Website Optimization Benchmark Report, highlighting average conversion rates broken down by industry.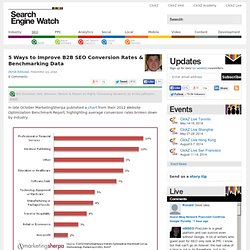 B2B search marketers certainly obsess about conversion metrics and this chart does well to provide broad expectation for success, from an industry perspective. That said, the associated article does a good job identifying important considerations in addition to just benchmark information. How to do Awesome SEO Keyword Research for a Large, Templated Site. This series (which began here and continued here) has aimed to put forward some ideas around how to improve keyword research in order to make it more rigorous and efficient.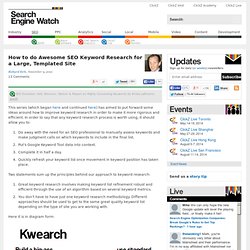 In order to say that any keyword research process is worth using, it should allow you to: Do away with the need for an SEO professional to manually assess keywords and make judgment calls on which keywords to include in the final list.Put's Google Keyword Tool data into context.Complete it in half a day.Quickly refresh your keyword list once movement in keyword position has taken place.
How to do Awesome SEO Keyword Research for a Standard Website. Note: This article is part of a series.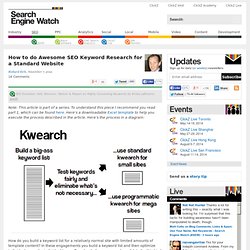 To understand this piece I recommend you read part 1, which can be found here. Here's a downloadable Excel template to help you execute the process described in the article. Here's the process in a diagram: How do you build a keyword list for a relatively normal site with limited amounts of template content? In these engagements you build a keyword list and then optimize individual pages for individual terms. End Dirty SEO Keyword Research Now! Keyword research is hugely important.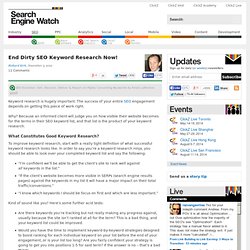 The success of your entire SEO engagement depends on getting this piece of work right. Why? Because an informed client will judge you on how visible their website becomes for the terms in their SEO keyword list, and that list is the product of your keyword research. How to Forecast the Future Value of SEO in 7 Steps. One of the biggest challenges for any business, not just in the SEO sector, is being able to accurately forecast and measure the size of their market opportunity.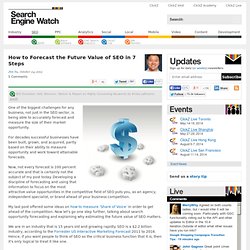 For decades successful businesses have been built, grown, and acquired, partly based on their ability to measure opportunity and work toward attainable forecasts. Now, not every forecast is 100 percent accurate and that is certainly not the subject of my post today. Developing a discipline of forecasting and using that information to focus on the most attractive value opportunities in the competitive field of SEO puts you, as an agency, independent specialist, or brand ahead of your business competition.
My last post offered some ideas on how to measure 'Share of Voice' in order to get ahead of the competition. 53% of Organic Search Clicks Go to First Link [Study] How important is it to be on top?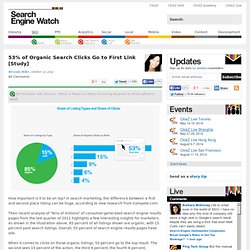 In search marketing, the difference between a first and second place listing can be huge, according to new research from Compete.com. Their recent analysis of "tens of millions" of consumer-generated search engine results pages from the last quarter of 2011 highlights a few interesting insights for marketers. Bare Minimum SEO: 3 Things You Must Do. If you could do only three things for SEO, what would they be? This is a question encountered by many smaller businesses, and even somewhat larger companies, either due to not having enough people (time) and/or dollars available to invest in a big way. If this is a scenario you're facing, what follows are three minimal SEO tasks you must do. The Financial Justification for Search Engine Optimization. Every business grows by delivering value through products and services that fill a need, solve a problem or lead to a desired goal. To achieve this, your business must first be visible online to your ideal prospects.
Enter SEO. Search Engine Optimization helps with this 'findability' problem. 3 Ways to Use Social Media to Improve Your Search Rankings. Are you happy with the traffic coming to your blog or website? Have you kept up with the changes in search engine optimization (SEO)? This is essential for most businesses today. The Death Of SEO: The Rise of Social, PR, And Real Content. Don't Forget the Low Hanging Fruit in SEO. Search engine optimizers and SEO clients alike tend to often fall into a daydream state coveting the attainment of the first place ranking for their industry's top keyword(s). You should in fact wish for this, and no doubt work for it. The problem is that many wear proverbial "blinders", dead set on the single keyword obsession. Ultimately you find yourself many hours and resource dollars down the road albeit closer to your goal but still waiting for the money train of traffic that will undoubtedly take longer to attain.
While you plan and work toward long-term SEO goals, which is fine, you should take notice that you may have several low-hanging opportunities helping to drive short-term success as you plug away at those top terms. In short, these are the terms that can be found at bottom of the first page or the top of second page of search engine results. A 6 Step Process for Keyword Research. Any good SEO campaign starts with proper keyword identification and categorization. Clients often ask how many keywords they should try to rank for. There is no "right" answer to this question. Different companies have different markets, products, and budgets that affect the equation. Here is a basic strategy for how you can approach keyword research. 1. 9 Ways to Completely Sabotage Your Global SEO Strategy. Are You A Strategic SEO Thinker? 11 Content Optimization Techniques for Content Marketers.
How to Protect Your Site from Negative SEO. URL Structure: Tips for Combining SEO and URL Best Practices. SEO is More Than Link Building. 6 SEO Tools to Analyze Your Site Like Google Does. The Periodic Table Of SEO Ranking Factors. 12 Must-Have Resources for Getting Started With SEO. Google Penguin 1.1 Pushed Out As Some Sites Report Recovery. Top Google Result Gets 36.4% of Clicks [Study] How to Track, Analyze, and Improve Your SEO Strategy. Key Tips on Measuring SEO and Keyword Performance. 3 Proven Ways to Convert Traffic From Search. How to Approach International Online Search Marketing. 5 Best Practices for Global SEO. Deconstructing the Qualities of High Quality SEO Links. Why Search Retargeting Must Be Part of Your Online Marketing Strategy [Infographic]
Search Engine Marketing - Four Keyword Research Mistakes to Avoid at All Costs. 13 Tips for Increasing Your Company's Google Rank. Paid Search Drives $6 In Local Sales For Every $1 In Online Sales -- Study. So, did you get mauled by the Panda?
---