Content Marketing Articles
Content Marketing Institute » How to Measure the Value of Content Marketing Podcasts
Benchmarking for Content Marketing | Getting Started
Online Content Publishing | Brands Expanding
IBM's Content Marketing | Influencer Blogging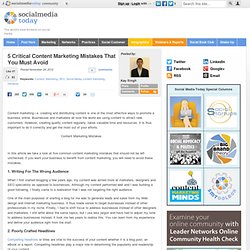 Content marketing i.e. creating and distributing content is one of the most effective ways to promote a business online. Businesses and marketers all over the world are using content to attract new customers. However, creating quality content regularly, takes valuable time and resources. It is thus important to do it correctly and get the most out of your efforts.
5 Critical Content Marketing Mistakes That You Must Avoid
Big Content Marketing Plays From Coke, Pepsi and Red Bull
Content marketing is often a key component of digital marketing strategies. Utilizing social media is frequently a key driver in content marketing success. Knowing how to measure the impact that social media has on content marketing efforts is of utmost importance if you want to accurately measure success. Before you can begin to accurately measure success, you need to ensure that you have accurate data. Without accurate data, you will be looking at a very murky representation of the results.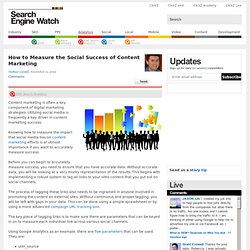 How to Measure the Social Success of Content Marketing
Why Smart Marketing Is About Help, Not Hype The difference between helping and selling is just two letters. But those two letters are critically important to your company's success.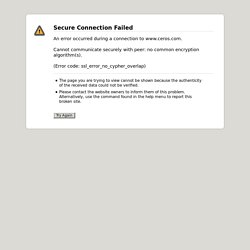 5 Lessons From the Best Example of Content Marketing Ever?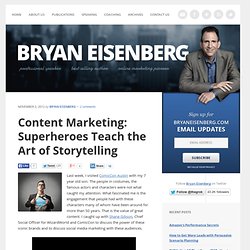 Content Marketing: Superheroes Teach the Art of Storytelling -
inShare12 Last week, I visited ComicCon Austin with my 7 year old son. The people in costumes, the famous actors and characters were not what caught my attention.
B2B Content Marketing trends | 2013 Research Report
Content Marketing Evolution | Development Stages | Step-By-Step Guide
Content - B2B Content Marketing: Trends and Benchmarks for 2012
Content marketing is gaining in popularity: 83.5% of B2B marketers surveyed say they are stepping up their content marketing production over the next 12 months, up from the 71% who said so a year earlier, according to a report by Holger Schulze for Optify. Some 15.0% of surveyed B2B marketers expect content volume to stay flat in 2012, and only 1.5% are expecting a decrease. Below, additional findings from the 2012 B2B Content Marketing Trends Survey, based on a poll of 740 members of the B2B Technology Marketing Community on LinkedIn. Almost one-half of respondents work for high-tech (24%) or software (22%) companies, and more than one-half of those surveyed are from companies with fewer than 100 employees.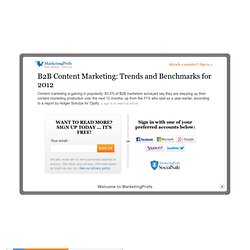 3 Cases that Prove the Power of Content Marketing
As various technology platforms (e.g., social media, apps, tablets, smartphones, and TV) evolve to become more integrated with one another, more customizable, and more participatory, so are people's expectations around their everyday content experiences, according to a study by Latitude. However, developing interesting and relevant narratives across multiple platforms is a big challenge for content marketers. To explore this changing media landscape, Latitude asked leaders in the emerging transmedia space about the challenges and opportunities today's storytellers (or content creators) are encountering. In addition, Latitude polled 158 early adopters of technology in 10 countries, and asked them, "How would you like to experience stories in the future?"
Content - Is This the Future of Content Marketing? Transmedia Storytelling Emerges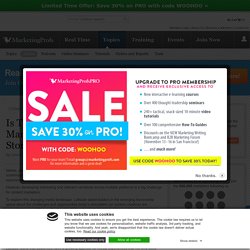 7 Reasons Content Marketing is Better Than Link Building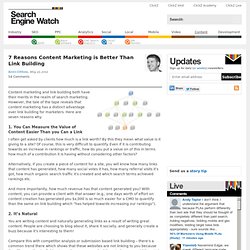 Content marketing and link building both have their merits in the realm of search marketing. However, the tale of the tape reveals that content marketing has a distinct advantage over link building for marketers. Here are seven reasons why. 1.
Now that we've all agreed that "Content is King (Again)," and Content Marketing is all the rage, maybe it is time to think about some easy-to-follow tenets. Let's keep this simple. Follow a 70/30 Rule – 70% of content curated, 30% branded. Why?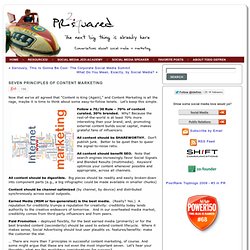 Seven Principles of Content Marketing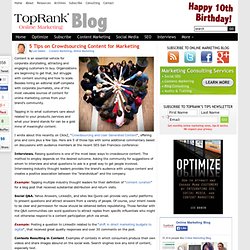 Content is an essential vehicle for corporate storytelling, attracting and engaging customers to buy. Organizations are beginning to get that, but struggle with content sourcing and how to scale. Besides hiring an editorial staff complete with corporate journalists, one of the most valuable sources of content for online marketing comes from your brand's community. Tapping in to what customers care about related to your products /services and what your brand stands for can be a gold mine of meaningful content. I wrote about this recently on ClickZ, "Crowdsourcing and User Generated Content", offering pros and cons plus a few tips. Here are 5 of those tips with some additional commentary based on discussions with audience members at the recent SES San Francisco conference:
5 Tips on Crowdsourcing Content for Marketing
13 Content Marketing Steps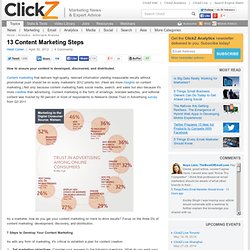 Heidi Cohen | April 30, 2012 | 4 Comments inShare118 How to ensure your content is developed, discovered, and distributed. Content marketing that delivers high-quality, relevant information yielding measurable results without promotional push should be on every marketer's 2012 priority list. (Here are more insights on content marketing.)
Seven Content Marketing Tips From Top Chefs [Infodoodle]
After watching a marathon of Food Network programs, I realized that much of the advice from top chefs regarding fab cooking is the same type of advice for content creators. Inspired by the chefs who want to serve fresh, attractive food, I drew an infodoodle for marketers wanting to serve refreshing, flavorful content to their customers. Here are seven tips for content marketing, based on advice from top chefs. 1. Use fresh ingredients. Fresh content retains its natural flavor.
A Marketer's Guide to Accumulating Awesome Online Reviews
The results of the Local Consumer Review Survey (2012) are in, and Search Engine Land pulled out some interesting pieces of data around the impact of online reviews on consumers' purchasing decisions. So, how important are online reviews to consumers? Survey says: Very! Let's dive into some of the most interesting results to learn why consumers are relying on online reviews more, and why it's critical that your business has an expansive arsenal of positive reviews.
The inky illustration of a mythological sea creature on the dark rum bottle lured us in. How could we pass over a product called The Kraken? That night, before opening the bottle, I first checked its website for recipes. I found them... and also discovered a fun, unique example of content marketing.
Release the Content! Five Content Marketing Lessons from The Kraken
Five Ways to Ruin Your Content Strategy and Guarantee Its Failure
Content marketing. It's what's for dinner—or if not, it should be—for organizations, large and small. But successful content marketing requires more than just faithfully writing a blog post or posting a YouTube video weekly. For content marketing to be effective, most organizations need to create different types of content consistently and constantly. To ensure all that content works in concert, not just now but in the future, your content marketing efforts need to be implemented according to a comprehensive content strategy. (A content strategy is the product of decisions about what messages you want to deliver, what they're supposed to do, and how and when they will be deployed.)
How to Conduct Competitive Analysis to Step Up Your Content Strategy
When you ask marketers who their competitors are, they can rattle off a list quite quickly, and perhaps a few anecdotes about notable differentiators like product features, sales techniques, and site structure. Maybe they'd like to know more information about them (say, their marketing techniques?) but that information is all kept pretty hush hush.
The Simple Template for a Thorough Content Style Guide
Content - A Seven-Step Road Map for Your Content Marketing
An Insider's Secret to Avoiding Marketing Content Shortages
Everything Marketers Need to Measure and Prove Content ROI
How to Build Better Buyer Personas to Drive Killer Content
Content - Create Content for Each Stage of the B2B Buying Journey
Top 10 Tips for Better Content Marketing
6 Tips for Developing Content That Is SEO (and User) Friendly
10 Tips for Better Content Marketing | Blog | Daily Dose
10 Types of Content to Create Engagement and Drive Traffic to Your Blog, Branding