Broth
Broth is Beautiful. "Good broth will resurrect the dead," says a South American proverb.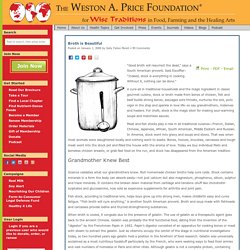 Said Escoffier: "Indeed, stock is everything in cooking. Without it, nothing can be done. " A cure-all in traditional households and the magic ingredient in classic gourmet cuisine, stock or broth made from bones of chicken, fish and beef builds strong bones, assuages sore throats, nurtures the sick, puts vigor in the step and sparkle in love life--so say grandmothers, midwives and healers. How to Make Beef Bone Broth. I love my life!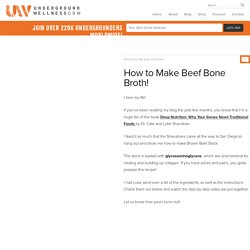 If you've been reading my blog the past few months, you know that I'm a huge fan of the book by Dr. Cate and Luke Shanahan. I liked it so much that the Shanahans came all the way to San Diego to hang out and show me how to make Brown Beef Stock. The stock is loaded with , which are phenomenal for healing and building up collagen. The Jade Institute | Bone Broth for Health Building: Nourishing the Liver and Kidneys. By Cindy Micleu, MTCM, LAc.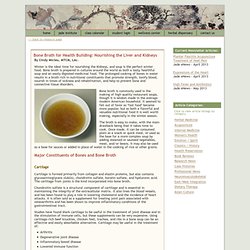 Winter is the ideal time for nourishing the Kidneys, and soup is the perfect winter food. Bone broth is prepared in cultures around the world as both a tasty, healthful soup and an easily digested medicinal food. The prolonged cooking of bones in water results in a broth rich in nutritional constituents that promote strength, tonify blood, nourish in times of sickness and rehabilitation, and help to prevent bone and connective tissue disorders. Fresh Chicken Broth | Nourished Kitchen. Bone Broth: Gelatin-Rich Broth Secret | The Rebuild Blog. Bone broth is a staple in our household because it adds flavor and richness to our meals and minerals at the same time.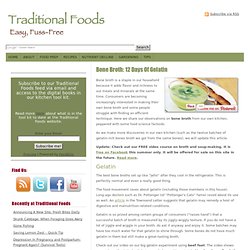 Consumers are becoming increasingly interested in making their own bone broth and some people struggle with finding an efficient technique. Here we share our observations on bone broth from our own kitchen, peppered with some food science factoids. As we make more discoveries in our own kitchen (such as the twelve batches of gelatin-rich bones broth we got from the same bones), we will update this article.
Update: Check out our FREE video course on broth and soup-making. It is free on Facebook this summer only.
---