Amazon
New ARM-Based Server From ZT Systems « Data Center Knowledge. Server vendor ZT Systems has announced a new server based on low-power processors from ARM, whose chips power many leading mobile devices.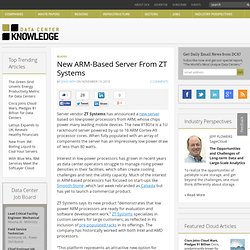 The new R1801e is a 1U rackmount server powered by up to 16 ARM Cortex-A9 processor cores. When fully populated with an array of components the server has an impressively low power draw of less than 80 watts. Very Low-Cost, Low-Power Servers. I'm interested in low-cost, low-power servers and have been watching the emerging market for these systems since 2008 when I wrote CEMS: Low-Cost, Low-Power Servers for Internet Scale Services (paper, talk).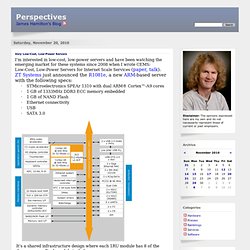 ZT Systems just announced the R1081e, a new ARM-based server with the following specs: · STMicroelectronics SPEAr 1310 with dual ARM® Cortex™-A9 cores · 1 GB of 1333MHz DDR3 ECC memory embedded · 1 GB of NAND Flash. Velocity 2010: James Hamilton, "Datacenter Infrastructure Innovation" AWS: Forget the Revenue, Did You See the Margins? Two days ago, two analysts from UBS – Brian Pitz and Brian Fitzgerald – projected Amazon Web Services revenues at $500 million.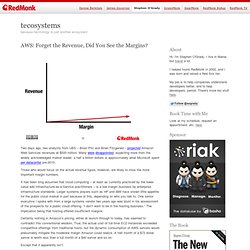 Many were disappointed, expecting more from the widely acknowledged market leader: a half a billion dollars is approximately what Microsoft spent per datacenter pre-2010. Those who would focus on the actual revenue figure, however, are likely to miss the more important margin numbers. It has been long assumed that cloud computing – at least as currently practiced by the lower value add Infrastructure-as-a-Service practitioners – is a low margin business by enterprise infrastructure standards. Larger systems players such as HP and IBM have shown little appetite for the public cloud market in part because of this, depending on who you talk to. One senior executive I spoke with from a large systems vendor two years ago was blunt in his assessment of the prospects for a public cloud offering: "I don't want to be in the hosting business."
James Hamilton. James is a Vice President and Distinguished Engineer on the Amazon Web Services team where he is focused on infrastructure efficiency, reliability, and scaling.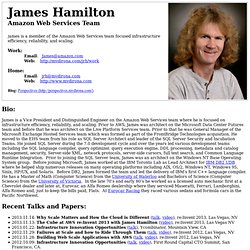 Prior to AWS, James was architect on the Microsoft Data Center Futures team and before that he was architect on the Live Platform Services team. Prior to that he was General Manager of the Microsoft Exchange Hosted Services team which was formed as part of the FrontBridge Technologies acquisition. He moved to the EHS team from his role as SQL Server Architect and leader of the SQL Server Security and Incubation Teams. He joined SQL Server during the 7.0 development cycle and over the years led various development teams including the SQL language compiler, query optimizer, query execution engine, DDL processing, metadata and catalog management, security, Server-side XML, network protocols, server-side cursors, full text search, and Common Language Runtime Integration.
---