Tendencias 2012
Tendencias en 2012: Compartir, emprender e incertidumbre económica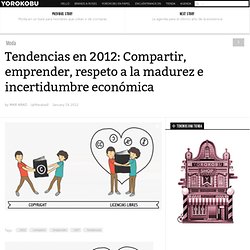 Tags: 2012compartirEmprenderJWTTendencias La incertidumbre económica es indudable.
Tags: Fjordhttp://www.ipsos.de/iPadtabletaTeletrabajoTendenciastendencias digitalesTV interactiva Ante un panorama digital en vertiginosa evolución, este año que comienza va a ser crítico para las tendencias emergentes, ya que se definirán y asentarán las bases del camino para la futura innovación digital.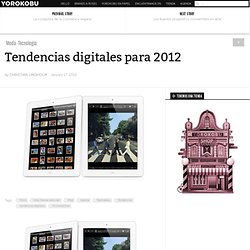 Tendencias digitales para 2012
Me pide mi buen amigo Miguel Galera que le escriba unas líneas diciendo cuáles van a ser las tendencias del año que acabamos de comenzar. Siempre le tuve en estima, pero no pensé que fuera tan insensato de preguntarme a mí por dónde iban a ir las cosas.
Movilidad y vídeo: ejes fundamentales de la Red.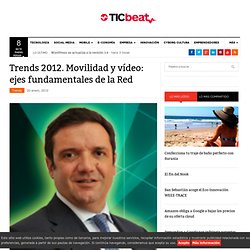 Tendencias en decoración en 2012 - Noticias de Salud, Educación, Turismo, Ciencia, Ecología y Vida de hoy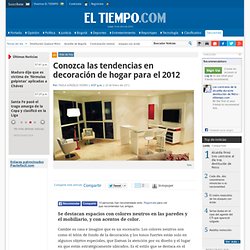 Cambie su casa e imagine que es un escenario.
El año que se despide nos ha traído noticias muy importantes y ha marcado tendencias interesantes en la manera en que se crea la Web; con todos estos cambios, la pregunta inevitable es: ¿Qué nos espera para el 2012?. Los navegadores han sido estrellas del 2011, en una verdadera batalla por seducir el gusto de los usuarios. HTML5 ha tenido un impulso colosal y se expande por toda la Web.
Tendencias 2012 para el diseño y desarrollo Web
Tendencias 2012. Elogio de la Desconexión en la Era de las Interrupciones.
Por Antonio Ortiz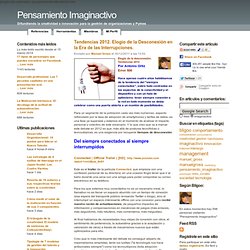 Estas son las 10 tendencias que dominarán el 2012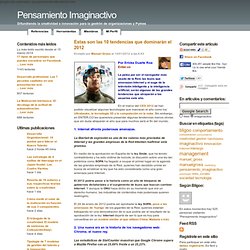 Por Ericka Duarte Roa Enter.co
6 Startups to Watch in 2012
An Olympic games, a U.S. presidential election and the end of the world are already planned for 2012, but we're more excited about the startups. Here are six of them (in no particular order) that we expect to help define the coming year. We chose companies based on the momentum they gained in 2011, promising new takes on old problems and, in one case, the possibility of an IPO.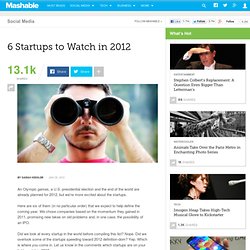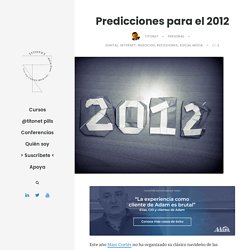 Predicciones para el 2012 « Titonet
Este año Marc Cortés no ha organizado su clásico navideño de las predicciones para el año venidero del mundo digital.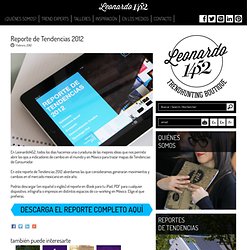 En Leonardo1452, todos los días hacemos una curaduría de las mejores ideas que nos permite abrir los ojos a indicadores de cambio en el mundo y en México para trazar mapas de Tendencias de Consumidor. En este reporte de Tendencias 2012 abordamos las que consideramos generarán movimientos y cambios en el mercado mexicano en este año. Podrás descargar (en español o inglés) el reporte en iBook para tu iPad, PDF para cualquier dispositivo, infografía o impresos en distintos espacios de co-working en México. Elige el que prefieras.
Reporte de tendencias 2012 | L1452
Why 2012 Will Be the Year of the Entrepreneur | Moneyland | TIME.com
While the year of the protester has just passed, 2012 looks to be the year of the entrepreneur. Jobs are in scarce supply, and underemployment is at an all-time high.
Australia Post's Video StampsJanuary 6, 2014 | 7:13 pmIn our 2013 report on "The Future of Correspondence," we examine how brands are fusing digital elements with physical mail and vice versa. An innovative example comes from Australia Post, which recently started offering Video Stamps. Using Australia Post's smartphone app, the sender scans a QR code on the postage stamp and then records a 15-second video. Recipients access the message by scanning the stamp or logging onto the Australia Post website and inputting a unique code. The video is accessible for 90 days and can be shared via social networks or email once opened.Our lifestyles now span a digital-to-physical spectrum. As consumers shift from one realm to the next and back again, they expect a seamless experience and an array of options across the spectrum.
Our 10 trends for 2012 in 2 minutes
Financiación, emprender, social media, sostenibilidad, estrategias, innovación, creatividad, marca, redes sociales, networking, negocio, futuro, mercados, venta, empleados, compromiso… éstas son algunas de los términos analizados por expertos que nos dejan las claves para la nueva economía del 2012 en adelante.
Las 20+1 claves del management en la nueva economía del 2012
La incesante incertidumbre económica, la tecnología y la idea de la responsabilidad compartida impulsan muchas de las tendencias que JWT recoge en su informe anual sobre tendencias: 10 Tendencias para el 2012 Estas son las 10 tendencias que según el informe tienen mayor peso y dominarán el consumo en 2012: 1.
10 Tendencias a tener en cuenta para 2012 según JWT
10 Tendencias de Marketing en los Social Media para 2012
Los social media se han consolidado en un año 2011 donde las marcas se han lanzado definitivamente a la interacción online con los usuarios y consumidores.
Estas 10 tendencias marcarán el rumbo digital en 2012