Recipes
Delicious Chicken Pot Pie Recipe - Food.com - 10744. This is without a doubt the best chicken pot pie I've ever made or eaten in my life!!!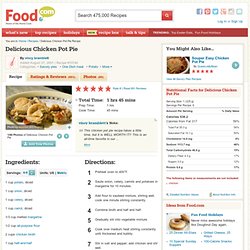 My boys said, "it was da bomb", (meaning excellent). I had to double the recipe to make a big 9 X 13 pie to feed my gang, so I had alot of work ahead. I did all the prep work (minced the onion, peeled and diced the potatoes and carrots, and diced 1.5 lbs. of chicken breasts then cooked them in 2 cups of broth and a bay leaf) the day before then refrigerated it all until the next day, when once I made the top crust, it was a snap to do the rest. I just had to cook the already peeled and diced potatoes/carrots, warm the chicken in the micro and make the sauce.
Ohhhh so delicious!! Google. Chicken pot pie. Three-Cheese Baked Spaghetti. I'm a fan of baked spaghetti and had been wanting to try this recipe for a while.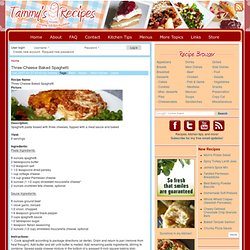 When I was asked to take dinner over to our pastor's house after his wife was in the hospital, I thought it would be the perfect opportunity to try a little more "dressed up" favorite. I made it up with the three cheeses (topped both pans with more shredded mozzarella) and delivered it to pastor's house with instructions to bake before serving. When I got home we baked our portion and we *loved* it! Baked Four-Cheese Spaghetti Recipe @CDKitchen. Recipe at a glance time: 1-2 hrsserves/makes: 8recipe id: 83103cook method: oven, stovetop ingredients.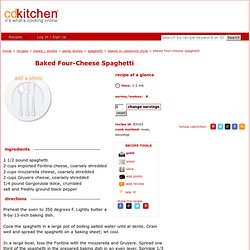 Baked Spaghetti Recipe. Basic Baked Spaghetti Recipe.
---