Ajax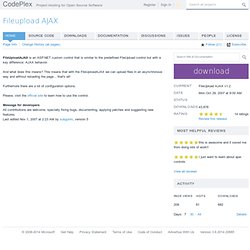 FileUploadAJAX is an ASP.NET custom control that is similar to the predefined FileUpload control but with a key difference: AJAX behavior. And what does this means? This means that with the FileUploadAJAX we can upload files in an asynchronous way and without reloading the page... that's all! Furthemore there are a lot of configuration options. Please, visit the official site to learn how to use the control. Message for developersAll contributions are welcome, specially fixing bugs, documenting, applying patches and suggesting new features.
Fileupload AJAX - Home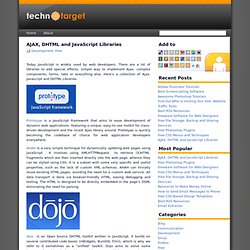 AJAX, DHTML and JavaScript Libraries
Today JavaScript is widely used by web developers. There are a lot of libraries to add special effects, simple way to implement Ajax, complex components, forms, tabs or everything else. Here's a collection of Ajax, Javascript and DHTML Libraries. Prototype is a JavaScript Framework that aims to ease development of dynamic web applications. Featuring a unique, easy-to-use toolkit for class-driven development and the nicest Ajax library around, Prototype is quickly becoming the codebase of choice for web application developers everywhere.
CodePlexProject Hosting for Open Source Software Welcome to Ajax Data Controls ProjectThe Ajax Data Controls is a DotNetSlackers project. Developed on top of Asp.net Ajax Extension, the main goal of this project is to provide rich set of data controls for Client Centric Development Model. Since the data controls of Asp.net like GridView, DataList, Repeater etc does not have any Client Side Object Model thus it is not possible to work with these controls with Web Service / Page Methods call.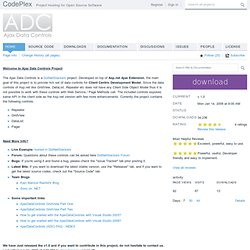 Ajax Data Controls - Home
Visual WebGui On-Server,Off-Client AJAX framework > Home
Are you ready for AJAX risks?
From Ajax Patterns See also Multi-Language_Ajax_Frameworks and Ajax_Frameworks. Ajax Tools for ASP.NET Developers ajaxed Library is the first classic ASP Ajax Library which lets you call server side ASP code from client side.
DotNet Ajax Frameworks
AJAX Videos : The Official Microsoft ASP.NET 2.0 Site
Gaia Ajax Widgets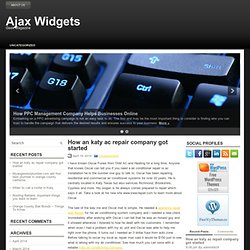 There are plenty of ways to qualify a hosting provider. One could take a look at its background and tenure, assess its service package, or asses its customer service. In addition, one could also take a look at its credentials and investigate its validity. If all checks out, the only thing one has left to consult with are its past clients. If it gets positive feedbacks, one can rest assured of its credibility as a business hosting resource, but one would probably question the significance of taking a look at hosting reviews when they are generally subjective. Well, there are advantages and revelations on it that are not easily acquired through other means.
485 + Ajax/Javascript/Dhtml examples and demos to download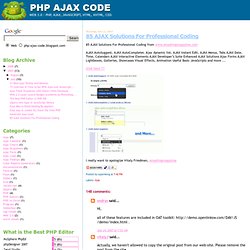 85 AJAX Solutions For Professional Coding from www.smashingmagazine.com AJAX AutoSuggest, AJAX AutoCompleter, Ajax dynamic list, AJAX Instant Edit, AJAX Menus, Tabs AJAX Date, Time, Calendars AJAX Interactive Elements AJAX Developer's Suite Enhanced AJAX Solutions Ajax Forms AJAX Lightboxes, Galleries, Showcases Visual Effects, Animation Useful Basic JavaScripts and more ... click here !!! I really want to apologize Vitaly Friedman, smashingmagazine
85 AJAX Solutions For Professional Coding