SD county development
COVOLV - COVOLV: A SUSTAINABLE WORLD | DOCUMENTARY SERIES
@Sitio Oficial de la Unión Nacional Sinarquista - 1 - Es.vg Dominios GRATIS
South Coast Botanic Garden | The Jewel of the Peninsula
Three Carlsbad Organizations Win CCF Environmental Grants - Carlsbad, CA Patch
In Magee Park Monday evening the Carlsbad Charitable Foundation (CCF) presented three non-profit organizations with a total of $54,877 in grants. Each organization had to apply and explain how they'd use the money to help the environment. Carlsbad Kids Go Green was given $10,000.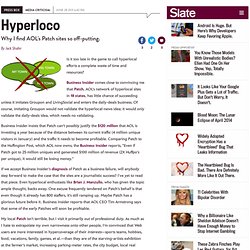 Patch, the hyperlocal website from AOL, is totally off-putting. - By Jack Shafer
Is it too late in the game to call hyperlocal efforts a complete waste of time and resources? Business Insider comes close to convincing me that Patch , AOL's network of hyperlocal sites in 18 states , has little chance of succeeding unless it imitates Groupon and LivingSocial and enters the daily-deals business. Of course, imitating Groupon would not validate the hyperlocal-news idea; it would only validate the daily-deals idea, which needs no validating.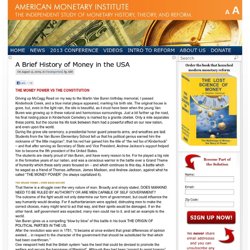 Driving up McCagg Road on my way to the Martin Van Buren birthday memorial, I passed Kinderhook Creek, and a blue metal plaque appeared, marking his birth site. The original house is gone, but, even in the light rain, the site is beautiful, as it must have been when the young Van Buren was growing up in these natural and harmonious surroundings. Just a bit further up the road, his final resting place in Kinderhook Cemetery is marked by a granite obelisk. Only a mile separates these points, but the course his life took between them had a powerful effect on our new nation, and even upon the world. During the grave site ceremony, a presidential honor guard presents arms, and wreathes are laid.
The American Monetary Institute
Congressman Dennis J. Kucinich | Proudly Serving Ohio's 10th District
The American Monetary Institute
Dennis Kucinich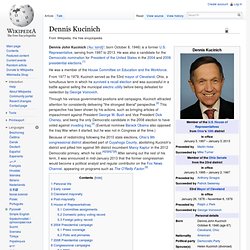 Dennis John Kucinich ( pron.: / k uː ˈ s ɪ n ɪ tʃ / ; born October 8, 1946) was a U.S. Representative , serving from 1997 to 2013. He was also a candidate for the Democratic nomination for President of the United States in the 2004 and 2008 presidential elections . [ 1 ] He was a member of the House Committee on Education and the Workforce . From 1977 to 1979, Kucinich served as the 53rd mayor of Cleveland , Ohio, a tumultuous term in which he survived a recall election and was successful in a battle against selling the municipal electric utility before being defeated for reelection by George Voinovich .
Le Poisson Rouge
Galapagos Art Space
Roulette -about : How To Apply
ISSUE PROJECT ROOM
infoDev.org
Institute for Urban Design
Audio San Diegan Poised To Be Next Food Network Star Aired 5/5/11 Perhaps you've wondered what it would be like to travel around the world like Anthony Bourdain, eating exotic and rare foods. One San Diegan is getting a taste of that life. Troy Johnson is currently shooting a 9-part television show for the Food Network.
San Diegan Poised To Be Next Food Network Star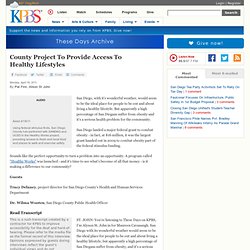 County Project To Provide Access To Healthy Lifestyles
San Diego, with it's wonderful weather, would seem to be the ideal place for people to be out and about living a healthy lifestyle. But apparently a high percentage of San Diegans suffer from obesity and it's a serious health problem for the community. San Diego landed a major federal grant to combat obesity - in fact, at $16 million, it was the largest grant handed out in 2009 to combat obesity part of the federal stimulus funding. Sounds like the perfect opportunity to turn a problem into an opportunity. A program called "Healthy Works" was launched - and it's time to see what's become of all that money - is it making a difference to our community?
At the peak of its population, around 1960, Detroit was home to 1.8 million people. But that number has fallen to 713,777 today. So what do you do with all that abandoned land and property the fleeing populous left behind?
Building Farms In Cities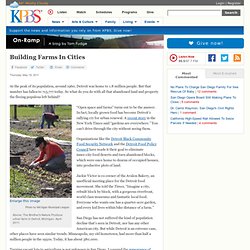 CleanVenture's Programs CleanVenture's three primary programs are described below. Each startup admitted to the incubator will be enrolled in the Core Accelerator Program (CAP) and either BAP or ABAP based on results of a needs assessment during admissions. Core Accelerator Program (CAP) – for all businesses in incubator 1. Weekly progress, planning, and coaching meetings with CleanVenture CEO 2.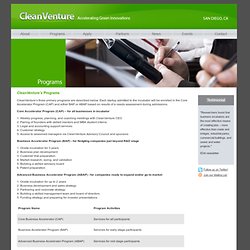 Green Business Startup Solutions in San Diego
CleanVenture Green Business Startup Solutions in San Diego
California Small Business Incubators - Resources for Entrepreneurs in California - Advice for Entrepreneurs - Gaebler Ventures
20 Cool Business Incubators
San Diego Incubator Program
CCSE helps consumers evaluate their facility design and consumption practices to identify cost-saving opportunities that support healthy, high-performance communities through the adoption of resource-efficient technologies and practices. Green, or sustainable, building is the practice of creating and using healthier and more resource-efficient models of construction, renovation, operation, maintenance and demolition. CCSE has extensive programs and information on green building issues, including: Green Building Workshop at CCSE CCSE and SDG&E conduct dozens of expert-facilitated workshops on a broad spectrum of energy topics and issues.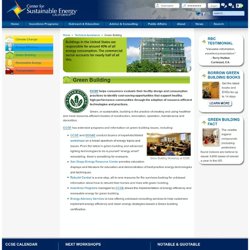 Green Building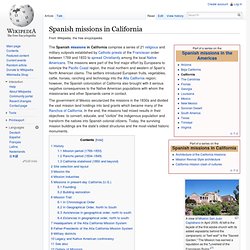 Spanish missions in California
A view of Mission San Juan Capistrano in April 2005. At left is the façade of the first adobe church with its added espadaña ; behind the campanario , or "bell wall" is the "Sacred Garden." The Mission has earned a reputation as the " Loveliest of the Franciscan Ruins ." [ 1 ] The Missionaries as They Came and Went. Franciscans of the California missions donned gray habits , in contrast to the brown that is typically worn today. [ 2 ] The Spanish missions in California comprise a series of religious and military outposts established by Spanish Catholics of the Franciscan Order between 1769 and 1823 to spread the Christian faith among the local Native Americans .
The School for Social Entrepreneurs: Innovation brokers: necessary intermediaries?
The other week I attended an interesting and thought-provoking day at NESTA about social innovation, with many of the major players in the field ( NESTA , Innovation Unit , Young Foundation , etc) in attendance. On the same day, the Innovation Unit had launched a report, called 'Honest Brokers: brokering innovation in public services'. [ see here for more and to download the pdf] Matthew Horne, who wrote the report, spoke about it briefly on the day, and I've since read the whole thing.
San Diego Supercomputer Center
Landesa | Rural Development Institute
La Loma Landscaping | La Loma Development Company Inc.
The Do LaB | Event Creations
STE[+a]M is the inclusion of Arts[+a] with Science, Technology, Engineering, Math [STEM].
The Right Brain Initiative
FAB LAB @ MEDIA ARTS CENTER San Diego
MEDIA ARTS Center San Diego - Media Arts Center San Diego
In 2007, a collaboration between the Massachusetts Institute of Technology and the San Diego-based non-profit Heads On Fire allowed for the creation of an advanced digital design and fabrication laboratory where community members can utilize high-tech tools to actualize ideas through design and fabrication. Today, in addition to localized learning, Fab Lab programs are available in a distributed format, bringing the opportunity to turn concepts into creations to as many community members as possible. Fab Lab programs offer experiences in design, science, engineering, electronics, computation, mathematics and the scientific method, through project-based learning, resulting in personal development and real-world skill attainment.
About Us
Get Your Fix : TEDxAmericasFinestCity
Building a bridge to renewable energy
The Solar Wind bridge concept combines solar cells and wind turbines to generate power for around 115,000 homes Image Gallery (4 images) Bridges are generally exposed to the elements, meaning they generally get a nice dose of sunlight often coupled with some fairly strong crosswinds. For these reasons this "Solar Wind" bridge design would seem to make a lot of sense. The proposed bridge would harness solar energy through a grid of solar cells embedded in the road surface, while wind turbines integrated into the spaces between the bridge's pillars would be used to generate electricity from the crosswinds. The brainchild of Italian designers Francesco Colarossi, Giovanna Saracino and Luisa Saracino, the Solar Wind concept was designed for the Solar Park Works – Solar Highway competition that asked entrants to modernize sections of a decommissioned elevated highway stretching between Bagnera and Scilla in Italy.
Solar panel roads to power our homes
Idaho-based Solar Roadways founder Scott Brusaw is excited that his company has a received a USD$100,000 U.S. Department of Transportation (DOT) grant to develop further his prototype that turns roads in giant electricity-generating solar panels. Apart from providing energy to power our homes, street lighting and so on, the roads could contain thousands of embedded LEDs to provide better street signage and make driving safer.
T-box concept to capture wind energy from trains
The T-box concept would be installed between railway sleepers, and would harness the wind of passing trains to generate electricity (All images courtesy of Qian Jiang) Image Gallery (9 images) As anyone living near railway tracks will tell you, speeding trains generate quite a bit of wind as they whoosh past. Industrial designers Qian Jiang and Alessandro Leonetti Luparini have come up with a device that's installed between the sleepers on a track, and as the train passes overhead, the wind drives a turbine to generate electricity. The T-box devices could be placed along railway or subway lines, and make good use of an otherwise wasted resource.
Want to contribute to the Unconsumption Tumblr? (Or wiki?)
Volunteer San Diego
Happy Planet Index
Prosperity
What is resilience?
Coalition for a Prosperous America - CPA Principles
Center for Climate Strategies - Library - Publications
Sustainable Building Technical Manual - Operation Fresh Start
Environment - Environmental Technologies Action Plan
Construction Criteria Base
Sustainable
Plan Estatal de Desarrollo 2008-2013
Congresswoman Susan Davis - Welcome
Congressman Brian P. Bilbray, Serving California's 50th District
Congressman Bob Filner
Duncan Hunter
H.R.6222: National Opportunity and Community Renewal Act
United Way of San Diego County
GovLoans.gov - Find the Right Loan for You
Programs - CFDA: Programs
Find Grant Opportunities
Recipient Reported Awards Map
Public Administrator/Public Guardian
27th Annual San Diego County Economic Roundtable
Public Surplus: Government Surplus Auctions
About HHSA
ArcGIS: A Complete Integrated System
Integrated Pest Management page
San Diego County - Job Opportunities
County of San Diego Treasurer - Tax Collector
Public Surplus: Surplus Auctions for County of San Diego P & C
Property Disposal
Office Locations
Organizational Chart
Useful Information for Taxpayers