Presidential...politics...power
Sebelius: U.S. Doctors Embrace Digital Patient Recordkeeping | Business Law Daily
Fitch Downgrades Outlook on U.S. Sovereign Debt | Business Law Daily
Obama Orders Federal Records-keeping Overhaul | Business Law Daily
Submit a Developing Action
The Occupy.net technology community offers a wide range of free/libre/open-source software solutions to the activist community. You can read more about each of thee services by clicking on them. [edit] Getting Started First of all, create an account on wiki.occupy.net. (You'll be glad you have one! A lot of thought went into this site by our friends at Occupy Tech/Tech-Ops and it ROCKS!)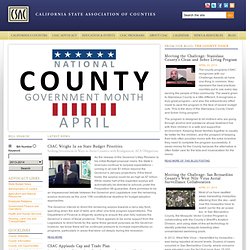 How does your county compare to counties in the rest of California, or the nation, in terms of the economic recovery?" That question is answered in an interesting and comprehensive analysis released today by the National Association of Counties (NACo) that examines the performance of all 3,069 county economies. The report is titled "County Tracker 2013: On the Path to Recovery."
California State Association of Counties
Media: Kim Kilkenny on redevelopment funding
Anyone familiar with government bureaucracies is likely to acknowledge that it will generally take a government agency ten weeks and a hundred people, to accomplish what a private company could accomplish in a single afternoon with a couple of clerks and a spreadsheet. Beyond that, government agencies do have an unfortunate tendency to reinvent the wheel. Just take a look at any government RFP—specifications tend to be highly granular and unduly specific, to the point where off-the-shelf commodity software often has to be replaced with a custom job.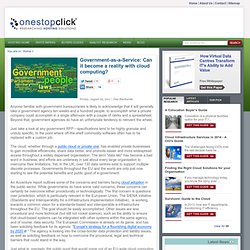 Government-as-a-Service: Can it become a reality with cloud computing? | OneStopClick
Obama Commanding Robot Revolution, Announces Major Robotics Initiative
POTUS kept an eye on robots near him, just to make sure they were all friendlies. Photo: White House President Barack Obama loves robots. He's invited bots to the White House and has even befriended a Japanese android. But now Obama has gone one step further: He's decided to lead what may be a profound robotics revolution. In a visit today to Carnegie Mellon University's National Robotics Engineering Center, Obama launched the Advanced Manufacturing Partnership, a $500 million program to bring together industry, universities, and government to invest in emerging technologies that can improve manufacturing and create new businesses and jobs.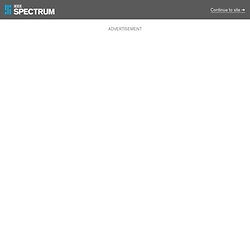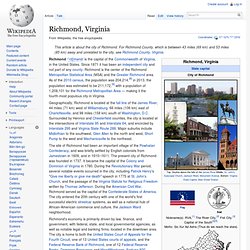 Richmond's economy is primarily driven by law, finance, and government, with federal, state, and local governmental agencies, as well as notable legal and banking firms, located in the downtown area. The city is home to both the United States Court of Appeals for the Fourth Circuit, one of 13 United States courts of appeals, and the Federal Reserve Bank of Richmond, one of 12 Federal Reserve Banks. Dominion Resources and MeadWestvaco, Fortune 500 companies, are headquartered in the city, with others in the metropolitan area.[10] Tourism is also important, as many historic sites are in or near the city. History[edit] Before 1607, the Powhatan tribe had lived in the region with one of their capitals there, known as Powhatan, Shocquohocan, or Shockoe.[11][12]
Richmond, Virginia
History[edit] Center of black commerce, entertainment and religion[edit] Other notable residents included Bishop F. M. Whittle, Addolph Dill and Max Robinson and brother Randall Robinson. Desegregation and decline[edit]
Jackson Ward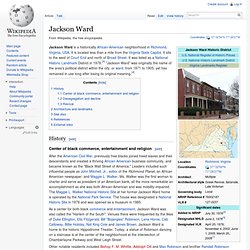 Cathedral of the Sacred Heart in Richmond Today there are 235,816 Catholics at 146 parishes in the Diocese of Richmond. The diocese currently has 87 active priests, 59 retired priests, 88 permanent deacons, 180 members of Catholic religious order and 16 seminarians. There are 32 Catholic schools in the diocese with a total enrollment of 12,062 students in 8 High Schools and 24 Elementary Schools.[2] Bishops[edit]
Roman Catholic Diocese of Richmond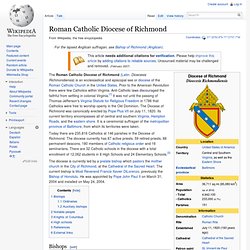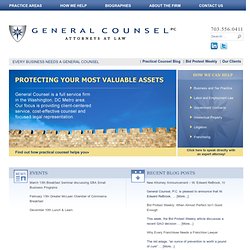 New Attorney Announcement – W. Edward ReBrook, IV General Counsel, P.C. is pleased to announce that W. Edward ReBrook, … [More...] Bid Protest Weekly: When Almost Perfect Isn't Good Enough
McLean Business Lawyers | Washington DC Government Contracts Attorney | Virginia Copyright Lawyer
Yates Campbell & Hoeg LLP
Robert L. Freed Educational Background and Experience: 1969—Bachelor of Science in Accounting, Virginia Commonwealth University; 1972—J.D., Marshall Wythe School of Law, College of William & Mary. Member of Law Review.
Richmond, Virginia attorneys Freed, Shepherd, McDougall and Bowen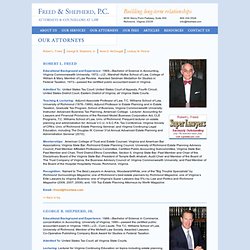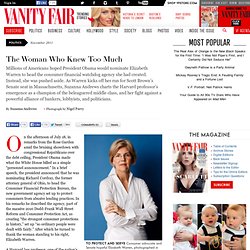 The Woman Who Knew Too Much | Politics
This Wall Street psychosis—"We did nothing wrong, but everyone is trying to hurt us"—was given a dramatic airing in June by Jamie Dimon, the chairman of JPMorgan Chase, at a conference in Atlanta. Clearly agitated during a Q&A with Federal Reserve chairman Ben Bernanke, Dimon launched into the reasons why the regulators were being too tough on banks. The causes of the financial crisis had been dealt with. "Most of the bad actors are gone," he said, rattling off a long list of the perpetrators, which included C.D.O.'s, Fannie Mae, Freddie Mac, "thrifts, all the mortgage brokers, and, uh, obviously some banks." He said that he worried that Dodd-Frank was "holding us back at this point"—suggesting that the regulation of banks was the reason why the economy was not recovering. In other words, what was bad for Wall Street was very bad for the country.
Ever since she formally decided to challenge Massachusetts Sen. Scott Brown (R), Elizabeth Warren has been a national Democratic phenomenon. Harvard law professor and consumer advocate Elizabeth Warren shakes hands as she arrives in Lowell, Mass.
Elizabeth Warren: Obama's natural heir?
Orly Taitz Challenge To Obama Ballot Eligibility Rejected By New Hampshire Election Officials
New Hampshire's Ballot Law Commission rejected unanimously Friday "birther queen" Orly Taitz's argument to keep President Barack Obama off the presidential ballot because she insists that the president's birth certificate is a fake. "A child can see this is a forgery," she said in her testimony. She also alleged the president did not have a valid social security number. The commission, however, rejected her bid to have Obama removed from the ballot, according to the Concord Monitor:
By Zaid Jilani on November 18, 2011 at 1:00 pm "Rep. Deutch Introduces OCCUPIED Constitutional Amendment To Ban Corporate Money In Politics" Rep. Ted Deutch (D-FL) is tackling corporate money in politics head on. In one of the greatest signs yet that the 99 Percenters are having an impact, Rep.
Updated May 13, 2003 Most people who have some knowledge of San Diego's history will generally acknowledge that Juan Rodriguez Cabrillo was the first European to set foot on San Diego soil in 1542, when he discovered what is now San Diego Bay. And many will generally assume it was Cabrillo who named this new territory "San Diego."
Did you know San Diego's name?
History of San Diego
Mission San Diego de Alcala | San Diego History Center
Mission Basilica San Diego de Alcala
Obama's Cost-Benefit Executive Order
Immanuel Kant
Local Elections:California Primary,General Elections.2011-2012 Voting Dates and Deadlines
IFES Election Guide - Election Calendar
United States Of America Elections Center: 2011 and 2012 Races - My time to Vote
US Election Calendar
Presidential Executive Orders