New designs of cultivation
Wordpress Themes - marlonjfrausto - Gmail. Self Publishing, Book Printing & eBook Publishing | Lulu.com. Self Publishing - Lulu.com. The uncatalogue. Here is a list of all unbooks we're aware of at the moment.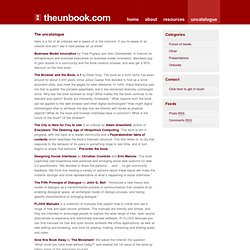 If you're aware of an unbook and don't see it here please let us know! Business Model Innovation by Yves Pigneur and Alex Osterwalder: A manual for entrepreneurs and business executives on business model innovation. Members pay to gain access to a community and the book creation process, and also get a 50% discount on the final book. The Browser and the Book, v.1 by Dave Gray: The book as a form factor has been around for about 2,000 years, since Julius Caesar first decided to fold up a scroll, accordion-style, and mark the pages for later reference. In 1455, Aldus Manutius was the first to publish the portable paperback, and it has remained relatively unchanged since. Infography. Dave Gray » info. Mindshare Los Angeles. Mindshare LA / Wednesday, October 19th. Invalid quantity.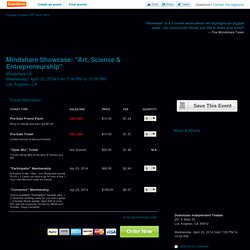 Please enter a quantity of 1 or more. The quantity you chose exceeds the quantity available. Please enter your name. Please enter an email address. Please enter a valid email address. Portable Parks Pop Up All Over Downtown San Francisco. CMG's project was inspired by a city permitting process that allows dumpsters to temporarily occupy a parking spot.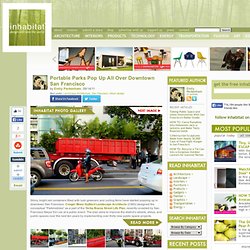 Intended for construction debris bins, the Yerba Buena Parkmobiles are large sturdy boxes that can be easily towed away and moved to a new location. Project creators envisioned Parkmobiles as a challenge to the idea that the densely built-up downtown area has no room for gardens. The mobile gardens will also contribute to making the streetscape more spontaneous - bright green vegetation peeking out from the sturdy red containers could have a renewing effect on a deserted alleyway or barren concrete corner.
Awesome Modular Public Lounge Takes Over Vancouver's Parking Spaces. The goal of VIVA Vancouver is to transform street spaces where cars normally go, into people places to give residents more room to walk, bike, dance, skate, sit, hang out with friends and neighbors.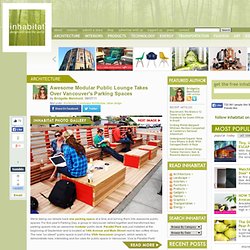 So far, the program has developed 8 projects around the city, which includes pedestrian street only days, a theater, mobile digital projections and parking space park conversions. Parallel Park is the latest urban transformation project and was opened to the public on September 1st. Telok Blangah Hill Park's Flying Bridges Soar Through the Sky Telok Blangah Hill Park – Inhabitat - Green Design Will Save the World. Telok Blangah is certainly breathtaking, but it also has the right kind of attitude when it comes to respecting nature.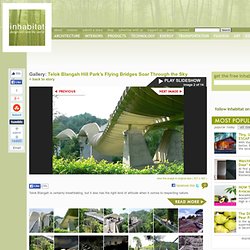 Telok Blangah is certainly breathtaking, but it also has the right kind of attitude when it comes to respecting nature. While some parks are constructed by chopping trees down to make room for open space and eliminating the animals that make their home there, Telok Blangah's layout chose to preserve the natural landscape and instead build around it. Furthermore, the web-like paths consist of open structures which allow light and air to pass through. Some of the most awe-inspiring connection points are the undulating Henderson Waves (Singapore's highest pedestrian bridge) and Alexandra Arch, which sparkles every night with a dazzling colour-changing LED lightshow.
South Pointe Park is a Sweeping, Ecologically Sensitive Park in South Beach. South Pointe Park is an urban green space and has a number of assets as its disposal, particularly the park's expansive views out onto the Atlantic and across Government Cut.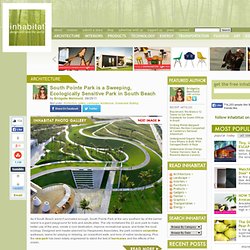 It sits next to a lively neighborhood and has access to both the bay and the ocean and is right next to the cruise ship passage – all big attractions for residents living in the area to come and enjoy. Hargreaves Associates' design for the park revitalized the area making it a fun, attractive and desirable destination. Two major paths bisect the park: the Serpentine Walk and the Cut Walk, providing views and encouraging activity. The paths are built with durable and low maintenance Dominican Keystone, a stone of fossilized coral, which creates a physical connection with the adjacent sea. Surface Deep: Honeycomb Moss Sculpture Swells Across Quebec's Reford Garden.
The structure greets visitors on first arrival with an impressive take on a traditional wall that would otherwise be an overlooked necessity.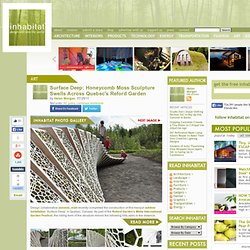 The temporary entrance simultaneously acts as both a resting space and a point of guidance that brings visitors towards the grounds. The piece's title reflects the importance placed on the unit, a strong space to act as an interactive site for people to walk on and around, while also containing plants embedded in its structure. The varied angles of the design frame a seating area, while open webbing is the perfect base for the different mosses planted inside the honeycomb-esque panels. An interactive design, Surface Deep was created in collaboration with students from Harvard's Graduate School of Design.
Bruce Munro's Brilliant Fiber Optic Fields of Light. Bruce Munro's gorgeous fiber optic 'Field of Light' installation is inspired by the beautiful displays of flowers that burst forth from Australia's desert landscape.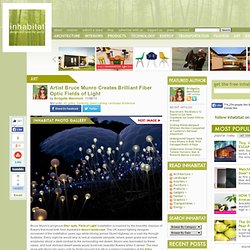 The UK-based lighting designer conceived of the installation years ago while driving across Stuart Highway on a road trip through Australia. Every night he would stop to rest at roadside campsite, where green grass and surreal sculptures struck a stark contrast to the surrounding red desert. Munro was fascinated by these oases, and how dormant desert seeds would burst into beautiful flowers when it rained. Mexico's Subterranean Children's Museum is an Immersive Educational Environment Interactive Childrens Museum by Iñaki Echeverría – Inhabitat - Green Design Will Save the World.
Standing at the site of an old steel mill, the reclaimed buildings will host new administration, storage, exhibit development, and an eatery in the old brick buildings.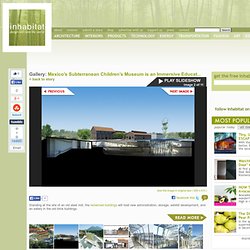 Standing at the site of an old steel mill, the reclaimed buildings will host administration, storage, exhibit development, and an eatery in the old brick buildings. Adjacent to the original buildings rests the submerged museum, an immersed educational resource that director Marinela Servitje explains is for "children and their families interested in nature, natural resources, flora, fauna, water, wind, earth, energy." The design, which literally becomes part of the landscapes helps provide a connection with the exhibits and the environment in addition to preserving the existing viewscape. The museum is separated into three main sections; an exhibit hall, IMAX Theater and a vertical garden.
---