Individual Research
Bill Moyers Journal . Home. Laurence J. Peter Quotes. Thunderbird School of Global Management. ALFONSO FLORES in ZabaSearch People Search Engine. Social Map. Scobleizer — Exploring the 2010 Web. Alfonso Flores, San Diego, California, United States. Social Media Maps. Privacy in the Facebook Era. Facebook's founder Mark Zuckerberg recently stated that privacy is no longer a social norm.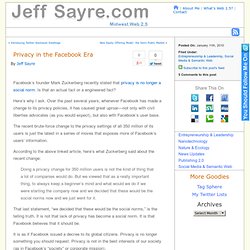 Is that an actual fact or a engineered fact? Here's why I ask. Over the past several years, whenever Facebook has made a change to its privacy policies, it has caused great uproar—not only with civil liberties advocates (as you would expect), but also with Facebook's user base. Regaining Control of Privacy and Identity: It's up to Each Indiv. This is a follow-up post to my article, Privacy in the Facebook Era .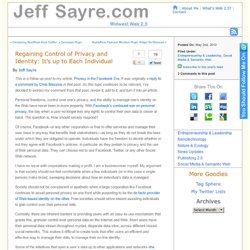 It was originally a reply to a comment by Chris Messina in that post. As this topic continues to be relevant, I've decided to extract my comment from that post, revise it, add to it, and turn it into an article. Personal freedoms, control over one's privacy, and the ability to manage one's identity on the Web have never been in more jeopardy. With Facebook's continued war on personal privacy , the day when a user no longer has any rights to control their own data is closer at hand. The question is, How should society respond? Ohmra.com. Calculated Risk. Blog Directory. TaxVox: the Tax Policy Center blog :: Main Page.
The Obameter. Promises we've rated recently Develop a comprehensive cyber security and response strategy The Promise: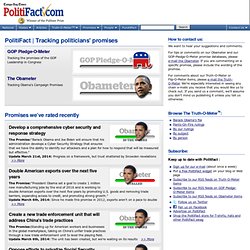 Muckety. The Git-R-Done Mentality | Constructively Productive. Using a task list requires you to make some basic assumptions, especially if you use some of the more common approaches to productivity.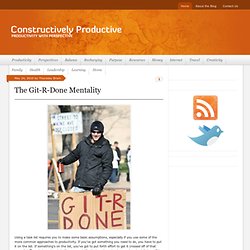 If you've got something you need to do, you have to put it on the list. If something's on the list, you've got to put forth effort to get it crossed off of that same list. The whole system is built on a mentality that you're going to go out and get it done. It's an approach that generally works, too. It's great if you need to go out and run errands — write down each place you need to stop, so you won't wind up back at home and then realize you've forgotten a step.
---