Imagery
The London Group » Blog Archive » Let's Turn This Idea Into Redevelopment Reality. By Gary H.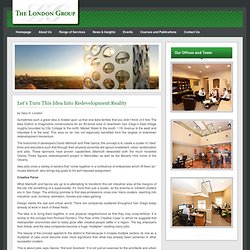 London Sometimes such a great idea is foisted upon us that one feels terrible that you didn't think of it first. The Idea District is imaginative nomenclature for an 80-block area of downtown San Diego's East Village roughly bounded by City College to the north, Market Street to the south, 11th Avenue to the west and Interstate 5 to the east.
"Knowledge For The Future" by The Future: innovation & Knowledge-creation Luis Frausto. INNOVATION means an amalgamation of human consciousness and knowledge with socio-economic activity, linking all efforts with individuals, organizations, universities and institutions engaged in research and social development.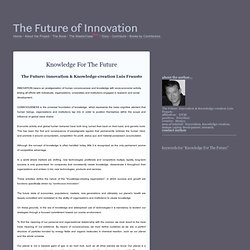 CONSCIOUSNESS is the universal foundation of knowledge, which represents the basic cognitive element that human beings, organizations and institutions tap into in order to position themselves within the scope and influence of global value chains. Economic activity and global human behavior have both long turned their back on their basic and genetic roots. The Prophets Conference - About us. Great Mystery, founded by Cody Johnson and Robin Haines Johnson, celebrates its 20th Anniversary in 2012.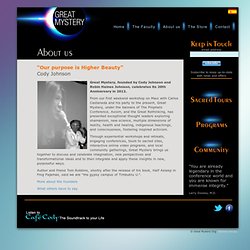 From our first weekend workshop on Maui with Carlos Castaneda and his party to the present, Great Mystery, under the banners of The Prophets Conference, Axiom, and the Great Rethinking, has presented exceptional thought leaders exploring shamanism, new science, multiple dimensions of reality, health and healing, indigenous teachings, and consciousness, fostering inspired activism. Through experiential workshops and retreats, engaging conferences, tours to sacred sites, interactive online video programs, and local community gatherings, Great Mystery brings us together to discuss and celebrate imagination, new perspectives and transformational ideas and to then integrate and apply these insights in new, purposeful ways.
Wagner's Ring. Rheingold Libretto, full text (English) by Das Rheingold on Myspace. Libretto: Wagner's Ring. Richard Wagner's with translation by Frederick Jameson In the years I've spent as a regular participant in the rec.music.opera newsgroup, I've seen numerous requests for opera librettos in English translation.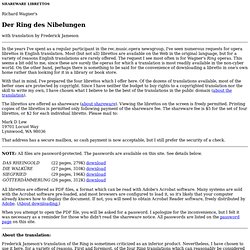 Most (but not all) librettos are available on the Web in the original language, but for a variety of reasons English translations are rarely offered. The request I see most often is for Wagner's Ring operas. This seems a bit odd to me, since these are surely the operas for which a translation is most readily available in the non-cyber world. Der Ring des Nibelungen. Der Ring des Nibelungen (The Ring of the Nibelung) is a cycle of four epic operas by the German composer Richard Wagner (1813–1883).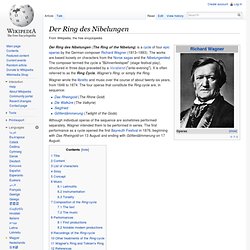 The works are based loosely on characters from the Norse sagas and the Nibelungenlied. The composer termed the cycle a "Bühnenfestspiel" (stage festival play), structured in three days preceded by a Vorabend ("ante-evening"). Das Rheingold. Das Rheingold ( pronunciation ; The Rhine Gold) is the first of the four operas that constitute Richard Wagner's Der Ring des Nibelungen ('The Ring of the Nibelung').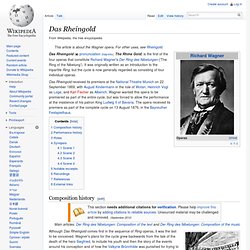 It was originally written as an introduction to the tripartite Ring, but the cycle is now generally regarded as consisting of four individual operas. Composition history[edit]
---