Acommonbodyofcontent
New Connexion Pacific Northwest's Journal of Conscious Living. Reinhabit sandiego. The Magazine for Evolutionaries. Government Assets by Jim Davies. By Jim Davies Previously by Jim Davies: Diamonds in the Mud Recently there's been a deal of talk about "sovereign default", ie the possibility that whole governments might go belly-up.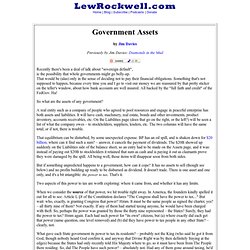 That would be (alas) only in the sense of deciding not to pay their financial obligations. Something that's not supposed to happen, because every time you and I go to visit our money we are reassured by that pretty sticker on the teller's window, about how bank accounts are well insured. All backed by the "full faith and credit" of the FedGov. Untitled. 14A002 Five Eyes, No Sight by Jim Davies, 4/12/2014 Five weeks ago one of the world's finest and largest aircraft vanished, taking 239 people with it.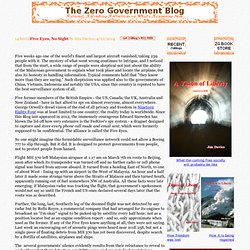 The mystery of what went wrong continues to intrigue, and I noticed that from the start, a wide range of people were skeptical not just about the ability of the Malaysian government to explain what took place and locate the airplane, but also its honesty in handling information. Typical comments held that "they know more than they are saying. " Jim Davies: [ home | resume | contact | science | art | personal | email ] Generally I am available on Fridays during the school year, and anytime during vacations and the summer.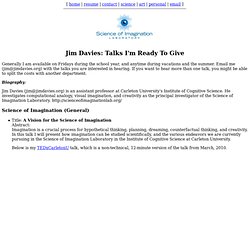 Email me (jim@jimdavies.org) with the talks you are interested in hearing. If you want to hear more than one talk, you might be able to split the costs with another department. Biography: LewRockwell.com. 25+ Sources For Creative Commons Content. We've talked about about all the ways to design and build your site, but where are you ever going to get content to fill it with?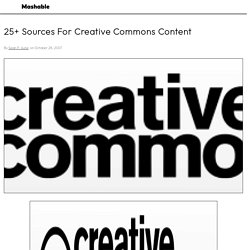 We've gathered 25+ sources of content licensed under Creative Commons. Enjoy! Audio ArtistServer.com - Thousands of MP3s for you to download and try out smaller bands. ccMixter.org - A site to try your hand at mixing and mashing music that is all offered under the CC. Content Directories. Welcome to the Content Directories The following is a list of organizations and projects powered with Creative Commons licenses.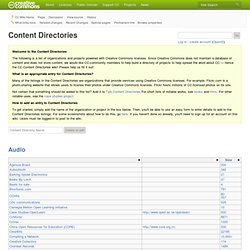 Since Creative Commons does not maintain a database of content and does not store content, we would like CC-community members to help build a directory of projects to help spread the word about CC — hence the CC Content Directories wiki! Please help us fill it out! What is an appropriate entry for Content Directories? CC Search.
---