Acommonbodyofcontent
New Connexion Pacific Northwest's Journal of Conscious Living
reinhabit sandiego
The Magazine for Evolutionaries
Government Assets by Jim Davies
by Jim Davies Previously by Jim Davies: Diamonds in the Mud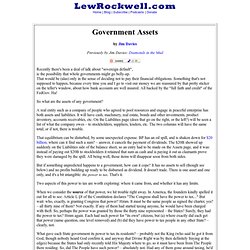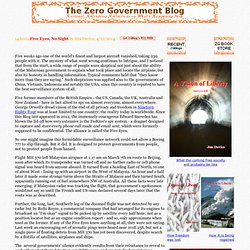 12A012 What's To Be Done? by Jim Davies, 2/29/2012 There's some, but not very much disagreement that things are very bad, and very likely to get worse. Government has caused a recession, it is waging wars that are failing, and intensifying its tyranny over us defenseless civilians.
unnamed pearl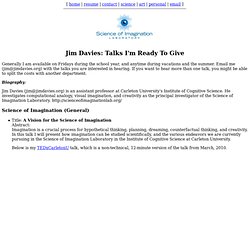 [ home | resume | contact | science | art | personal | email ] Generally I am available on Fridays during the school year, and anytime during vacations and the summer. Email me (jim@jimdavies.org) with the talks you are interested in hearing. If you want to hear more than one talk, you might be able to split the costs with another department. Biography:
Jim Davies:
Prepared by Occupy Washington DCFreedom Plaza, November 2011 The disconnect between Congress and the people is vast. For decades, Congress has been passing laws that benefit the 1%, their campaign donors and big business interests, rather than creating a fair economy that serves all U.S. citizens. With this report Occupy Washington, DC shows that Congress is out of touch with evidence-based solutions, supported by the majority of Americans that can revive the economy, reduce the deficit and wealth divide while create millions of jobs. OccupyWashingtonDC.org seeks a major transformation to a participatory democracy in the economy as well as in government.
The 99%'s Deficit Proposal: How to create jobs, reduce the wealth divide and control spending
25+ Sources For Creative Commons Content
We've talked about about all the ways to design and build your site, but where are you ever going to get content to fill it with? We've gathered 25+ sources of content licensed under Creative Commons. Enjoy! Audio ArtistServer.com - Thousands of MP3s for you to download and try out smaller bands. ccMixter.org - A site to try your hand at mixing and mashing music that is all offered under the CC.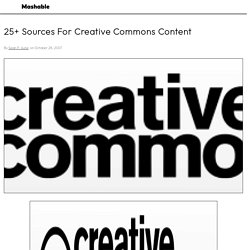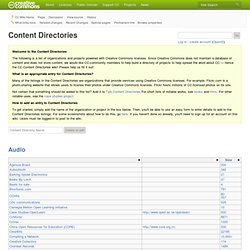 Welcome to the Content Directories The following is a list of organizations and projects powered with Creative Commons licenses. Since Creative Commons does not maintain a database of content and does not store content, we would like CC-community members to help build a directory of projects to help spread the word about CC — hence the CC Content Directories wiki! Please help us fill it out! What is an appropriate entry for Content Directories?