Sharepoint
InfoWorker Solutions
This post is a how-to guide for customizing the ootb SharePoint 2010 content approval workflow to automatically pick a user from the current list item such as the 'content resposible' field, and assign that user as the approver of the content, using SharePoint Designer. The customization of the content approval using SPD is quite straightforwards except for some less intuitive and misleading options for editing the workflow task process. It also involves publishing and editing the XML config of the workflow to enable using the "Start this workflow to approve publishing a major version of an item" option for automatically starting the approval workflow when the author check-in (submits) the page or document for approval.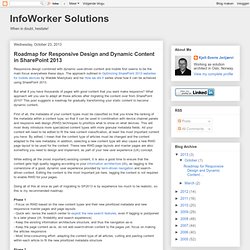 The topic you requested is included in another documentation set. For convenience, it's displayed below. Choose Switch to see the topic in its original location.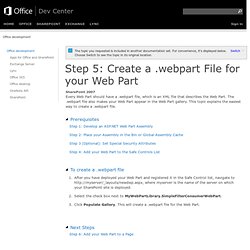 Step 5: Create a .webpart File for your Web Part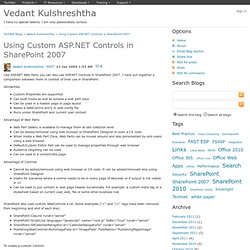 Using Custom ASP.NET Controls in SharePoint 2007 - Vedant Kulshreshtha
Like ASP.NET Web Parts you can also use ASP.NET Controls in SharePoint 2007. I have put together a comparison between them in context of their use in SharePoint: Similarities Custom Properties are supported Can exist inside as well as outside a web part zone Can be used in a master page or page layout Needs a SafeControl entry in web.config file Runs under SharePoint and current user context Advantage of Web Parts Web Part Gallery is available to manage them at site collection level Can be added/removed using web browser or SharePoint Designer or even a C# code When inside a Web Part Zone, Web Parts can be moved around and also personalized by end-users using a web browser Default/Custom Editor Part can be used to manage properties through web browser Audience targeting can be used Can be used in a content/site page
SharePoint: How to display blog feed using XML Web Part? - Gunnar Peipman's ASP.NET blog
Installing MOSS 2007 on Windows Server 2008 and SQL Server 2008 - Part 7: Configuring MOSS 2007
This article is a part of a series describing the installation of Microsoft Office SharePoint Server 2007 (MOSS) on a Windows Server 2008 with the newly released SQL Server 2008. The successful creation of a Shared Service Provider wasn't an easy task for me and included a lot of trial and error until I figured out how to do it right and what I have to think about during the configuration process. After that the creation is an easy task. If you remember the domain accounts from the previous posts there are a lot of them which haven't been used right now. And here it's important that these account are domain accounts.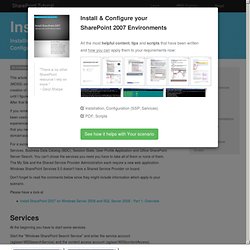 Application pool crash on win2008
MSDN Library Design Tools Development Tools and Languages Mobile and Embedded Development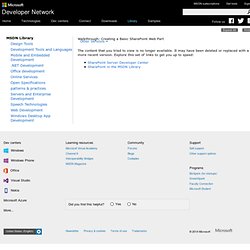 Walkthrough: Creating a Basic SharePoint Web Part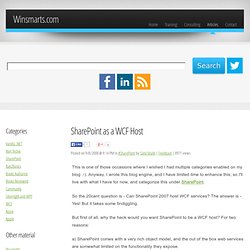 This is one of those occasions where I wished I had multiple categories enabled on my blog :-). Anyway, I wrote this blog engine, and I have limited time to enhance this, so I'll live with what I have for now, and categorize this under SharePoint. So the 20cent question is - Can SharePoint 2007 host WCF services? The answer is - Yes! But it takes some findiggling.
SharePoint as a WCF Host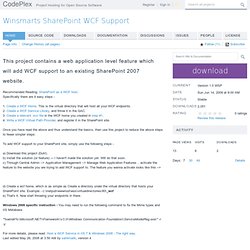 Recommended Reading: SharePoint as a WCF host. Specifically there are 4 easy steps - 1. Create a WCF Home. This is the virtual directory that will host all your WCF endpoints.2. Create a WCF Service Library, and throw it in the GAC.3.
Winsmarts SharePoint WCF Support
With ASP.NET AJAX Extensions being baked into the .NET Framework 3.5 and the improvements to WCF to support JSON, it seems tempting to write WCF services and host the in Windows Sharepoint Services 3.0 Unfortunately, if you create a WCF service and drop it under a WSS controlled vroot like _layouts or _vti_bin, your service will fail to activate with the following message in the event log: WebHost failed to process a request. Exception: System.ArgumentException: virtualPath at System.ServiceModel.AsyncResult.End[TAsyncResult](IAsyncResult result)at System.ServiceModel.Activation.HostedHttpRequestAsyncResult.End(IAsyncResult result) If you attach a debugger to w3wp.exe and enable break on first CLR change exceptions, the stack trace at the time of the failure will look like: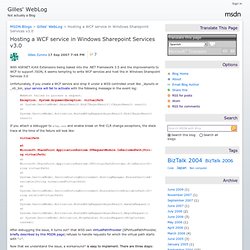 Hosting a WCF service in Windows Sharepoint Services v3.0 - Gilles' WebLog
Custom Site Theme for SharePoint 2007 (MOSS 2007) and WSS 3.0 « SharePoint Solutions….by HG
Kurt Shintaku's Blog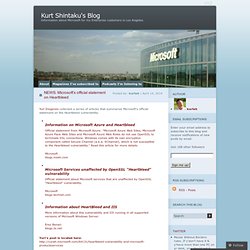 I own a Dell Venue 8 Pro. Love the thing. It sits next to my remote controls in my living room & comes with me on mostly non-business trips. But something recently got me thinking: I've played with the Asus VivoTab Note 8 (in anticipation of getting one later this week, mostly because of it's Wacom Digitizer i.e. precision, pressure sensitive stylus) and noticed that the performance definitely "felt" faster than my Dell Venue 8 Pro… but I couldn't put my finger on what it was.
Preface: I wrote this post after spending a month digging deeply into SharePoint, attempting to customize and brand the site as well as migrate all my help content to it. If you're totally unfamiliar with SharePoint, this post will not get you up to speed. But for those embarking on a SharePoint customization challenge, most likely you're already familiar with SharePoint. Reading these ten concepts and gotchas will help you avoid some of the pitfalls I encountered when customizing my site. Note: When I say "SharePoint," I'm really referring to MOSS 2007.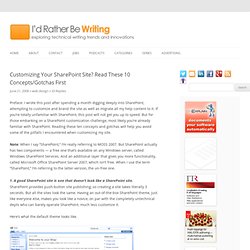 Customizing Your SharePoint Site? Read These 10 Concepts/Gotchas First
Continuing our color focused web design series with another vibrant and cool compilation of inspirational purple-themed SharePoint sites. Purple is a luxurious and mysterious color with warm and cool properties and it is usually used to promote calmness and tranquility and it can boost creativity. The colors blue and red make the color purple when mixed and since blue is a cool color and red is a warm color, purple has both warm and cool properties. More… More SharePoint branding inspiration with another post on exemplary SharePoint-based websites submitted to our showcase over the past weeks. Two built with SharePoint 2013 and five with SharePoint 2010.
Steps required to add an icon to Sharepoint's (WSS3.0) file type icon repository: Copy your icon image file to C:\Program Files\Common Files\Microsoft Shared\Web Server Extensions\12\Template\Images Locate and edit C:\Program Files\Common Files\Microsoft Shared\Web server extensions\12\Template\Xml\DOCICON.XML Add an entry for the new/unknown file extension - mapping key="xxx" value="myimage.gif" (where XXX = Filename extension) Perform an IISRESET.
Adding Icons For Unknown File Types in WSS3.0
See also: » SharePoint 2007 Design Articles and Info The following CSS reference guide highlights the major styles used in MOSS and WSS v3 sites. The guide is organized by area of the page and include the style name, function, CSS file name and approximate line number and a sample screenshot of the style location on the screen. Additionally, there is a "Copy to Clipboard" function that will copy the source code for the style to your client machine's clipboard for use in your own CSS file. Use these guides to identify styles that can be overridden for your custom branding and installation or to quickly reference style name and CSS information for customization.
I have a WSS 3.0 server that needs to be moved into ourMOSS 2007 Farm. The WSS server will not be able to be added to the farm since it is off-site and we also don't have anotherMOSS 2007 License available (nor will our budget allow us to purchase one). This WSS 3.0 server has only 3 sites but over 200 users are accessing the data on the server. Also the server is not a member of a Domain (contained within a DMZ) , so all users have been given local user accounts. One reason I'm asking what sound like I should be able to answer myself is that I do not have access to the WSS 3.0 server at this time.
Move WSS 3.0 content to MOSS 2007
Introduction Microsoft Office is very tightly integrated with SharePoint by utilizing its web services. Windows SharePoint Services comes with sixteen different web services.
Talk to SharePoint Through its Web Services [Archive] | SharePoint Monitor
Microsoft® SharePoint® Designer 2010 Step by Step - O'Reilly Media
SharePoint 2010 Security
Creating a Page Layout in SharePoint 2010 using Visual Studio 2010 - Becky Bertram's Blog
A SharePoint server is not installed on this computer.
Managing SharePoint Designer 2010
Whats New in SharePoint 2010