Development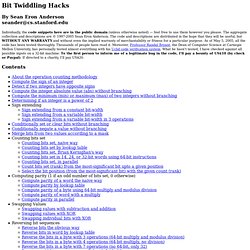 Bit Twiddling Hacks
By Sean Eron Anderson seander@cs. stanford.edu Individually, the code snippets here are in the public domain (unless otherwise noted) — feel free to use them however you please. The aggregate collection and descriptions are © 1997-2005 Sean Eron Anderson. The code and descriptions are distributed in the hope that they will be useful, but WITHOUT ANY WARRANTY and without even the implied warranty of merchantability or fitness for a particular purpose.
Concordance
03/18/12 Concordance 0.24 released! Concordance 0.24 is officially released ! This release fixes 5xx remotes, adds modern udev support and fixes compilation with GCC 4.7. 08/28/10 Concordance 0.23 released!
What is AudioMulch? | AudioMulch.com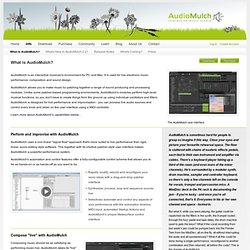 AudioMulch is an interactive musician's environment for PC and Mac. It is used for live electronic music performance, composition and sound design. AudioMulch allows you to make music by patching together a range of sound producing and processing modules.
Managed Services Engine
The central challenge of repository implementations is how to provide support for an extensible list of metadata schema. The most common solution is to use a universal schema (e.g. an entity table, a property-value table and a relationship table). This makes writing tools like repository browsers easier but at a significant cost. Repository performance and queriability suffers. Queries run slowly and standard database tools like SQL Server Reporting Services do not work well because they expect well structured data. Instead of using a universal schema approach, the design of the Oslo repository has focused on making well structured relational APIs work.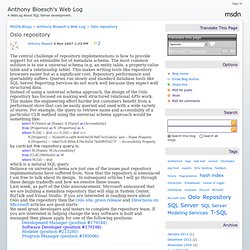 Oslo repository - Anthony Bloesch's Web Log
Application Details This software is based on the client - server architecture. Commmunication between the clients is established through the server. Initially server is started.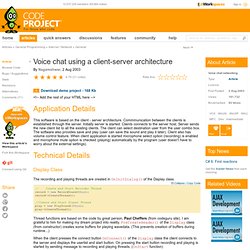 Voice chat using a client-server architecture
Head Mounted Displays/VR-Helmets Market Overview
maintained by Christoph Bungert description of the abbreviations used in the chart 180k-pixel that's what most (consumer) HMDs offer! Are you happy with that? I guess not!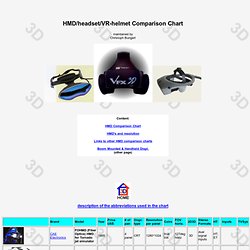 Here is an updated version of the 'Using Google's Full Capabilities'. This is basically a master list found on a Russian hacking website. To save you the dangers of going there, we've compiled it here. Enjoy. Each of these things can be copied and pasted into Google search for some good old fashioned fun! Enjoy!