Books
BCO - BookCloseOuts.com Bargain Books - Books...
HamiltonBook.com
Download doris lessing eBooks at Diesel eBook Store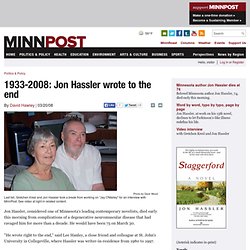 1933-2008: Jon Hassler wrote to the end
Photo by Dave Wood Last fall, Gretchen Kresl and Jon Hassler took a break from working on "Jay O'Malley" for an interview with MinnPost. See video at right in related content. Jon Hassler, considered one of Minnesota's leading contemporary novelists, died early this morning from complications of a degenerative neuromuscular disease that had ravaged him for more than a decade. He would have been 75 on March 30. "He wrote right to the end," said Lee Hanley, a close friend and colleague at St.
Home
Radio Paradise - commercial free Internet radio - modern & class
Get More Out Of Your Roku Digital Video Player
NetFlix Instant Watch Tracker
Barnes & Noble.com - Book Search: Mobi Collected Works