Gifts
Lip Whip - Apricot. About Apricot Whip - For a lusciously nude lip!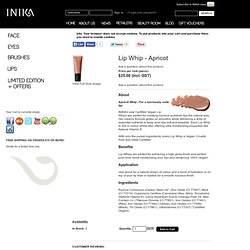 INIKA's new Certified Vegan Lip Whips are perfect for creating luscious polished lips the natural way. Hunting - Alpine Precision Rifle Club. Hunting with Alpine Would you like to add hunting and tracking to your marksmanship skills?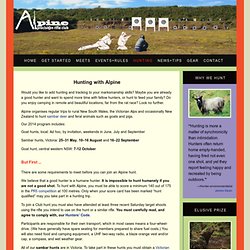 Maybe you are already a good hunter and want to spend more time with fellow hunters, or hunt to feed your family? Do you enjoy camping in remote and beautiful locations, far from the rat race? Look no further. Alpine organises regular trips to rural New South Wales, the Victorian Alps and occasionally New Zealand to hunt sambar deer and feral animals such as goats and pigs.
3 VALLEY HUNTING & TARGET CLUB. Hi all if you would like to post any photos please send in with a caption A look at our temporary shooting benches is that bacon cooked yet ??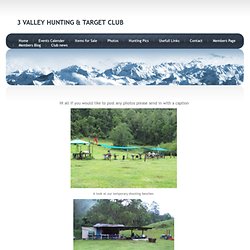 Any pics for here should be a jpeg type for easy loading Master Cook at work " yummy " Www.dogsnsw.org.au/images/stories/activities_a_events/2014_for_Web.pdf. NSW Gun Club Program of Events. ~ 2014 Upcoming Events ~ ~ Note - Skeet practice ranges will only be open after completion of Saturday DTL Trap Competitions ~ See RANGE Allocations for further Information For further information contact the club: Wednesdays 2pm-9:30pm (10pm Daylight Savings), Saturdays 10am-6pm P (02) 9450-1775 F (02) 9450-2178.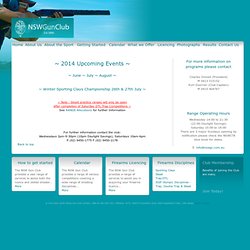 Hunting Clubs in Sydney & New South Wales (NSW), Australia. Hornsby RSL Rifle Club - Target Shooting 50 to 800m. Swiss Small Bore Rifle Club - Shooting Club - Northern Beaches - Sydney. NSW Gun Club Home Page. Memberships. Your CSC number is your Card Security Code, which is a 3 or 4 digit number printed on the back or the front of your credit card.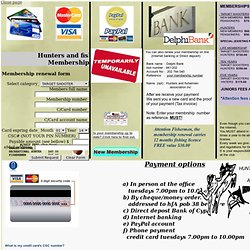 As you may have noticed, we request the CSC number on your credit card during your Secure Checkout process. The CSC number is an authentication check to help prevent fraud. Therefore, if your credit card number is provided with an incorrect CSC number, the transaction will not be approved. Hungarian Vizsla Breeders, Australia.
* Disclaimer : The above breeder listing has been produced with information supplied in good faith by registered members of this site.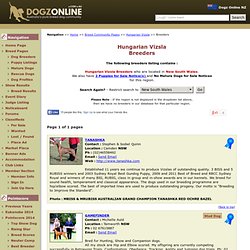 Dogz Online Pty Ltd takes no responsibility for the accuracy of the information provided or the quality of any breeder listed. It is up to you as the prospective purchaser, to verify any claims made before entering into a transaction. The use of the Blue Ribbon or Red Ribbon image against a listing should not be used as a symbol of a breeder's quality. The ribbon image is used purely to identify the membership level the breeder has paid for on the site.
Home. Membership Hidden Valley | Own Your Own Country Hideaway. Membership at Hidden Valley gives you access to all the facilities, accommodation and activities at the farm including agistment, horse riding near Sydney as well as direct access to the State Forest and The Great North Walk.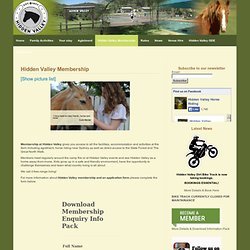 Members meet regularly around the camp fire or at Hidden Valley events and see Hidden Valley as a home-away-from-home. Kids grow up in a safe and friendly environment, have the opportunity to challenge themselves and learn what country living is all about. We call it free-range living! Get Gawjus! FUJIFILM Australia. Riedel - Ouverture Buy 8 Get 12 Gift Pack (Made in Germany) ThisIsWhyImBroke.com :: The Internet's Mall.
Top3 by design. Georg JensenGeorg Jensen traces its roots back to 1904 when silversmith and sculptor Georg Jensen (1866-1935) started his workshop in Copenhagen.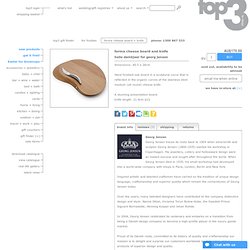 His jewellery, cutlery and hollowware design were an instant success and sought after throughout the world. When Georg Jensen died in 1935, his small workshop had developed into a world-wide company with shops in Paris, London, Berlin and New York. Box contains: 8 fresh Passion fruits in the box - order passion fruit online. Whenever you visit the four corners of the world, you'll find that people in US, New Zealand, Brazil, Indonesia, Kenya and Florida are eaten the same way as passion fruit.
The Passion Fruit is one of the most exotic of all tropical fruit because of the magic of its aroma and the taste of its fruit. Passion fruit is an oval-shaped, purplish-brown fruit that grows on a woddy vine, which climbs and clings to other forest plants in order to grow upward. The vine produces large white flowers and a fruit known as passion fruit. The fruit is ripe when it is soft and wrinkled on the outside, and on the inside becomes golden yellow colored with a watery and jelly-like textured flesh. Where can i buy passionfruit in chicago. Jetfumes will make a personal wine bottle holder that will be one of a kind, personalized gift for.
Wooden tray, white. Valentine Day. Lilies & Peonies. Tetris Heat Change Mug - Buy your Tetris Heat Change Mug from Kogan Australia. Top3 by design - Steady Sticks - wine glass holder ss 26cm. Molecular Cuisine Starter Kit. Neato XV-21 Pet & Allergy Automatic Vacuum Cleaner: Home & Kitchen. Virtual Hair Makeover.
Chicago Innovative Awards March. Kinetic Winged Rings that flap. Jeweler/metalworker Dukno Yoon makes beautiful, animated kinetic winged rings, sculptures and towers that flap when you flex your finger.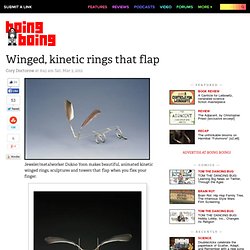 The contrast between metal structural form and natural feather, together with the repetitive and whimsical movements of fragile wings, provokes the imagination and evolves the intimate relationship between work and viewer/wearer. Although the recent series, segmented wings have been focused on the formal challenge to engineer an intricate movement that simulates bird wings, these works are intended to be a series of poems in which I develope my own formal language, interpret the nature of wings, create various structural forms with movements, and share the metaphor, imagination, humor, with viewer/wearer.
Tantra Sex Chair. Urbio Urban Vertical Garden. Portable Grill. Levitating Revolution. Floats nearly any object weighing up to 12 ounces. Overview: The Levitron Revolution with EZ Float Technology is a mesmerizing way to display small objects. The device allows you to levitate and slowly rotate your collectibles, toys, small office supplies - pretty much anything weighing up to 12 ounces. To float an object, you first levitate the included small magnetic disc. Whiskey Glass. Manufacturer: Normann Copenhagen Normann Copenhagen was founded in 1999 by Poul Madsen and Jan Andersen. In 2002 Normann Copenhagen launched their first product, the lamp Norm 69.
Emergency Underpants Dispenser. Golfers BBQ toolset. NikeMag Back For The Future. Original Man Candle - Bacon.
---