System Info
Troubleshooting Microsoft software issues. by markbillson Sep 1
Measure Wi-Fi Signal Strength inSSIDer for Home helps you measure the signal strength and estimate the performance of your Wi-Fi in various locations. See how walls, stairways, and doors affect your wireless network coverage. Pick a Better Channel for Your Wi-Fi All Wi-Fi access points must share channels with other networks in the environment. Too many networks sharing or overlapping a channel can slow down the performance of all Wi-Fi networks on that channel. inSSIDer for Home – Personal Only helps you determine the best channel for your Wi-Fi. Make Sure Your Wi-Fi is Secure inSSIDer for Home will help you determine which security setting your Wi-Fi is using, reducing the risk of unauthorized access into your home network.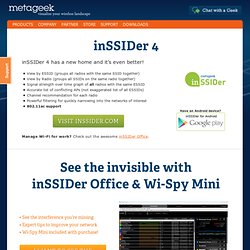 Wi-Fi scanner. A useful tool to help troubleshoot WLAN by markbillson Nov 6
Speccy System Information Speccy is an advanced System Information tool for your PC. Need to find out what's inside your computer? No problem! Speccy will give you all the information you need.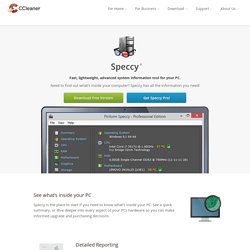 Excellent system information tool. Does not monitor graphic card temperatures. by markbillson Jul 4
Monitors the internal temperatures of your computer. Supports most graphic cards. by markbillson Jul 4