Books
The Great Sex Letter. On March 7th of 1947, a drunken Neal Cassady — the man on whom Dean Moriarty in On the Road would later be based — wrote the following letter to his friend, Jack Kerouac, and described two recent sexual encounters.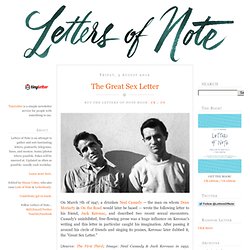 Cassady's uninhibited, free-flowing prose was a huge influence on Kerouac's writing and this letter in particular caught his imagination. After passing it around his circle of friends and singing its praises, Kerouac later dubbed it, the "Great Sex Letter. " Shape Magazine: Diet, Fitness, Recipes, Healthy Eating Expertise - StumbleUpon.
Whichbook | A new way of choosing what to read next - StumbleUpon. Free Audio Books - Philosophy - Download mp3 and iPod format today! - StumbleUpon.
---