Blogs
Teabags! Perfect cookie for a Tea Party!
For my boss's birthday I made these shortbread tea bags... I was inspired when I saw some wooden tea bags as part of a kid's play food set - I thought hmmm one day I could do shortbread dipped in chocolate! I made little tags with cupcakes and used embroidery thread. I used a round icing tip to punch a little hole in each one before I baked so that I could thread it later. ps... shortbread recipe from: Source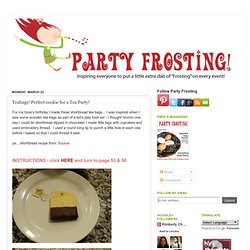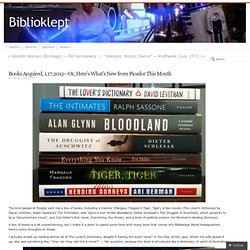 Books Acquired, 1.17.2012—Or, Here's What's New from Picador This Month
The kind people at Picador sent me a box of books, including a memoir (Margaux Fragoso's Tiger, Tiger ), a few novels ( The Lover's Dictionary by David Levithan; Ralph Sassone's The Intimates ; Alan Glynn's noir thriller Bloodland ; Dieter Schlesak's The Druggist of Auschwitz , which purports to be a "documentary novel"; and Zoë Heller's first novel, Everything You Know ), and a work of political science (Ari Berman's Herding Donkeys ). A box of books is a bit overwhelming, but I make it a point to spend some time with every book that comes into Biblioklept World Headquarters. Here's some thoughts on these. I actually ended up reading almost all of The Lover's Dictionary , despite it having the word "lover" in the title, which, jeez.
Alternative 'Aladdin Sane's, 1973, by Brian Duffy
Geek
thanks to nelson bourrec-carter
1001 Books To Read Before You Die, Explaining Old Book Smell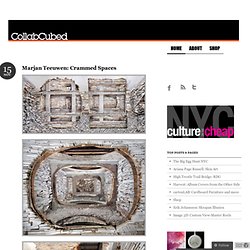 15 Nov Click to enlarge An anxious feeling infiltrates my chest a bit when looking at Dutch artist Marjan Teeuwen 's photographs, and yet I find it hard not to be pulled in. These crammed spaces that evoke a sense of claustrophobia and obsession are so jam-packed with objects that in some cases ceilings, floors and walls are hardly recognizable. Some of the photos have the objects set up by function, others by texture and color, but all have them packed in creating an oppressive and confined feeling.
Marjan Teeuwen: Crammed Spaces «
Avoiding Traffic Jams
Link Scroll down for today's pictures & links. Avoiding Traffic Jams ... in Russia (highly dangerous and illegal, of course). See another method in this video . Link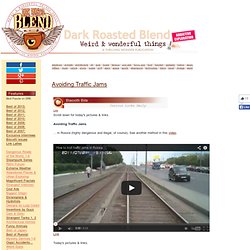 Seite 17 - Akt Now: Diana Scheunemann - Aktfotografie - Kunst
October 11, 2010 that autumnal feeling rockin' back inside my heart/bookishness/bouts of Holmesian energy/colour coordination/brisk constitutionals around Malmö/hats & coats & gloves & investigations. Autumn leaves via here , here , here at 2:12 PM Labels: autumn , books , houses , julee cruise , malmö , sherlock holmes
that autumnal feeling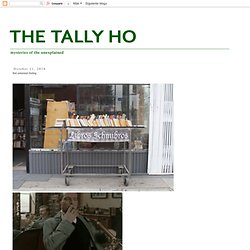 Typing (new edition)
Visual-Poetry
Pictures of the day: 22 November 2011
For a long time I´ve been wanting to do something with one of my sisters, my great-aunt and typography. Not all together, but it just turned out that way. As my son gets older and I get more grey hair, I wonder what kind of advice will I give to my grandkids. My three grandmothers where always giving me sermons instead of tips. "Be carfeul with your money". "Don´get invloved with that girl", "Save", "Get a haircut, you look like a hippie", and all those classic parent, grandparent comments.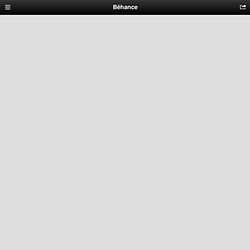 Grandmother Tips on the Behance Network
Discoveries by Brian Vu I Art Sponge
Type | Cut It Out
Dorothy | Xmas Declarations
Super Punch | Objects in mirror may be distorted by societal...
The Word On The Street: Good Advice | newyorkshitty.com
Hey Oscar Wilde!
Pic of the Day
This is an ongoing series of self initiated screen printed posters I produce and put up around the Facebook offices. Some of the quotes, like "move fast and break things," are mantras at Facebook, others are just personal favorites I've picked up from various sources along the way. They are meant to inspire, motivate, and question our internal ideas. As you can see they definitely spawn conversation and interaction with other Facebook employees, which I think is awesome.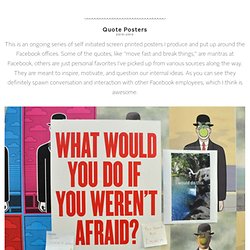 Quote Posters | The Graphic Works of Ben Barry
I AM ESTESO.
MSU Workshop | The Graphic Works of Ben Barry
Marc Johns — Prints - Available
cat versus human
The most common one in my home is the Pillow Takeover. It's okay. As long as they're happy, I guess. A few things: 1. Here's some pics from the Changing Hands Tempe book signing .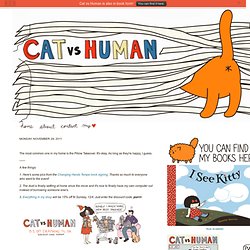 Rirkrit Tiravanija Towel
'tis the party season ...