Twitter
Le taux de clic des liens sur Twitter
Connaissez-vous le « tweetthrough rate« ? Il s'agit du taux de clic moyen sur les liens que tweetent les membres de Twitter. Tijs Vrolix s'est livré à une petite étude afin de calculer ce taux, qui permet de mesurer l'intérêt que portent vos followers à vos messages.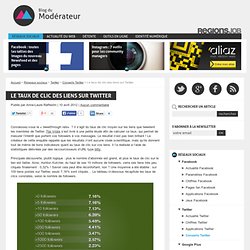 Today is my Twitter birthday. My 4th, actually – I signed up for the network back on March 8, 2008. As I wrote about earlier in the week, I certainly did not take to Twitter immediately. It took me a while to get it – after an initial burst of modest activity, I dropped off the network entirely for six months at the tail-end of 2008. But then, all of a sudden, something clicked. Like magic.
48 Twitter Lessons – What I Have Learned In 4 Years And 1,180 Articles About Twitter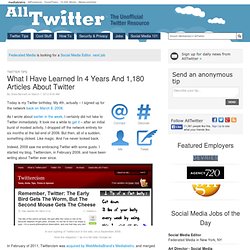 Fly Or Die: The New New Twitter
Want To Work At Twitter? Watch Their Hilarious New Recruitment Film [VIDEO]
Twitter acquiert Summify, agrégateur d'actualités sur les médias sociaux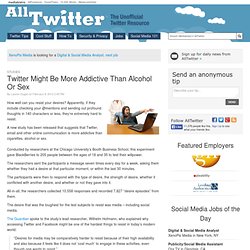 How well can you resist your desires? Apparently, if they include checking your @mentions and sending out profound thoughts in 140 characters or less, they're extremely hard to resist. A new study has been released that suggests that Twitter, email and other online communication is more addictive than cigarettes, alcohol or sex. Conducted by researchers at the Chicago University's Booth Business School, this experiment gave BlackBerries to 205 people between the ages of 18 and 35 to test their willpower.
Twitter Might Be More Addictive Than Alcohol Or Sex
REVEALED: Twitter's Biggest Celebrity Breakups [INFOGRAPHIC]
Twitter et les femmes, par auFeminin.com
Twitter has always been a little inconsistent in its attitude towards fake accounts – for every account that it suspends, there's probably half a dozen others that it either ignores (or works with). Moreover, Twitter seems largely ambivalent to the parody accounts of dead people – Samuel Pepys, George Washington and, uh, Darth Vader, all have a long-established (and devoted following) on the network. But none of these accounts have been officially verified by Twitter – this would be strange, after all, as they're dead. All of which makes the arrival of a freshly-verified Marilyn Monroe on the network something of a curiosity. The profile, which can be found under the username @marilymonroe, is the real deal, inasmuch as, and according to the account bio, it is "tweeting on behalf of the estate of Marilyn Monroe", and has quickly racked up thousands of followers.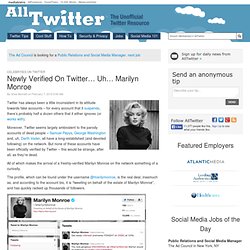 Newly Verified On Twitter… Uh… Marilyn Monroe
Justin Bieber Vs. Lady Gaga Vs. Katy Perry: Who's Most Influential On Twitter? [STATS]
They're the Twitter heavyweights, the tweet elite, the upper echelon of tweeps society. Lady Gaga, Justin Bieber and Katy Perry are the three most-followed Twitter users of all time, and now they're about to face off to see who is most influential among their tens of millions of followers. Regardless of whose music you prefer, only one of these Twitter superstars is the best when it comes to influencing their followers. So who is it?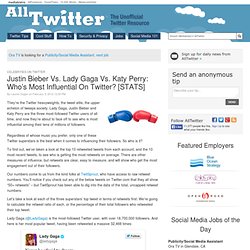 10 Twitter Users Now Have More Than 10 Million Followers
Twitter s'est imposé de manière incontestable comme le réseau social de l'information. Or, pour beaucoup d'entre nous, une barrière subsiste : son jargon, parsemé de néologismes et autres barbarisme lexicaux. Ce vocabulaire peut effrayer les néophytes et créer un frein à son utilisation. Voici une compilation de termes à connaître pour savoir bien utiliser l'outil : Tweet : Un message publié par n'importe quel utilisateur de Twitter.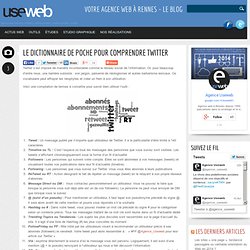 Il y a un peu de temps, dans une galaxie pas si lointaine, ce blog faisait des dossiers comme celui-ci : 10 utilisations créatives de Twitter. On y découvrait notamment quelques objets connectés dont les actions IRL étaient liées à l'émission d'un tweet… et l'opération dont je vais vous parler aujourd'hui est dans la même veine. Comme nous le précise Adfreak, l'Agence britannique Uniform a développé une machine à l'intérieur de ses locaux.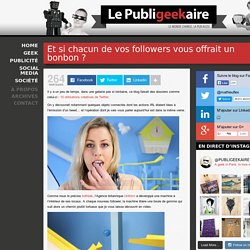 Et si chacun de vos followers vous offrait un bonbon ?
Twitter's Censorship Policy: Three Unanswered Questions
In June of 2009, leading up to the 20th anniversary of the Tiananmen Square uprising, the Chinese government blocked access by its citizens to Twitter, Flickr and a number of other US-based websites.