Blogs
Blog – Ben Krogh | On Failure, interview creatives. Teaching cancer to cry. Happy Snappy: Finland vs Scotland. Dit is olga. Eigen blog: Marieke Riedijk grafisch vormgever. 14mrtWat kost een huisstijl?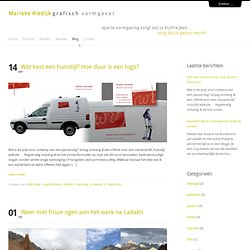 Hoe duur is een logo? Wat is de prijs voor ontwerp van een jaarverslag? Graag ontvang ik een offerte voor een nieuwsbrief, huisstijl, website … Regelmatig ontvang ik via het contactformulier op mijn site dit soort verzoeken. Vaak eenvoudige vragen zonder verder enige toevoeging of hoogstens wat summiere uitleg. Weblog Octaview.
David praat raak – weblog van david, een soort reclamebureau. Vi Hart: Blog. Simone de Jong.
---