Fringues Recycling
Boutique Mamzelle Popeline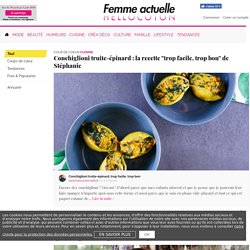 Same girl Maternité › par bumcat S'abonner Ahhhh les joies de la maternité! Je vois mon bébé grandir à vue d'oeil, il a changé de tête oui, il s'éveille et même qu'il est hyper... Lire la suite ›
By Guest Author, Joe Procopio Matt Baker knew life was short, his in particular. Some of his closer friends surmised that this keen awareness of his own mortality is why he often burned the candle at both ends, cramming as much living into whatever time was allotted him. A childhood bout of rheumatic fever compromised his heart, which kept him out of the Army for World War II, but didn't stop him from smoking, traveling to Mexico, cavorting with a variety of lady friends, or cruising around in a canary yellow Cadillac.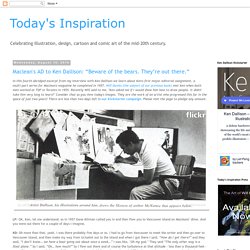 Atelier Laure Paschoud > Collections > SS 2011
Le savon vintage Oui on peut trouver un savon au look vintage et hipster chez Le Baigneur. Une gamme bio 100% française et développement durable exclusivement pour homme (désolé mesdames) pour des soins hydratant, relaxant, et autres. Bref un must have pour nous les hommes ! by cris del pilone in a touch of vintage, beauté, Goodies, Mode Tags: hipster, kitsch, moustache, retro, tendance, trendy, vintage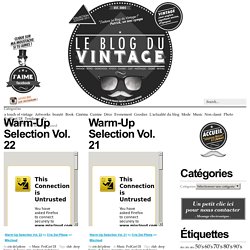 Les producteurs se frottent les mains: personnage déjà célèbre, histoire et musique déjà écrite... le biopic musical a le vent en poupe. Une fois la vie du musicien adapté en scénario et les droits négociés, c'est le succès assuré! Après Cloclo sur Claude François, Control sur Ian Duris de Joy Division ou encore Ray sur Ray Charles, c'est toute la discographie des années 70 qui va finir par y passer!
LOST IN THE SEVENTIES
Dossier > Récolte, transformation et utilisation du coton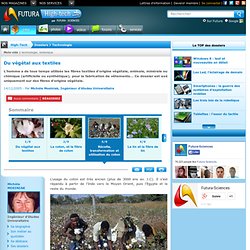 MichèleMosiniak Ingénieur d'études Universitaire L'usage du coton est très ancien (plus de 3000 ans av. J.C). Il s'est répandu à partir de l'Inde vers le Moyen Orient, puis l'Egypte et le reste du monde.
Groups in Switzerland - glocals