Industry News
Box has completely revamped iOS and Android apps with new interface and preview capabilitiesBox has pretty massive competition to deal with in the cloud storage space. There are the big guns, like Dropbox, Google and Amazon, and then a bunch of upstarts like Zetta, Panzura, Symform, StorSimple, Huddle, Backblaze and Nirvanix. That's a lot of companies to choose from. So, the question becomes, how does one company distinguish itself for the rest and give people a good reason to it over all the others?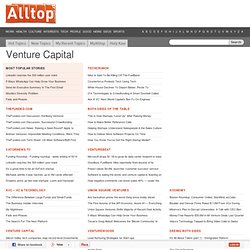 Alltop - Top Venture Capital News
Tech titan and TechCrunch founder Michael Arrington is known for his virtual outbursts and high temper when it comes to Silicon Valley drama, and his yacht . But an ex-girlfriend now claims that Arrington was violent toward her in real life, and threatened to "murder" her if she told anyone. On Thursday, Jenn Allen, the CEO and founder of start-up RTist.com posted the following public status update to her 4,500 Facebook subscribers: Last post on someone i'm completely over. I've never been lonelier in my entire life. To all my friends who loved me for who I am - thank you.
photo: GigaOM The Wall Street Journal reports that Twitter is unveiling 15 new ad units, along with an expanded analytics platform for brands. Read more »