House Related 3
Design "Muuuz - Blog Architecture, Design, Trends, Inspiration
Mon blog déco
Blue in the Facade
10 Coolest Hidden Doors and Secret Passageways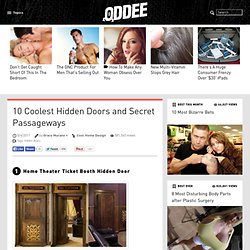 Home Theater Ticket Booth Hidden Door If you are big fan of unique hidden doors and cool home theaters, the Home Theater Ticket Booth Door from Creative Building Resources (CBR) combines the best of both worlds. CBR's elaborate hidden door features a programmable, scrolling LED sign built into the top of the frame, while the interior of the hidden door functions like your traditional ticket booth, complete with recessed lighting. On the front of the ticket booth, a detailed wood inlay displays the high level of craftsmanship involved in constructing this hidden passageway, although we'd recommend ditching the frosted comedy and tragedy faces on the front ticket booth glass. For those who intend to staff the ticket booth, or at least fill it with a costume-draped dummy, the interior is accessed through a full sized cabinet door at the back. As this hidden door is a custom creation from CBR, we'd recommend ordering yours to match your own home theater decor.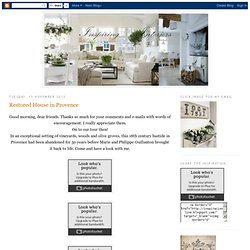 Inspiring Interiors
Surprise! Another post! I've posted two days in a row now. Maybe I've snapped out of my lack of inspiration. Thanks for your patience, my friends! And today's house belongs to Hania, who has turned it into a bed and breakfast.
interior divine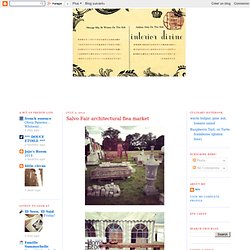 A couple of weekends ago I got to go to the "world's largest" architectural salvage fair, held out in Berkshire, not far from London. There was a variety of mostly large pieces: doors, floorboards, windows and other stone fragments and oddities taken from buildings, churches or barns that would be ideal if you were renovating a house from top to bottom! In no way was it the world's largest, however there was an interesting selection. Motivated hunters like my friends and I schlepped through the muddy field to try to find some deals or rescue a piece worthy of taking home. I almost left with a 1950s rocking horse, but it needed a bit too much work to be safe for my childrens' room.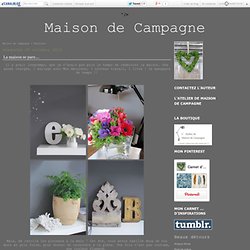 La maison se pare.... Il y avait longtemps, que je n'avais pas pris le temps de redécorer la maison. Une année chargée, 1 mariage avec Mon Amoureux, 1 nouveau travail, 1 livre ! Je manquais de temps !!
Maison de Campagne - Page 1 - Maison de Campagne
Oliveaux
We had the pleasure of working with Sue and Justin on their lovely East Brisbane home which was recently featured in Home Beautiful. So we thought we would share a few more pictures. The use of linen, slipcovered sofa's and sisal floor rugs keeps the home wonderfully bright and relaxed, perfectly suited to our Queensland climate. The outdoor spaces and large verandah's of their home are enjoyed most of the year and therefore they could not be left untouched either. We added this block printed table cloth and some colour in the accessories that can be brought outside when they entertain. I could imagine sitting under this amazing old tree for a barbecue lunch.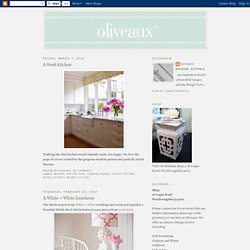 PORCHLIGHT INTERIORS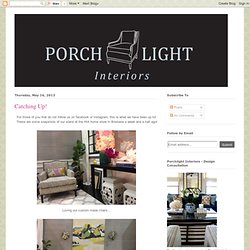 We have been enjoying some family time over the Christmas and New Year so have taken a bit of break from the blog - hopefully will find the time to do more posts this year. I was inspired by this gorgeous home in the latest Architectural Digest that was in my inbox this morning... This is a beautifully restored home in Umbria by architect Benedikt Bolza. This room is off the kitchen and I love that it is decorated with bottles of tomatoes grown on the farm! This bathroom in the master bedroom is stunning with the copper pipe towel rails...
Ny vecka Nya tag I helgen har vi funderat lite på golv (igen) Jodå, vi har återigen tagit hem golvprover för att försöka få en uppfattning om hur det kan se ut med ett vitt golv i vårt kök (och hall)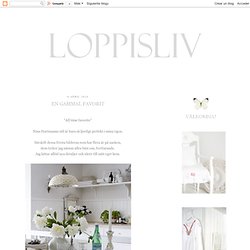 LOPPISLIV
A very few things inspire me from the web lately I see many similar things around Too much already seen stuff Trovo poca ispirazione dal web ultimamente
Little Emma English Home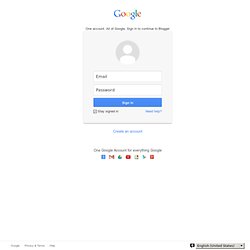 Hej Hopp! Här hemma har vi, precis som många andra, just nu fredagsmys! Hittade så goa glasspraliner som jag verkligen rekommenderar! Hitta dem på Lidel Lite vin på detta och ja, då är det MYS :)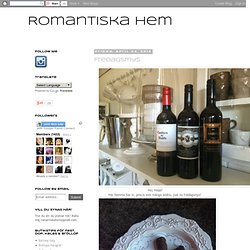 Romantiska Hem
Hi Everyone! It's been a busy six months of auctions, working on the booth at DuPre's, working at work during the week, and fun weekend trips. Oh, not to mention my newest rescue project.
Belle Francaise Interiors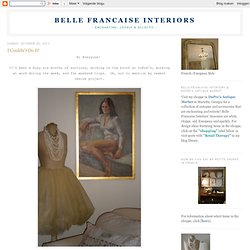 The popular blog, La Dolce Vita, Here, recently showed a beautiful house for sale in Houston's posh River Oaks neighborhood. The house had been put up for sale after a total renovation by the fabulous Bobby McAlpine of the McAlpine Tankersley architectural firm from Birmingham. Susan Ferrier from the same firm did the interiors. When I first saw the house on La Dolce Vita – it looked eerily familiar and I knew I had seen it before, but where? A quick look into the archives of HAR produced the original house when it was for sale before – and then I remembered. I had admired the house when it was for sale at that time and I showed it to Ben saying – what a great house to restore!
COTE DE TEXAS
LoftLife Magazine - The Loftstyle Guide to Life in the City - Loft Blog
A Beautiful Abode
A Beautiful Abode
it's been long overdue but i wanted to thank y'all for the wonderful suggestions for our trip to California. i will never do another trip w/out asking for your help....it was just that fun. we literally did as much of it as we could in the short time we were there. here were our favorite things from the trip: Abbie's at Seal Beach...asian nachos. Running in Laguna Beach and La Jolla- such a fun way to see the city and the views were amazing. Drive on Hwy 1 Eating at Bull Taco in Cardiff...never would have known this existed....thank you Grace.
pink wallpaper
Interior Groupie
Vintage Home
Birch + Bird Vintage Home Interiors
vintage simple
Completely Coastal -Beach + Nautical Decor, Interiors, Crafts + more.
Winchester Mystery House | Atticmag | Kitchens, Bathrooms, Interior Design
House Tours | Atticmag | Kitchens, Bathrooms, Interior Design
Interior Design | Atticmag | Kitchens, Bathrooms, Interior Design
My Romantic Home
living space
Chinoiserie Chic
Ticking and Toile
bohemian hellhole
A Fanciful Twist
City Cottage
Daisy Pink Cupcake
THEPEAKOFCHIC.COM
room inspiration
Décor de Provence
interior design « Sharona Design
DESDE MY VENTANA
20 Bizarre Hotels by Luggage Online