MIA
El centro comercial Màgic de Badalona acoge la exposición "Objetivos del Milenio" | Sin Excusas. Badalona.- La muestra fue presentada hoy por Francesc Julià, director del Centro Comercial Màgic Badalona, Laura Ríbo, directora de Marketing del Centro Comercial Màgic Badalona, y Xavier Longan, coordinador en funciones de la Campaña del Milenio de Naciones Unidas para España.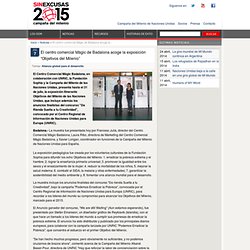 La exposición pedagógica fue creada por los voluntarios culturales de la Fundación Sophia para difundir los ocho Objetivos del Milenio: 1. erradicar la pobreza extrema y el hambre; 2. lograr la enseñanza primaria universal; 3. promover la igualdad entre los sexos y el ensalzamiento de la mujer; 4. reducir la mortalidad de los niños, 5. mejorar la salud materna; 6. combatir el SIDA, la malaria y otras enfermedades; 7. garantizar la sostenibilidad del medio ambiente y, 8. fomentar una alianza mundial para el desarrollo.
Helps Lebanon kick off solar powered schools. 24 May 2011 UNDP helps Lebanon kick off solar powered schools Beirut - Teachers and students at 25 public schools in South Lebanon are to benefit from a constant supply of electricity to their offices and classrooms following installation of solar panels that provide an alternative to expensive and polluting diesel generators.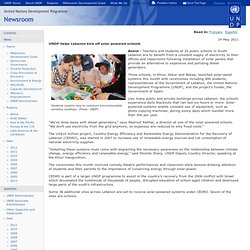 Environmental Impact Assessment of Wind Farms | News & Events | CEDRO UNDP. Click to view the short documentary for an overview of CEDRO's accomplishments over the past 6 years.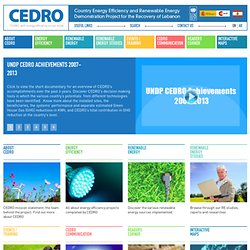 Discover CEDRO's decision making tools in which the various country's potentials from different technologies have been identified. Know more about the installed sites, the beneficiaries, the systems' performance and separate estimated Green House Gas (GHG) reductions in KWh, and CEDRO's total contribution in GHG reduction at the country's level. Two-day forum examines democratic transitions. 06 June 2011 Two-day forum examines democratic transitions UNDP Administrator Helen Clark and Prime Minister of Egypt Essam Sharaf, inaugurated the "International Forum on Pathways of Democratic Transitions: International Experiences, Lessons Learnt and the Road Ahead," in Cairo which ran from 4 – 5 June.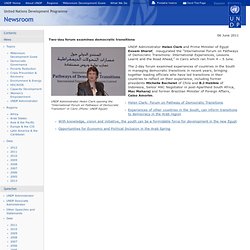 The 2-day forum examined experiences of countries in the South in managing democratic transitions in recent years, bringing together leading officials who have led transitions in their countries to reflect on their experience, including former presidents Michelle Bachelet of Chile and B.J Habibie of Indonesia, Senior ANC Negotiator in post-Apartheid South Africa, Mac Maharaj and former Brazilian Minister of Foreign Affairs, Celso Amorim. About Us. UNDP supports an election in the world every two weeks.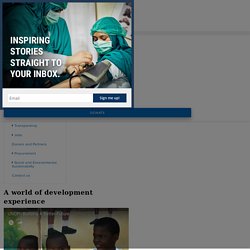 Photo: UNDP in Tunisia Since 1966 UNDP partners with people at all levels of society to help build nations that can withstand crisis, and drive and sustain the kind of growth that improves the quality of life for everyone. Arab States transitions must be locally led and driven, says UNDP chief. Organisational Structure. Donors & Partners. UNDP's support for the Millennium Development Goals (MDGs) puts partnership at the centre of all aspects of our work.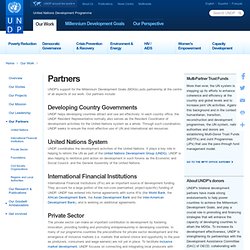 Our partners include: UNDP helps developing countries attract and use aid effectively. In each country office, the UNDP Resident Representative normally also serves as the Resident Coordinator of development activities for the United Nations system as a whole. Through such coordination, UNDP seeks to ensure the most effective use of UN and international aid resources.