House Stuff
Speed Cleaning Tips From Professional Cleaners. Paid cleaning help can be a wonderful short-cut to a clean and organized home--if the household budget can stand the cost.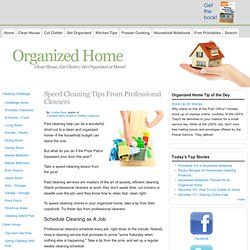 But what do you do if the Prize Patrol bypassed your door this year? Take a speed-cleaning lesson from the pros! Paid cleaning services are masters of the art of speedy, efficient cleaning. Watch professional cleaners at work: they don't waste time, cut corners or dawdle over the job--and they know how to clean fast, clean right. To speed cleaning chores in your organized home, take a tip from their copybook. Organizing Measuring Cups and Spoons. Delicious Food Recipes - Arts and Crafts Ideas - Entertaining Tips - Gardening - Pets - Martha Stewart. Seven Surprising Uses for Baking Soda - Health.
Let us be clear: Baking soda is not going to permanently cure your acne or turn back the cruel hand of time.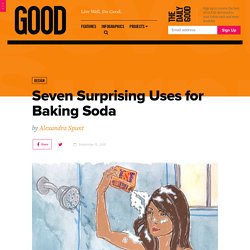 But if you're looking to detoxify your body and your household, this multitasking ingredient will make your life easier (and more beautiful) without denting your coffers. Mom may have taught you that baking soda will make your bread rise and your fridge smell better, but did you know of its many cosmetic applications? House Cleaning & Housekeeping Advice, Hints & Tips | Housekeeping Channel - For the Home You Keep - The Resource for Better, Faster, Healthier Housekeeping..
---