Management
Work Together: 60+ Collaborative Tools for Groups. With businesses and families spread out more and more, we've dug up 60+ sites that will help everyone be on the same page.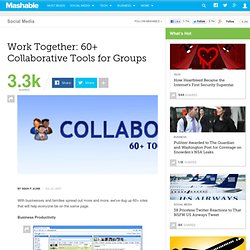 Business Productivity 37Signals.com - Maker of collaboration tools including Basecamp (others listed below). 8apps.com - A mixture of social network and productivity applications. BlueTie.com - Online collaboration directed towards small and medium sized businesses. Businessitonline.com - Centralized cash flow, documents, calendars and more for a team or small business.
Productivity tips. [H]ard|OCP - www.hardocp.com. How to Become a Creative Genius - lifehack.org. When we measure the creativity of young children, virtually all of them will record as being 'highly creative'.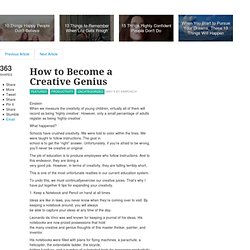 However, only a small percentage of adults register as being 'highly creative'. What happened? Schools have crushed creativity. We were told to color within the lines. We were taught to follow instructions. Do not be a perfectionist. TM): Hindsight. Body Language: A Key to Success in the Workplace : Yahoo! Finance. Let's say you're all set for your big interview—the one you're confident will change your career.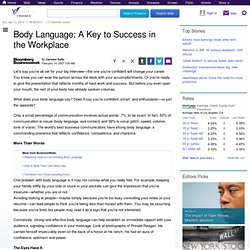 You know you can wow the person across the desk with your accomplishments. Or you're ready to give the presentation that reflects months of hard work and success. But before you even open your mouth, the rest of your body has already spoken volumes. What does your body language say? Blog. Imagine a fantasy world that's exactly as the world is today except that two things are missing: alcohol and marijuana.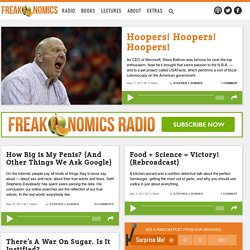 And then imagine that tomorrow, both of them are discovered. What happens now? How are each of them used – and, perhaps more importantly, regulated? How would we weigh the relative benefits and costs of alcohol versus marijuana? Startup Myths Debunked. Practice your personal Kaizen - Lifehacker. » 18 Questions Your CEO Forgot to Ask When Building Your Website - Stuntdubl - SEO Consultant.
Why are you always retrofitting and re-optimizing?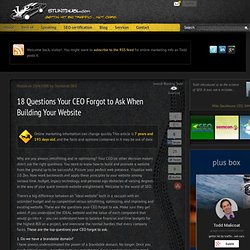 Your CEO (or other decision maker) didn't ask the right questions. You need to know how to build and promote a website from the ground up to be successful. How to Run a Meeting Like Google. Meetings get a bad rap in business today and for good reason—very little gets accomplished in them.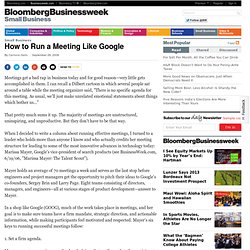 I can recall a Dilbert cartoon in which several people sat around a table while the meeting organizer said, "There is no specific agenda for this meeting. As usual, we'll just make unrelated emotional statements about things which bother us…" That pretty much sums it up. The majority of meetings are unstructured, uninspiring, and unproductive.
---