Eines_podcast
Whether it is recreational or business, the Spanish language can be tricky to learn. There are several tools that one can use to help them improve faster. The Spanish dictionary and various software programs are great tools for beginners; but as you progress, you will need to listen to the Spanish language and learn how it is properly spoken. A Spanish podcast will allow you as a student to download passages, conversation, radio shows and speeches. You can listen to them on your Ipod, MP3 player, phone or computer.
podcatalà.cat | Comunitat de podcast en català podcasting en català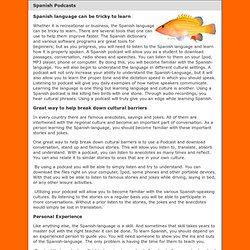 The definitive guide to installing Wordpress on your own website. Steps you through purchasing a domain, purchasing web hosting, configuring your domain, installing Wordpress, and tweaking the settings. Full featured and automatic feed generation (RSS2, iTunes and ATOM and BitTorrent RSS). Preview of what your Podcast will look like on iTunes.
PodPress Podcasting Information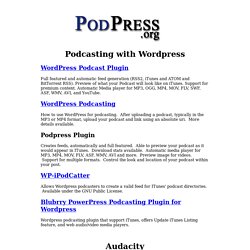 Castpost: Web Video Solutions
De Podcast-es :: Podcast en Castellano, la enciclopedia libre. Este proyecto está inactivo, la página se conserva únicamente por motivos históricos y de archivo Para estar al tanto de las novedades del mundo del podcasting hispano podéis visitar Podcastellano ( ) También existe la Asociación Podcast ( ) para todos los interesados en el podcasting y su difusión
Portada - Podcast-es Podcast en Castellano