Great Videos
directed by Fritz Lang 1:50:40 ** IMDB #58 Best Movie Of All Time ** in High Def! M - Eine Stadt sucht einen Moerder (1931)When the police in a German city are unable to catch a child-murderer, other criminals join in the manhunt.This film is nothing less than a masterpiece.It is a highly structured and stylized film about a serial killer.It created the serial kill genre, which includes such entries as Psycho and Silence of the Lambs.Alfred Hitchcock (the director of Psycho) was a disciple of Lang as were Jacques Tourneur (The Leopard Man (1943)) and Michael Powell (Peeping Tom (1960)).M was not only the originator of the genre, but arguably remains it preeminent entry.Highly recommended for those in the mood for a Hitchcockian-style thriller with a great performance by Peter Lorre and great story-telling technique by Fritz Lang
Cinevault - The Largest Collection of Classic Films Online
The Birth of a Nation The most successful and artistically advanced film of its time, The Birth of a Nation has also sparked protests, riots, and divisiveness since its first release. The film tells the story of the Civil War and its aftermath, as seen through the eyes of two families. The Stonemans hail from the North, the Camerons from the South. When war breaks ou...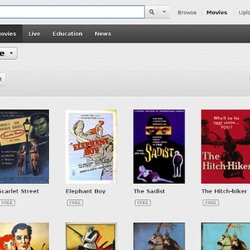 Filmes - Gênero
THRU YOU | Kutiman mixes YouTube
Great-Ads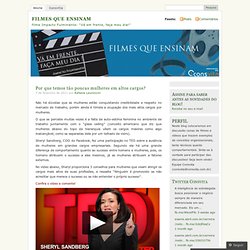 filmes que ensinam
Não há dúvidas que as mulheres estão conquistando credibilidade e respeito no mercado de trabalho, porém ainda é tímida a ocupação dos mais altos cargos por mulheres. O que se percebe muitas vezes é a falta de auto-estima feminina no ambiente de trabalho juntamente com o "glass ceiling" (conceito americano que diz que mulheres abaixo do topo da hierarquia vêem os cargos maiores como algo inalcançável, como se separadas dele por um telhado de vidro). Sheryl Sandberg, COO do Facebook, fez uma participação no TED sobre a ausência de mulheres em grandes cargos empresariais. Segundo ela há uma grande diferença de comportamento quanto ao sucesso entre homens e mulheres, pois, os homens atribuem o sucesso a eles mesmos, já as mulheres atribuem a fatores externos. No vídeo abaixo, Sheryl proporciona 3 conselhos para mulheres que visam atingir os cargos mais altos de suas profissões, e ressalta "Ninguém é promovido se não acreditar que merece o sucesso ou se não entender o próprio sucesso".
Cuppa Coffee Studios » Broadcast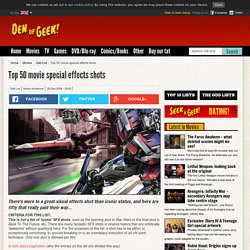 Top 50 movie special effects shots
CRITERIA FOR THIS LIST:This is not a list of 'iconic' SFX shots, such as the opening shot in Star Wars or the final shot in Back To The Future, etc. There are many fantastic SFX shots in cinema history that are artistically 'awesome' without qualifying here. For the purposes of this list, a shot has to be either a) exceptionally convincing, b) ground-breaking or c) an exemplary execution of an oft-used technique. Only one shot is allowed per film.
Free HD stock footage on Vimeo
Publicult - Filmes em Domínio Público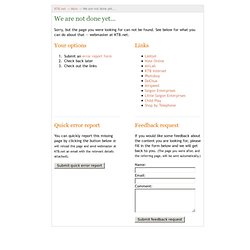 Sorry, but the page you were looking for can not be found. See below for what you can do about that — webmaster at KTB.net. Quick error report
Spider-Man In Real Life (View on YouTube) | Subscribe to us on YouTube Created and Directed by Charlie Todd / Produced by: Deverge / Music by Tyler Walker For our latest mission, we brought Spider-Man to life by having a stunt performer in costume jump off a 20-story building in Midtown Manhattan, surprising the random New Yorkers on the street below. This project is part of our ongoing series, Movies in Real Life. Enjoy the video first and then go behind the scenes with our mission report and photos below. UPDATE: There is a very important update to this project that you should read after you've seen the video.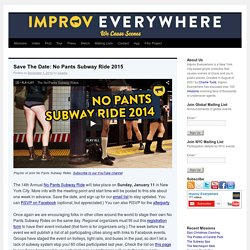 Another Title | Motion + Art + Design + Culture
Advertisement Stop motion animation is one of the hottest areas of film-making today. Stop motion is an animation art through which one can spring life in inanimate things and do the unnatural. It works by shooting a single frame of an object, then moving the object slightly, and then shooting another frame.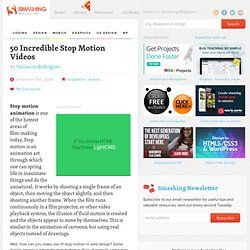 50 Incredible Stop Motion Videos - Smashing Magazine
Search Translations Talks in Português As palestras desta página foram traduzidas por voluntários que fazem parte de um Projeto de Tradução Aberta da TED.