Hosting
Sendspace - sem login. File Sync & Online Backup - Access and File Sharing from Any Device. GigaSize.com: Host and Share your Files. ZumoDrive - Enjoy your media and documents from every device. Dropbox - Home - Online backup, file sync, and sharing made easy. Online File Storage | Online File Storage - Register Today. We can't wait to show you CX.com.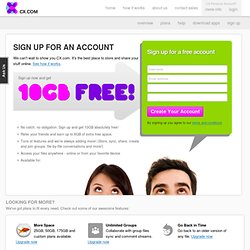 It's the best place to store and share your stuff online. See how it works. Sign up now and get No catch, no obligation. Sign up and get 10GB absolutely free! RapidShare: 1-CLICK Web hosting - Easy Filehosting. ImageShack® - Online Media Hosting. Image hosting, free photo sharing & video sharing at Photobucket. ImageUP - Hospedar Imagens. 23 Photo Sharing: Share, store and print your photos. GMail Drive download. GMail Drive shell extension é uma extensão Shell que cria um sistema de arquivos virtual na sua conta do Gmail, permitindo que você a utilize para armazenar arquivos.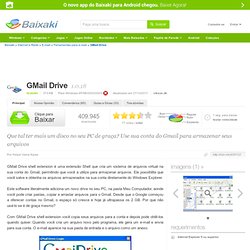 Ele possibilita que você salve e obtenha os arquivos armazenados na sua conta diretamente do Windows Explorer. Este software literalmente adiciona um novo drive no seu PC, na pasta Meu Computador, aonde você pode criar pastas, copiar e arrastar arquivos para o Gmail. Desde que o Google começou a oferecer contas no Gmail, o espaço só cresce e hoje já ultrapassa os 2 GB.
---