Komp
Wszystko zwiazane z kompami
Pocketbook Pro 903 e-reader specifications, price where to best buy? Amazon Kindle DX official images & specifications. The official images of the Amazon Kindle DX are out, and as you might expect it looks like an overgrown version of the Kindle 2.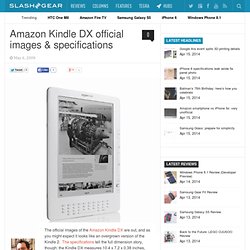 The specifications tell the full dimension story, though: the Kindle DX measures 10.4 x 7.2 x 0.38 inches, versus the Kindle 2 which measures 8 x 5.3 x 0.36 inches. Kindle DX hardware specs after the cut That makes the Kindle DX as thin as most magazines, and only very slightly thicker than the Kindle 2. As well as the 9.7-inch auto-rotating E Ink display - which runs at 1,200 x 824 resolution, 150ppi, with 16-levels of grayscale - the DX has a 3.5mm stereo headphone socket, integrated stereo speakers, microUSB 2.0 port for charging and connecting the e-reader to a PC/Mac and 3G EVDO modem that can "fallback" to 1xRTT for wireless downloads. iPad Micro-SIM Pay As You Go + 1 deal summary. Asus Eee Reader DR900 - First impression, photos and video - EeePC.it. *UPDATE* The ASUS DR900 is one of the first e-reader provided with a touchscreen capacitive screen.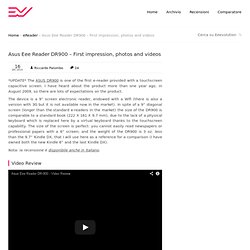 I have heard about the product more than one year ago, in August 2009, so there are lots of expectations on the product. The device is a 9" screen electronic reader, endowed with a Wifi (there is also a version with 3G but it is not available now in the market). In spite of a 9" diagonal screen (longer than the standard e-readers in the market) the size of the DR900 is comparable to a standard book (222 X 161 X 9.7 mm), due to the lack of a physical keyboard which is replaced here by a virtual keyboard thanks to the touchscreen capability. Clearing the Smoke: The Science of Cannabis | MontanaPBS Presents | PBS Video - StumbleUpon.
Please sign in using one of our supported services to begin saving your favorite programs and videos.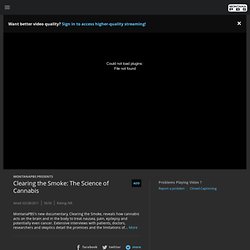 We have updated our registration process. Please sign in using one of our supported services to bookmark your favorite programs and videos. If you have a PBS account, your stored favorites and viewing history will be safely migrated. ITProPortal.com: 24/7 Tech Commentary & Analysis. Windows Marketplace for Windows Mobile 6 and 6.1. After last week's news, I'm pleased to tell you that Windows Marketplace for Mobile has today reached another major milestone by adding support for Windows Mobile 6 and 6.1 devices.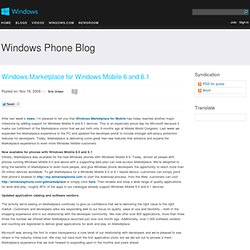 This is an especially proud day for Microsoft because it marks our fulfillment of the Marketplace vision that we put forth only 9 months ago at Mobile World Congress. Last week we expanded the Marketplace experience to the PC and updated the developer portal to include stronger anti-piracy protection features for developers. Today, Marketplace is delivering some great free new features that enhance and expand the Marketplace experience to even more Windows Mobile customers. T3 | Latest Tech News, Gadget reviews and Technology videos. Chip.pl - Komputery: recenzje, opinie, programy, testy.
Engadget. Ultrabook Acera jest piękny, kosztuje 900 dolarów. Aspire S3 mierzy ledwie 17,3 mm grubości, zaś waży 1350 gramów Gdy Intel zapowiadał nową kategorię ultrabooków, ich cena miała mieścić się w granicach 1000 dolarów.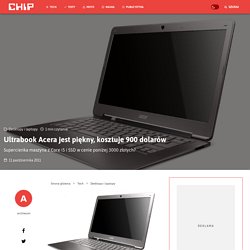 Potem okazało się, że ciężko będzie taką cenę utrzymać, a producenci przekonali się, że ceny MacBooków Air wcale nie są zawyżone. Do dzisiaj. Acer poinformował bowiem, że jego najnowszy ultrabook o nazwie Aspire S3 będzie kosztować w podstawowej wersji 899 dolarów (ok. 2900 złotych). W tej cenie w wyposażeniu spodziewać się możemy 13,3-calowego ekranu LED o rozdzielczości 1366 x 768 pikseli, procesora Intel Core i5, 20-gigabajtowego napędu SSD na partycję systemową, zintegrowaną w procesorze grafikę Intel HD, 320-gigabajtowy dysk twardy, a także porty USB i HDMI. Technology News and Opinion on The Huffington Post. Currys - TVs, iPads, Cookers, Fridges, Cameras, Laptops and more.
---