QR Codes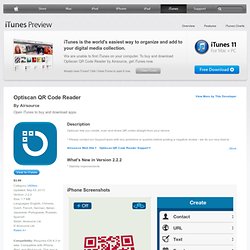 Description Optiscan lets you create, scan and share QR codes straight from your device. * Please contact our Support team with any problems or queries before posting a negative review - we do our very best to help! * "Overall, Optiscan is a really nice QR Code reader. … It's a full-featured app that should satisfy most users."
Optiscan - QR code scanner and generator for iPhone, iPod touch, and iPad on the iTunes App Store
Jaxo Systems • Information
Revised 12/15/11 - As an internet marketing consultant, I had come to the conclusion that to truly help my clients, I needed to get a better handle on mobile marketing. In searching for resources to help me get a really strong grip on QR Codes and mobile marketing, I came across this book and decided to order it. What a smart decision that was. From the book I learned about his mobile platform and his course called "The Local Consultant" - both of which I quickly signed up for. I have never regretted my choice - in fact I believe that doing so is one of the smarted choices I have made since getting involved in the internet marketing world. Since then, I have become a great fan of Michael Weir.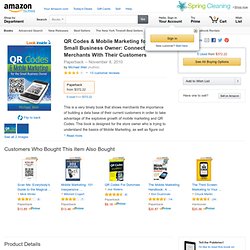 QR Codes & Mobile Marketing for the Small Business Owner: Connecting Merchants With Their Customers (9781456347833): Michael Weir
Try pbSmart™ Codes FREE edition | QR Code & mobile marketing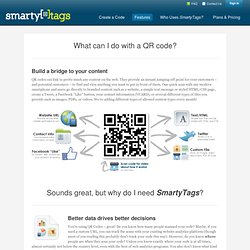 Features
Build a bridge to your content QR codes can link to pretty much any content on the web. They provide an instant jumping-off point for your customers – and potential customers – to find and view anything you want to put in front of them. One quick scan with any modern smartphone and users go directly to branded content such as a website, a simple text message or styled HTML/CSS page, create a Tweet, a Facebook "Like" button, your contact information (VCARD), or several different types of files you provide such as images, PDFs, or videos. We're adding different types of allowed content types every month! Better data drives better decisions
QR codes helpen je verkopen!
Delivr FREE is offered for personal, non-profit, educational or limited commercial use in social, mobile, and Web-based campaigns, limited run posters and local-level print advertising campaigns. Delivr FREE can not be resold or provided as part of a commercial offering or service. If you are creating a Delivr account as part of a commercial service offered to others e.g., using Delivr to provide campaign management, landing pages, tracking or reports to a client, please select the appropriate paid plan. Delivr PLUS and Delivr PRIME are offered for limited commercial use by individuals, consultants. micro-entities and small companies in social, mobile, and Web-based media campaigns, limited run posters, event marketing and state/province-level direct mail, email and print advertising campaigns.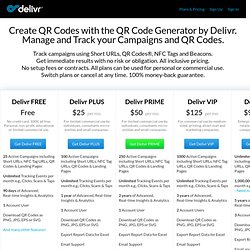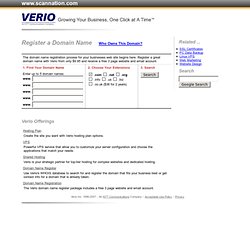 Verio Offerings Create the site you want with Verio hosting plan options. Powerful VPS service that allow you to customize your server configuration and choose the applications that match your needs. Verio is your strategic partner for top-tier hosting for complex websites and dedicated hosting. Use Verio's WHOIS database to search for and register the domain that fits your business best or get contact info for a domain that is already taken.
Marketing in Hand for mobile smartphone 2D QR Barcodes