QR Code Resources
Decoder Online. How QR Codes Can Grow Your Business. What are QR codes and how can they help your business?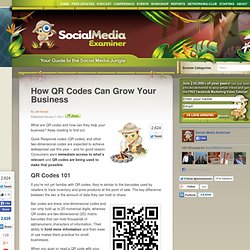 Keep reading to find out. Quick Response codes (QR codes) and other two-dimensional codes are expected to achieve widespread use this year – and for good reason. Consumers want immediate access to what's relevant and QR codes are being used to make that possible. QR Codes 101.
5 Unique Uses for QR Codes. Dana Oshiro is an irreverent writer with a love of mahjong, the internets & niu ro mien.
She authors a blog at hiyaablog.com . Anyone with a smartphone can scan and read QR codes with the click of a camera, and anyone with access to a computer can generate QR codes themselves.
---