Diversão
Jogos. U.S. Dept. Of Retro Warns: 'We May Be Running Out Of Past' | The Onion ... WASHINGTON, DC—At a press conference Monday, U.S.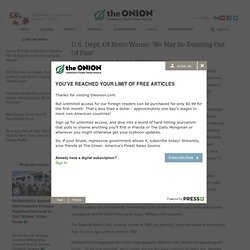 Retro Secretary Anson Williams issued a strongly worded warning of an imminent "national retro crisis," cautioning that "if current levels of U.S. retro consumption are allowed to continue unchecked, we may run entirely out of past by as soon as 2005. " Retro-Chart According to Williams—best known to most Americans as "Potsie" on the popular, '50s-nostalgia-themed 1970s sitcom Happy Days before being named head of the embattled Department of Retro by President Clinton in 1992—the U.S.' S exponentially decreasing retro gap is in danger of achieving parity with real-time historical events early in the next century, creating what leading retro experts call a "futurified recursion loop," or "retro-present warp," in the world of American pop-cultural kitsch appreciation. Such a warp, Williams said, was never a danger in the past due to the longtime, standard two-decade-minimum retro waiting period.
LEARN SOMETHING EVERY DAY. Irmãos Brain. O vulgarizador, par marcelo reis. The Name That Film Quiz - Channel 4 Film - Film4's image quiz with ... Domo nom nom. Fanatismo Digital - A Guerra dos Editores. Este documento foi o resultado de uma pesquisa Antropológica feita por mim em Junho de 2000 enquanto cursava "Ciências Sociais" na UFPR (Universidade Federal do Paraná).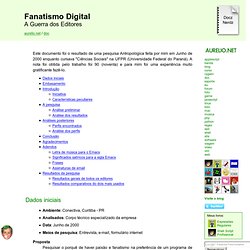 A nota foi obtida pelo trabalho foi 90 (noventa) e para mim foi uma experiência muito gratificante fazê-lo. Dados iniciais Ambiente: Conectiva, Curitiba - PR Analisados: Corpo técnico especializado da empresa Data: Junho de 2000 Meios de pesquisa: Entrevista, e-mail, formulário internet Proposta Pesquisar o porquê de haver paixão e fanatismo na preferência de um programa de computador para o sistema operacional Linux, bem como tentar traçar perfis comuns e descobrir a causa desta preferência. Piadas foleiras e outros disparates apagados. Origem: Wikipédia, a enciclopédia livre.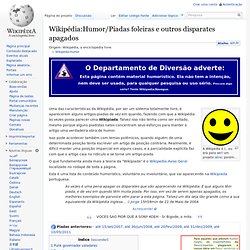 A Wikipédia é (…ou era para ser) um projeto sério; porém… Uma das características da Wikipédia, por ser um sistema totalmente livre, é aparecerem alguns artigos-piadas de vez em quando, fazendo com que a Wikipédia às vezes possa parecer uma Wikipiada. Talvez isso não tenha como ser evitado, mesmo porque alguns piadistas natos concentram seus esforços para manter o artigo uma verdadeira obra de humor.
Isso pode acontecer também com temas polêmicos, quando alguém de uma determinada posição tenta escrever um artigo de posição contrária. The Criterion Collection.
Guti-guti
A Arca de Noé. Cut-up engine. Postmodernism Generator. 1.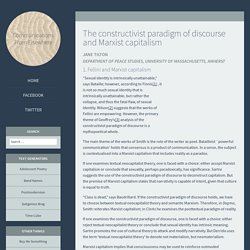 Textual construction and neoconstructive demodernism If one examines neoconstructive demodernism, one is faced with a choice: either reject the capitalist paradigm of discourse or conclude that class, perhaps ironically, has objective value.
---